The Ames Library Partners to Digitize Medieval Manuscripts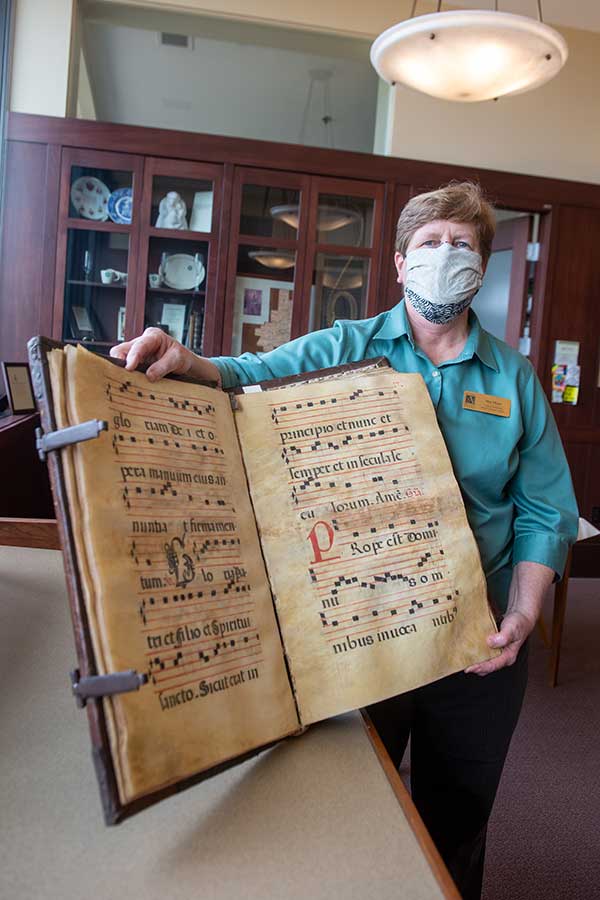 Oct. 2, 2020
BLOOMINGTON, Ill. — The Ames Library is partnering with Indiana University Bloomington and a consortium of higher-learning institutions in a three-year grant for The Peripheral Manuscripts Project: Digitizing Medieval Manuscript Collections in the Midwest. The project will create a digital repository and catalog of medieval manuscripts across Midwestern collections.
The project involves digitizing and cataloging 78 codices (books) and 406 medieval manuscript fragments from a consortium of 22 Midwestern institutions, including contributions from The Ames Library. The project focuses on distinct collections that have not been economically feasible for holding institutions to digitize and catalog on their own. The Council on Library and Information Resources (CLIR) awarded $281,936.10 for the project, and IU Bloomington will serve as host for the grant.
Elizabeth Hebbard, the project's primary principal investigator and assistant professor of French and Italian in the College of Arts and Sciences at Indiana University Bloomington said: "Every surviving medieval book and fragment has the potential to tell us more about medieval book arts, textual traditions, individuals' lives and libraries, and even, through their physical qualities and materials, things like animal husbandry and commerce. This is why it is so important to continue to locate and describe unstudied and understudied manuscripts."
Illinois Wesleyan initially proposed contributing 12 single manuscript leaves, dating from 1220A.D. to 1450A.D. and one complete 16th century codex. Associate Professor Meg Miner, University Archivist & Special Collections Librarian said, "During a recent planning meeting I was excited to learn we will be able to add three books that contain six fragments of manuscripts. These were used by book binders in the 15th-17th centuries to support the structures of these printed books. The experts on medieval manuscripts for this CLIR project will examine them and provide us with more information that I can share with our community."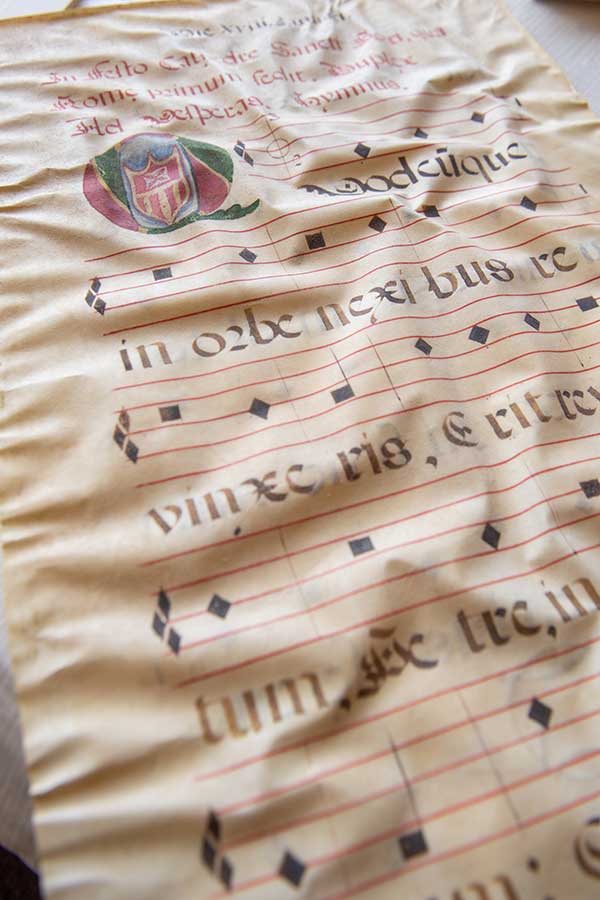 Stephanie Davis-Kahl, University Librarian, said "We are grateful for the efforts of the IU Bloomington Libraries and CLIR to include a variety of institutions in the project, and I am especially appreciative of Meg Miner's efforts to share the gems in our special collections with an appreciative audience."
IU Libraries will scan or photograph the manuscripts, and researchers at IU Bloomington, Loyola University Chicago and Saint Mary's College, with assistance from partner librarians and subject specialists, will catalog these objects, including many manuscripts unrecorded in previous bibliographical surveys.
As a result, The Peripheral Manuscripts Project: Digitizing Medieval Manuscript Collections in the Midwest will bring a wealth of previously inaccessible and uncatalogued medieval material to scholarly consciousness.
All of the data generated by the grant team will be made freely available through digital library repository services developed and maintained by IU Libraries. This data includes manuscript descriptions and high-resolution images that meet International Image Interoperability Framework (IIIF) compliance standards.
This new material will be aggregated with existing digitized collections to yield a more comprehensive understanding of North American manuscript holdings.
"The benefit of participating in a project like this is our small collection will join with the other partners in the Midwest in this virtual space," said Miner, "and ultimately become part of a network for North American repositories. Researchers worldwide will be able to consult and compare across collections."
Lisa Fagin Davis, executive director of the Medieval Academy of America, said The Peripheral Manuscripts Project is important and timely.
Davis said that in working with Melissa Conway on the "Directory of Collections in the United States and Canada with Pre-1600 Manuscript Holdings" they discovered that the vast majority of medieval manuscripts in North America are woefully undercataloged or not cataloged at all, making them utterly inaccessible to students and scholars alike.
"Our hope was, and is, that scholars across the continent would take up our call to study and catalog these hidden collections, image these unknown medieval manuscripts and make these important relics of the medieval past available in open-access, discoverable environments," Davis said. "Peripheral Manuscripts will do just that and will serve as a model for similar consortial projects in other parts of the United States and Canada."