Students Value Virtual Social Connections
April 20, 2020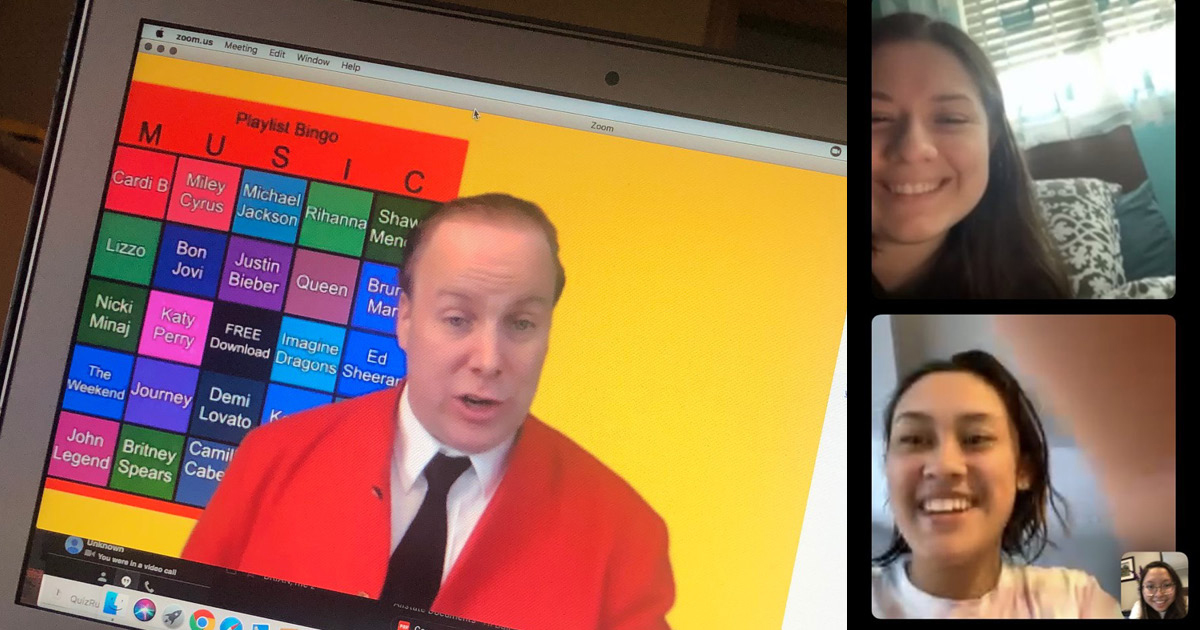 BLOOMINGTON, Ill. –– To help keep Illinois Wesleyan University's student community connected during this time of social distancing, the Office of Student Involvement has spearheaded a campus-wide effort to reimagine activities and engagement opportunities.
"It is critical for students to continue thriving during this time through social connectedness," said Director of Student Involvement Kevin Carey '13. "As a liberal arts institution, we can continue to support student interests and identities. We know this affirms who they are and their experiences at Illinois Wesleyan."
After it was announced that remote instruction would continue through the end of the spring semester and May Term in response to the COVID-19 pandemic, student engagement leaders confronted the challenging task of quickly shifting from face-to-face to virtual activities.
"We have seen athletes, registered student organizations, fraternities and sororities, culturally based organizations, and the Campus Activities Board (CAB) all respond in resilient ways," Carey said. "We are seeing more interaction on social media with the featuring of seniors and sharing of appreciation for organization leadership. Students have come up with creative ideas and found ways to improve their virtual programming with each event they host."
CAB, for example, has hosted Virtual Playlist Bingo, Virtual General Trivia, and Virtual Marvel Trivia. On Thursday, April 23, maintaining the Reading Day tradition of Late Night Breakfast, students can watch as President S. Georgia Nugent, Provost and Dean of Faculty Mark Brodl, and Vice President of Student Affairs and Dean of Students Karla Carney-Hall each cook a delicious breakfast dish via live video conference.
Students also continue to engage with each other on social media. During Shelf Care Mondays, students are invited to disconnect, even just for a few minutes, and participate in a restorative activity. Afterward, students can share a photo, video, or brief reflection about their experience on social media using the hashtag, #OMEShelfCare.
"We have learned that collaboration, patience, and vulnerability are key," Carey explained. "Working with one another has been critically important in the planning process, and it takes time to make sure that technology will cooperate. Naturally, we have to exhibit some vulnerability when things don't go well or correctly, but we remain resilient."
Despite the challenges, students have responded positively, with successful turnouts for virtual activities hosted by the Career Center, CAB, the Office of Student Involvement, the Office of Diversity & Inclusion, and the Office of Multifaith Engagement. In the first week of April, more than 150 students participated in virtual engagement events.
"It has been phenomenal to see how students have adapted to connecting socially in virtual environments," Carey said. "Their energy and excitement about something innovative has made it a success. From the perspective of collaboration, we have seen departments and office areas connecting with one another in ways that we believe will continue when we come back to face-to-face programming."
For more information on upcoming opportunities for virtual engagement, please visit www.iwu.edu/virtual.
By Megan Baker '21