Stephanie Davis-Kahl Named University Librarian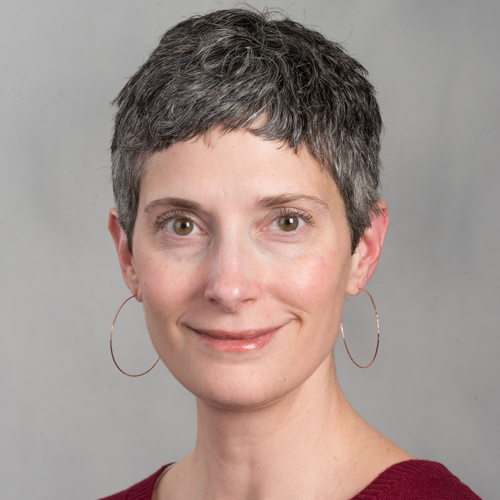 July 24, 2020
BLOOMINGTON, Ill. — Stephanie Davis-Kahl, a member of Illinois Wesleyan University's library faculty since 2004, has been named University Librarian and Copyright Officer, effective July 20, 2020. Davis-Kahl succeeds Scott Walter, who was recently named Dean of Library and Information Access at San Diego State University.
Davis-Kahl previously served as Collections and Scholarly Communications Librarian, and Professor, The Ames Library. An active researcher in the field, Davis-Kahl draws inspiration for many of her projects, including her two co-edited collections, Undergraduate Research and the Academic Librarian: Case Studies and Best Practices (2017), and Common Ground at the Nexus of Information Literacy and Scholarly Communication (2013) from her work with Illinois Wesleyan faculty and students.
"Libraries are essential to the liberal arts and to a full, rich student experience," Davis-Kahl said. "Our librarians and staff are the backbone of our services and collections, and I'm honored to lead them. I'm thrilled to work with colleagues across campus to ensure that The Ames Library is known and celebrated for its research, writing, and tutoring assistance, for its beautiful spaces for study, collaboration, and rest, and for the breadth of resources we offer to support artistic and scholarly pursuits."
Davis-Kahl coordinated efforts to collect and archive exemplary student research and faculty scholarship in Digital Commons @ IWU , earning the "IR All Star Award" from bepress –– an academic software firm –– in 2013. She is active in the Association for College & Research Libraries, her professional home, and received the "Distinguished Education and Behavioral Sciences Librarian" award from the Association of College and Research Libraries' Education and Behavioral Sciences Section in 2014. Davis-Kahl has also served on Illinois Wesleyan's Curriculum Council, the Promotion and Tenure Committee, the Council for University Programs and Policies, and the Undergraduate Research Committee. She earned a bachelor's degree in East Asian Studies from Oberlin College and a master's in library science from the University of Illinois Urbana-Champaign.
"I believe that I can speak for everyone on campus by saying that we are delighted to have Professor Davis-Kahl as our new University Librarian," said Provost and Dean of the Faculty Mark Brodl. "She understands Illinois Wesleyan and is a nationally recognized librarian-scholar. She brings a strong vision for the future of The Ames Library that supports engaged learning in exciting, new ways that build from current strengths. At IWU, we are very fortunate to have Professor Davis-Kahl as our new leader for the heart of our academic home."
Over the past several weeks, Davis-Kahl provided leadership for the strategic acquisition of digital content designed to support Illinois Wesleyan faculty and students as they adapted to remote teaching and learning modalities during the COVID-19 pandemic, and she is leading the planning and coordination to re-open The Ames Library for the fall semester.
The Ames Library opened on January 9, 2002 and is named in honor of B. Charles Ames '50 and Joyce Eichhorn Ames '49. The intellectual heart of Illinois Wesleyan, The Ames Library is where scholarly information, regardless of format, is gathered, organized, and prepared for dissemination to the University community. In addition, the library provides a place for interaction, collaboration, consultation, study and reflection.
By John Twork