Schrader '22 Earns National Green Chemistry Honor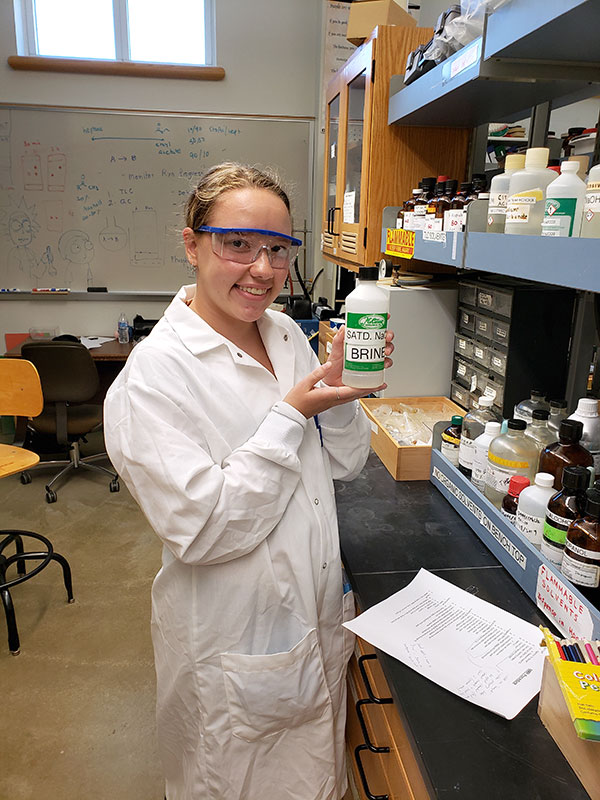 Dec. 18, 2020
BLOOMINGTON, Ill. — Junior chemistry major Allison Schrader '22 (Hoffman Estates, Illinois) has been selected from a competitive pool of candidates from across the country to receive the Ciba Travel Award in Green Chemistry, the American Chemical Society (ACS) announced earlier this month.
As a Ciba Travel Award recipient, Schrader will receive up to $2,000 to cover travel and registration costs to attend and present at an upcoming green chemistry conference of her choosing. Because many conferences will be held virtually in 2021 due to the ongoing pandemic, Ciba Travel Award winners may choose to attend a future conference any time before the end of 2022.
Schrader hopes to use her award funds to attend the ACS Spring 2022 Conference where she plans to present her research in the Mohan Lab on a more environmentally friendly way to synthesize hexahydroimidazo[1,2-a]pyridines, compounds with useful biological activities.
"These compounds have been previously synthesized, but we have been working on synthesizing them in a green way using bismuth salts as green catalysts," Schrader said. "This is a project that several other people some other students have worked really hard on including Noah Haskin ('20) and Richie Guingrich ('21)."
Schrader continued, "I have never presented research at a conference before, and while this opportunity is a little intimidating, I'm excited for the opportunity to push myself out of my comfort zone and learn as much as I can and really soak up the experience."
Originally an undecided major, Schrader thoroughly enjoyed her chemistry courses as a first-year student. After declaring as a chemistry major, Schrader joined Wendell and Loretta Hess Professor of Chemistry Ram Mohan's research group, which helped Schrader learn proper research techniques and experience what working in a research lab is really like. Schrader was selected for the Ciba Travel Award based on her significant research progress in Mohan's lab that focuses on developing green synthetic organic chemistry methods using bismuth compounds.
"Being able to work with a research team and apply some of the concepts we've learned in class to actual research has been a really rewarding experience," Schrader said. "The Chemistry Department at Wesleyan is really amazing and really would do anything to help their students succeed."
Schrader, who is interested in continuing her education after graduating from Illinois Wesleyan in 2022 and possibly pursuing a Ph.D. in chemistry, is appreciative of Mohan's mentorship and is eager to present her research at a professional conference.
"It is truly an honor and an amazing opportunity to receive the Ciba Travel Award in Green Chemistry," Schrader said. "This would not have been possible without the constant support and guidance of Dr. Mohan as well as all the work done by Dr. Mohan's research group in years past and currently to implement more environmentally friendly synthesis techniques. I am really grateful to be able to represent Illinois Wesleyan and Dr. Mohan's research group."
Mohan added, "It is really important for students to attend national conferences and interact with professional chemists from academia and industry. Attending such conferences exposes students to the big wide world of research and helps them make more informed decisions about where to pursue their Ph.D. and in what specific area. When industrial chemists express interest in their research it gives a boost to the students' confidence and puts their work in perspective. Preparing for such a meeting is also a learning experience. You cannot go to a national meeting to just present proposed work, hence students are motivated to work harder and get sufficient positive results to tell a story."
By John Twork