Interns Continue to Gain Experience Amid Pandemic
Sept. 25, 2020 - Updated Oct. 9, 2020
BLOOMINGTON, Ill. –– Illinois Wesleyan University students continued to participate in internships throughout the summer, although many experiences were modified amid the COVID-19 pandemic.
Students seeking future internship and career opportunities are invited to participate in the Hart Career Center's Virtual Career Fair on Monday, Sept. 28 from 4 to 7 p.m. This event will connect candidates with employers and organizations that are recruiting for pre-professional, professional and educational opportunities. These include: internships, volunteer experiences, graduate and professional school opportunities, and part-time and full-time jobs.
A virtual career fair is unique from an in-person fair because there is no waiting in lines. Instead, students will plan their day in advance when they register for the fair through the Handshake platform. When registering on Handshake, students can sign up for group video sessions, as well as one-on-one meetings with companies that are hiring. Illinois Wesleyan students of all years and majors are welcome to participate. Students can prepare for the Career Fair by viewing a series of videos published by the Hart Career Center.
The following is a sampling of student internship experiences from the summer, based on responses to the Hart Career Center and the Office of Communications: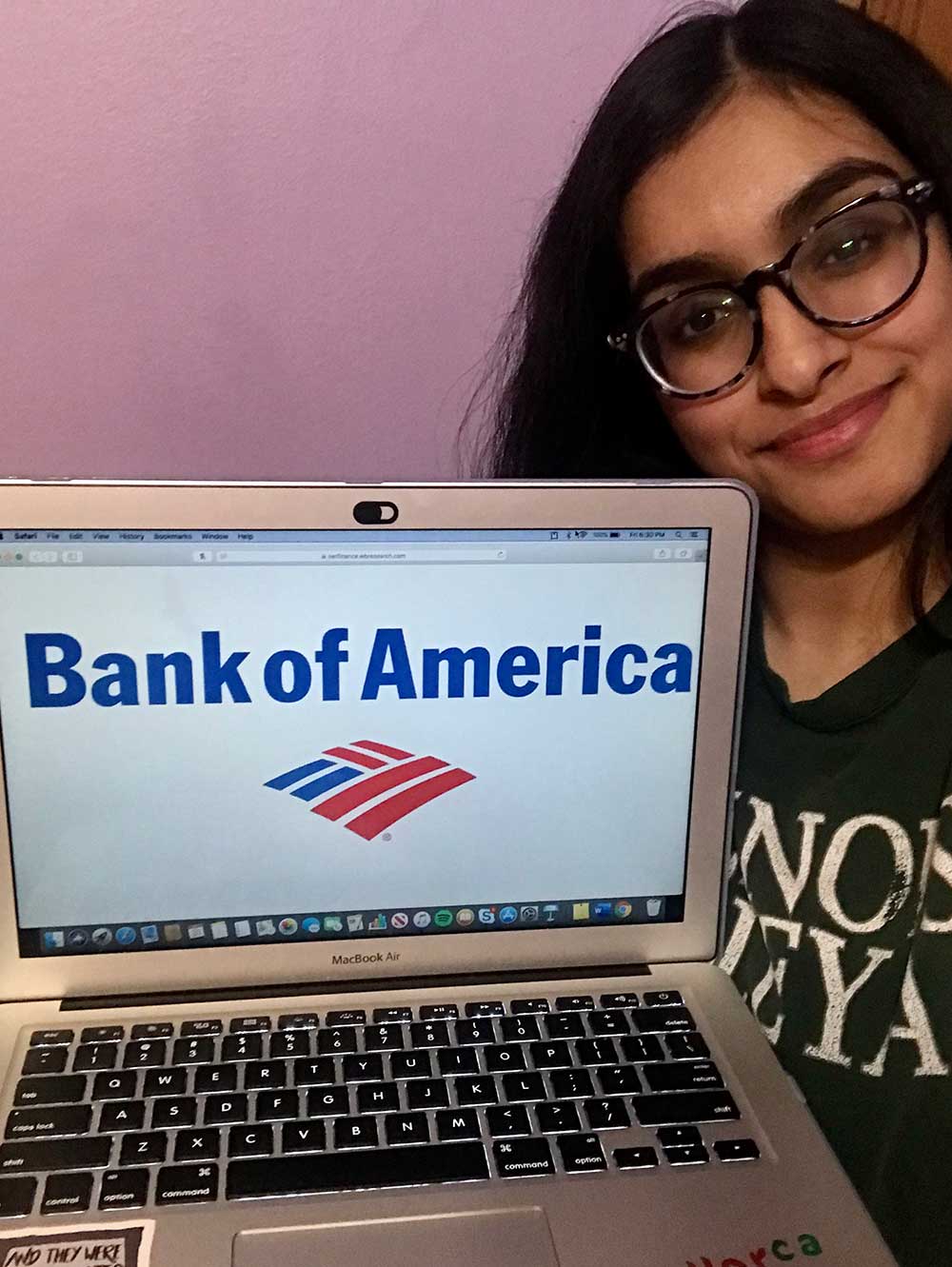 Shannan Abraham '21
Major: Finance
Minor: Hispanic Studies
Hometown: Addison, Illinois
Abraham was an Advisor Development Summer Analyst Intern with Bank of America. While Abraham had not planned to work from home, due to COVID-19, the internship was conducted remotely. The internship included working with executive leaders, conducting group projects, and learning about the roles of a financial advisor.
"This internship has given me more insight on the financial services world in consumer investments," explained Abraham. "This internship also showed me that, through technology, it is still possible to work from home and have a meaningful experience."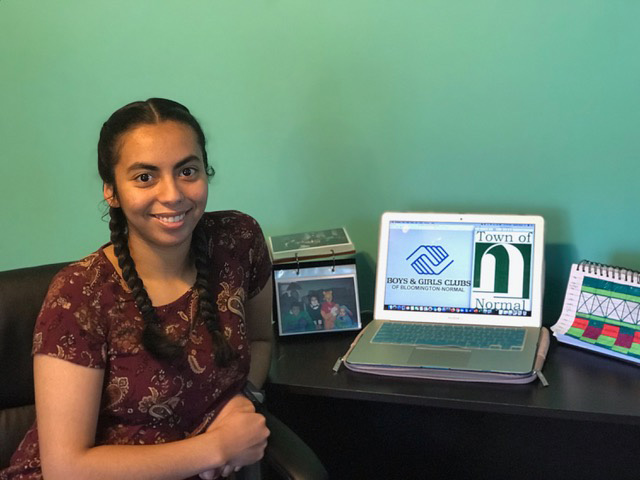 Jessica Flores '22
Major: Business
Hometown: Chicago, Illinois
Flores was a summer intern with the Boys & Girls Club of Bloomington-Normal and the Town of Normal as a part of the 2020 Summer Enrichment Program (SEP) organized by the IWU Office of Diversity and Inclusion. Flores carried out her internships virtually from home amid the COVID-19 pandemic. At the Boys & Girls Club of Bloomington-Normal, Flores was responsible for contacting alumni to update their information and encourage them to stay involved with the club. She also developed a virtual club experience by creating and editing videos that showcased the activities and resources available to club members participating from their homes. Flores also had the opportunity to work on research-based projects at the Boys & Girls Club. She researched opportunities to connect with alumni, re-engage high schoolers, and identify resources that could benefit the club's current and future expansion efforts.
Through her internship with the Town of Normal, Flores helped with the community gardens by contacting gardeners to hear their stories and feedback so that she could help the town identify what aspects of the program are working and what could be improved. Flores also helped the Town of Normal research art programs implemented in urban areas and compare those to similar programs in suburban areas. Finally, to assist with the Bike Light program, Flores researched pre-existing bike light programs and brainstormed ways to expand the program in Normal and create community partnerships.
"In terms of advice to others I would say to take your internship seriously and it will be a very rewarding experience," Flores advised. "I am very appreciative of the knowledge gained, the skills learned, and the connections made both through my internships and through being a cohort member."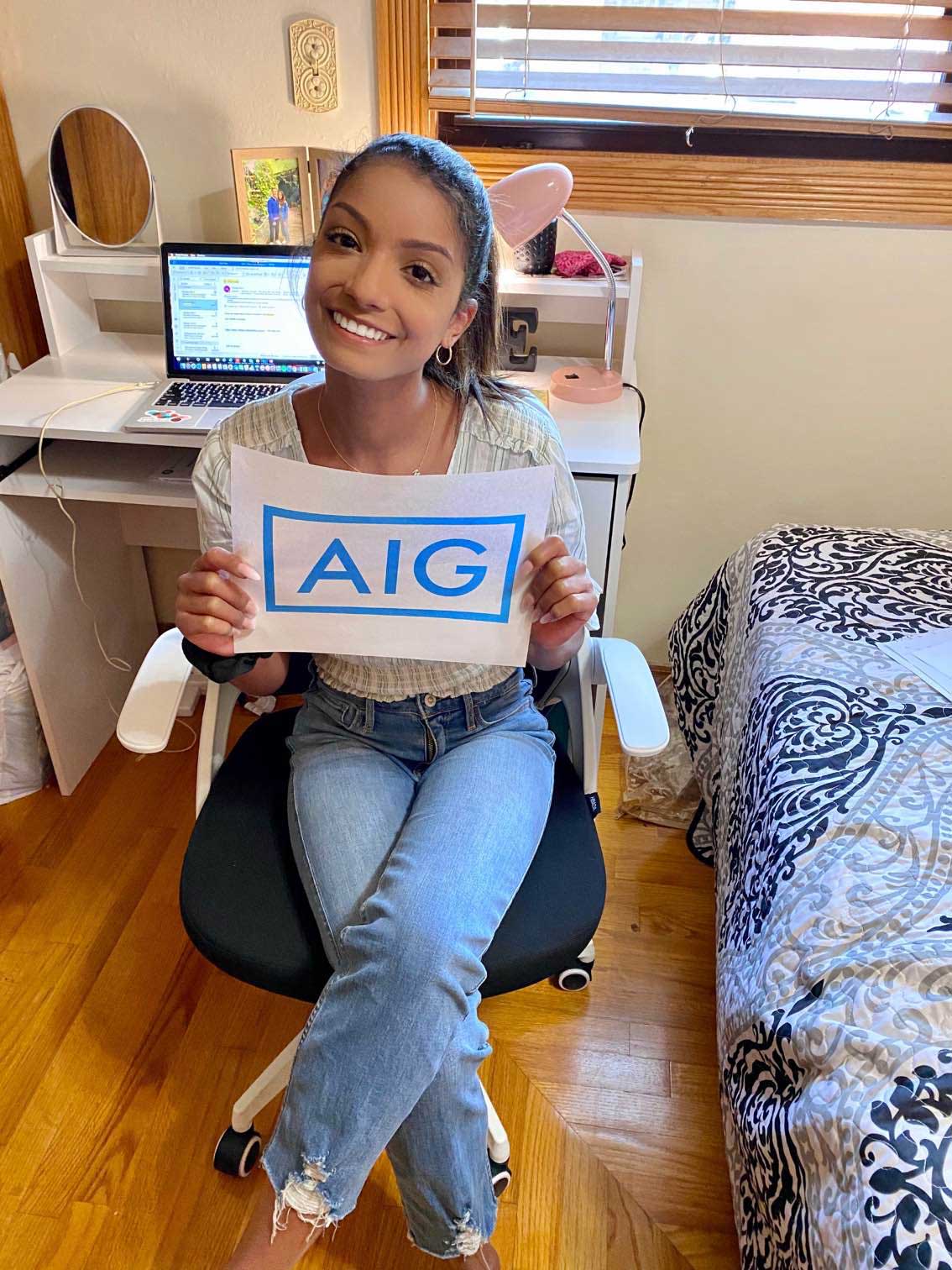 Moriah Gaines '21
Major: Finance
Hometown: Frankfort, Illinois
Gaines worked remotely as an Underwriting Analyst Intern with American International Group (AIG) in Chicago. Through the internship, Gaines was partnered with Lexington Insurance, working as a Wholesale Commercial Property Underwriting Analyst.
"I learned how to underwrite insurance for commercial properties in different parts of the U.S. I collaborated on a couple of accounts, one worth over $800 million with my group of interns and my mentor," Gaines explained. "What I gained most from my internship was the skill set I needed to work effectively in a team setting in the insurance industry, with the development of personal and professional connections, and the tools necessary to achieve higher heights in the insurance and real estate industry."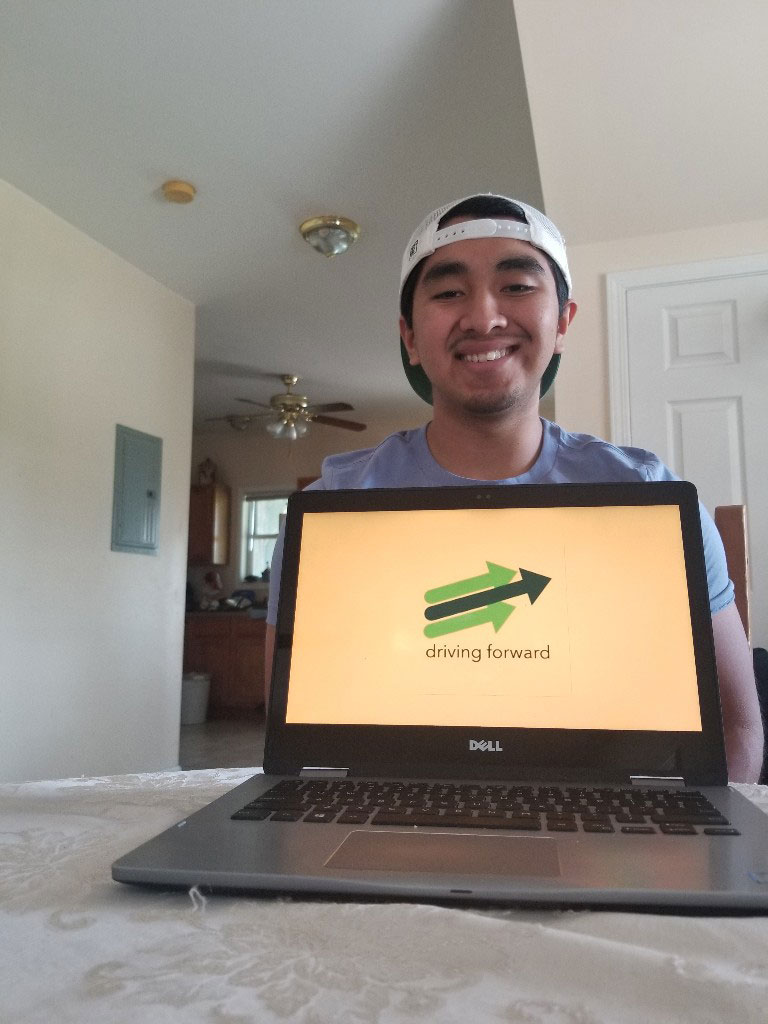 Moises Garcia '21
Majors: Business and Music
Hometown: Joliet, Illinois
Garcia was a virtual intern with Driving Forward. Through this internship, Moises analyzed the impact of the COVID-19 pandemic on the Chicago Symphony Orchestra and the Arts and Entertainment Industry. He presented creative and innovative solutions to reduce the negative impact of the pandemic. Moises and his team were named the best overall case study presentation. Three other IWU students also interned with Driving Forward.
Peyton Howe '21
Major: Business Administration
Minor: Advocacy with a concentration in Law
Hometown: Bloomington, Illinois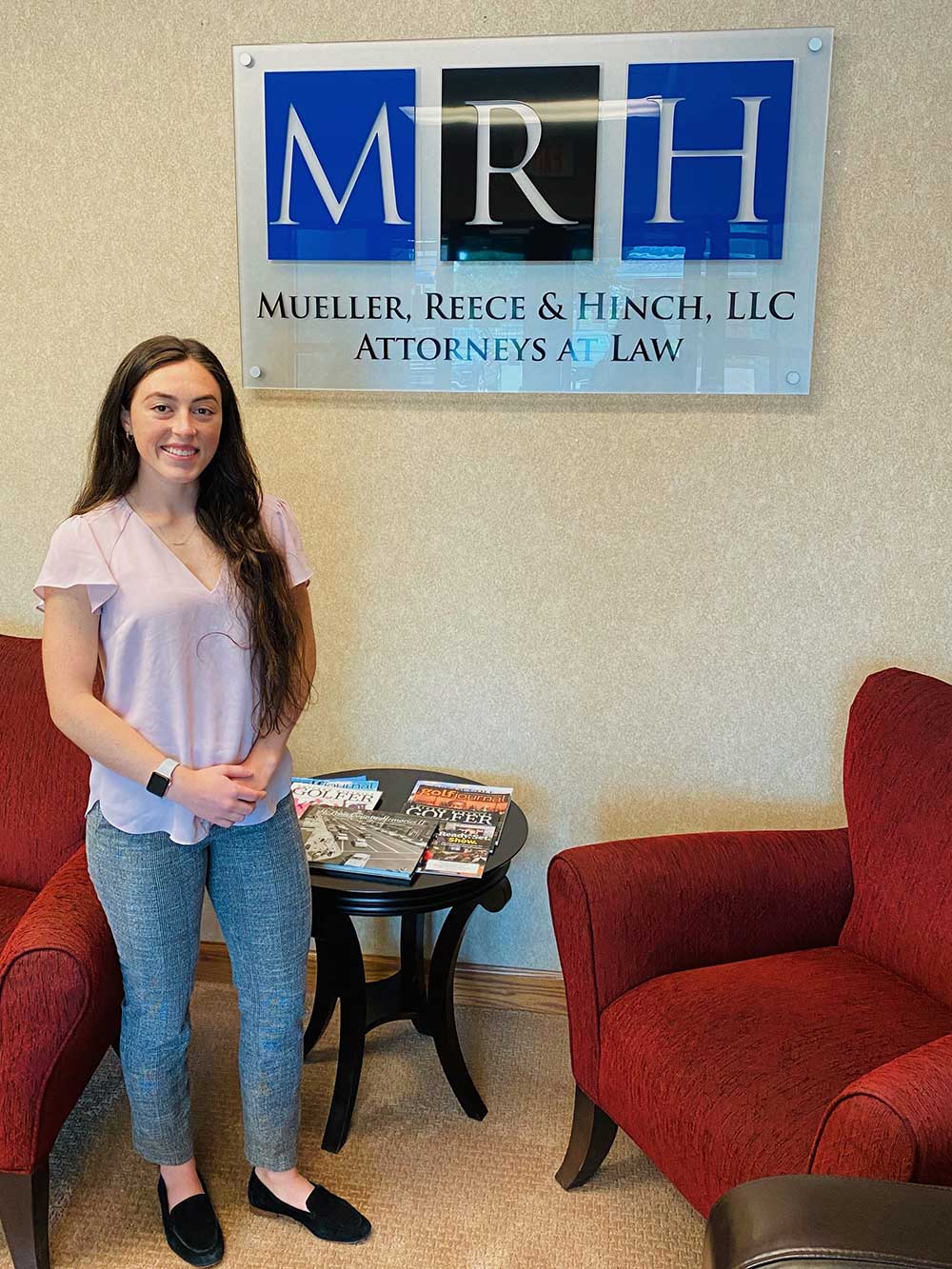 Howe was a summer legal intern with Mueller, Reece & Hinch, LLC, a civil general practice law firm located in Bloomington, Illinois. Howe gained experience in the legal field while also helping with tasks around the office.
"This internship gave me a lot of insight on how an office job works. It is extremely different trying to transition to an 8-hour work day from a college schedule. I'm grateful I was able to figure out what I should look for in an employer and what I should avoid. I also learned very simple things like, how to communicate better over the phone with clients and with my coworkers. Transparency is very essential in an office, it's important to make sure everyone is on the same page," Howe reflected. "Overall, I learned things that I otherwise wouldn't have from a classroom. Experience is essential in figuring out the little things in what makes an office function and the tasks that are accompanied with it."
Joey Kiper '22
Major: Biochemistry, Pre-med
Hometown: Bloomington, Illinois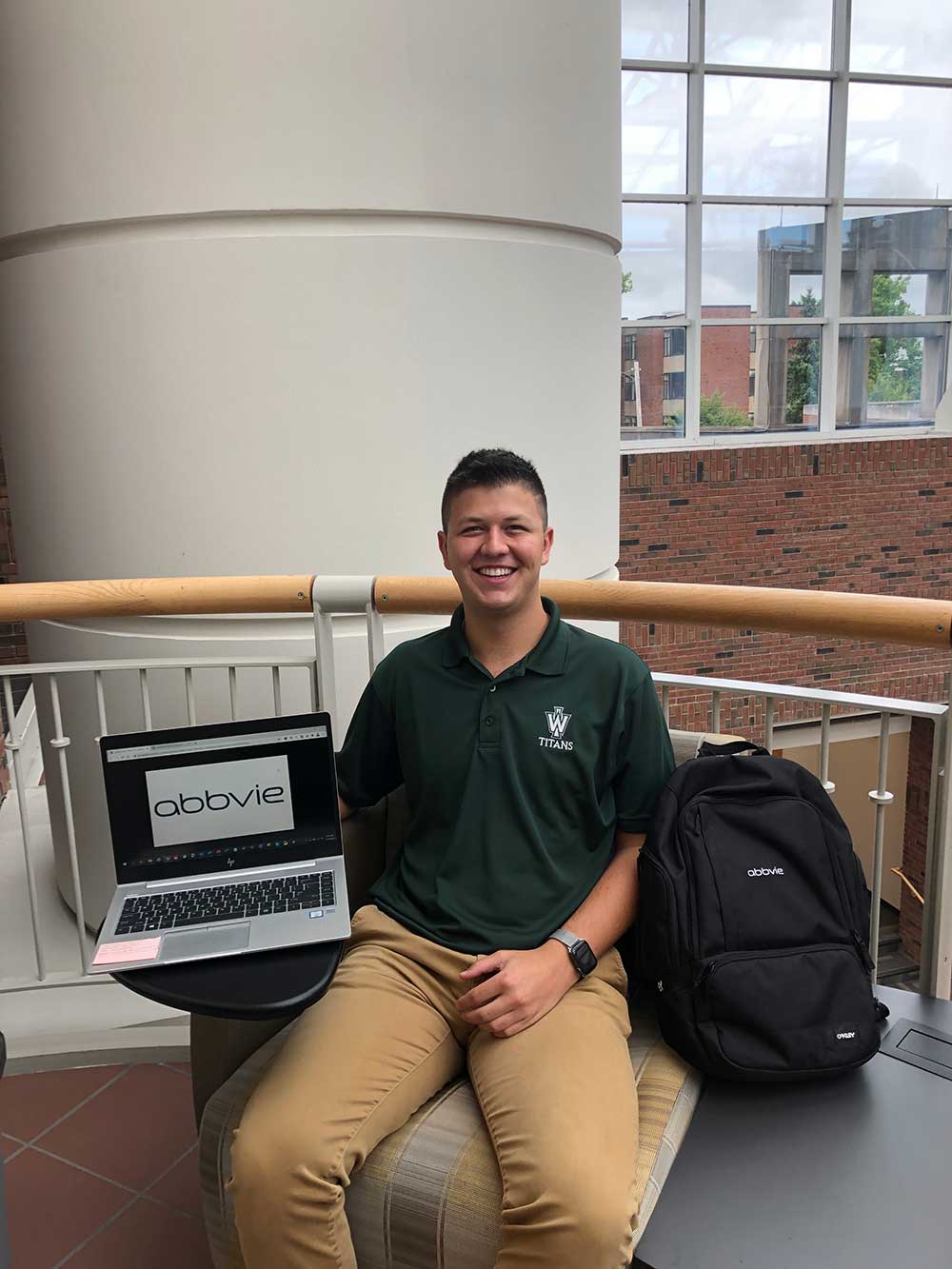 Kiper '22 worked as a Medicinal Chemistry Intern with AbbVie Pharmaceutical Company, Drugs for Neglected Disease Initiative (DNDi), and the Franciscan Institute for World Health (FIWH). Through this internship, Kiper gained experience planning experiments based on cost and bioavailability. He synthetically planned, designed, and optimized a novel compound into the AbbVie library repository; learned to use, document, and finalize all of this work within a chemistry RSpace electronic notebook; and learned some of the basics of medicinal chemistry, neglected disease research, and the overall drug discovery process in the pharmaceutical industry. In addition to the neglected disease work, Kiper was one of four interns designing noncovalent inhibitors of the main protease of COVID-19.
"I gained experience communicating professionally with other scientists, applying what I know to complex problems, and understanding when it is time to ask for help understanding. Internships help you gain experience working in a particular field," Kiper explained. "I am blessed to have had the opportunity to continue my internship in a different modality. Although virtual, I learned how to adjust my mode of working and learning. It required self-motivation and focus, two skills that are valuable throughout life."
Kiper felt prepared for this internship thanks to Illinois Wesleyan's organic chemistry courses and research opportunities, as well as the Hart Career Center's help in providing feedback on his resume and reviewing his applications.
"By seizing these opportunities, I was able to gain insight into what I enjoy and what I do not enjoy in my particular field. It helped me to affirm that I am going down the correct career path," added Kiper.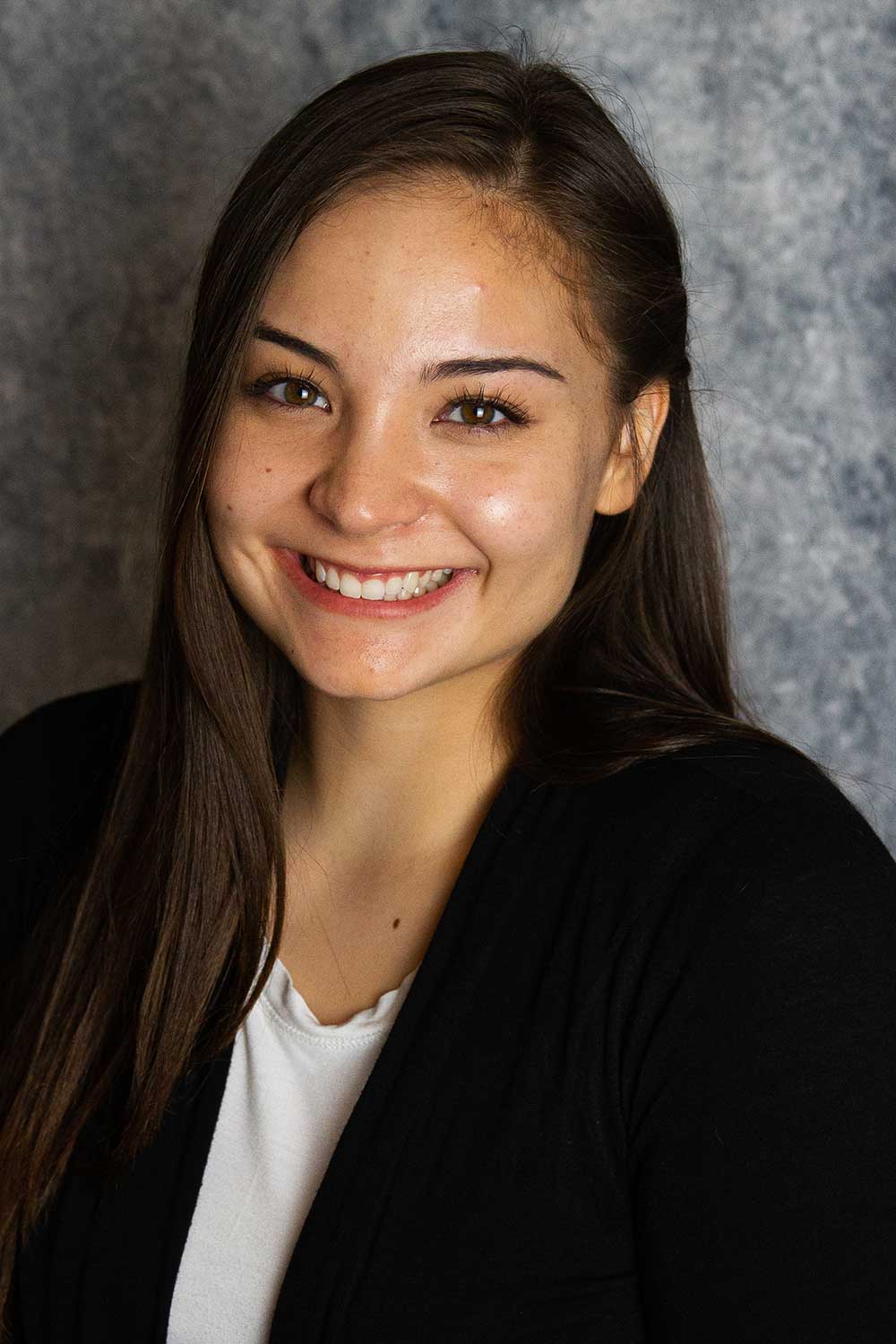 Kelly Kitahata '22
Majors: Business and Sociology
Hometown: Lombard, Illinois
Kitahata worked as a remote Quality Improvement Intern with Marcfirst and a Planning Intern with the Town of Normal as a part of the 2020 Summer Enrichment Program (SEP). At Marcfirst, she worked with the Quality Improvement team to primarily create a training presentation of Outlook for current and new employees, while working on several additional projects throughout the summer. As a Planning Intern with the Town of Normal, Kitahata primarily utilized the town's GIS system to map out properties alongside Constitution Trail. She also completed additional research projects, looking into things like Housing Rehabilitation Programs.
"I am so grateful to my mentors as we navigated this incredibly strange summer," Kitahata said. "The fact that it was a remote internship was incredibly valuable because I was able to learn how to connect with people completely online, which has serviced me more than anything else during this unorthodox school year."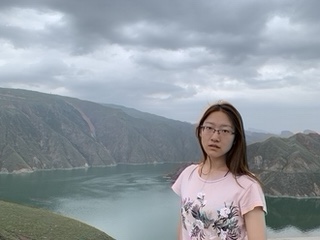 Yushan Liu '21
Major: Biology
Hometown: Xian, China
Over the summer, Liu conducted research as a 2020 Summer Enrichment Program (SEP) intern with Assistant Professor of Biology Tyler Schwend. While this experience was originally scheduled to take place in the lab, the COVID-19 pandemic required her work to be done remotely. Liu conducted literary research and helped write research proposals from home.
"What's interesting about this internship is that I got to meet a group of fantastic people who are supportive, nice and kind," Liu reflected. "We had a lot of deep conversations with each other. I appreciate all the vulnerability that everyone shared to each other."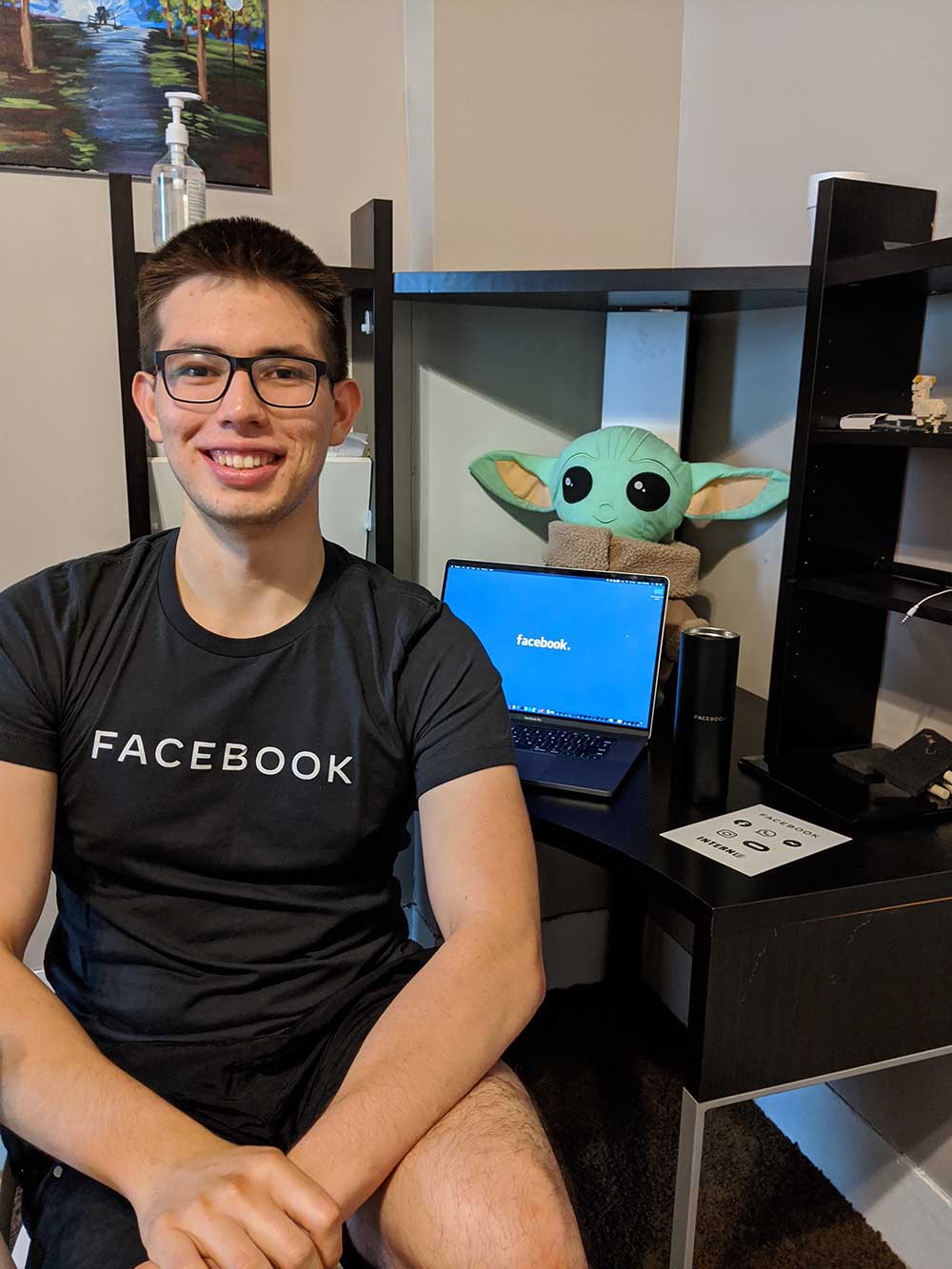 Nico Lopez '21
Major: Computer Science
Minor: Physics
Hometown: Quito, Ecuador
Lopez worked as a Software Engineering Intern with Facebook. He was placed with the WhatsApp iOS Core Infrastructure team and worked on optimizing several data pipelines and creating systems to reduce data usage for WhatsApp users and the overall server load. Furthermore, Lopez had the opportunity to participate in an internal hackathon where he led a team of several engineers to work on racial justice tools for Facebook. Their project won the prize in its category and will be included in one of the Facebook products.
"Luckily, I will be joining Facebook as a full-time software engineer next year," said Lopez. "In addition to that, I believe that my most important takeaway was being exposed to a network of really smart and motivated people that are working in some of the hardest problems in science."
Sommer Martin '21
Major: Anthropology
Minor: Biology
Hometown: Clarkesville, Georgia
Over the summer, Martin worked as an intern at the Northeast Georgia History Center in Gainesville, Georgia. Her responsibilities included taking on the role of a museum curator which included researching artifacts, collaborating with archives and collections in creating an item catalog and deciding upon displayed items, writing and creating new information panels for the exhibits, and reorganizing artifacts and supplementary materials to create a more professional museum experience. Through Martin's internship, she gained valuable experience in performing proper research and writing the subsequent research proposals for the Director and for museum grants, along with experience in planning and organizing exhibits in accordance with grant requests and American Alliance of Museums standards and practices. Though she is back on campus at IWU, she is continuing her research and work virtually through the fall of 2020.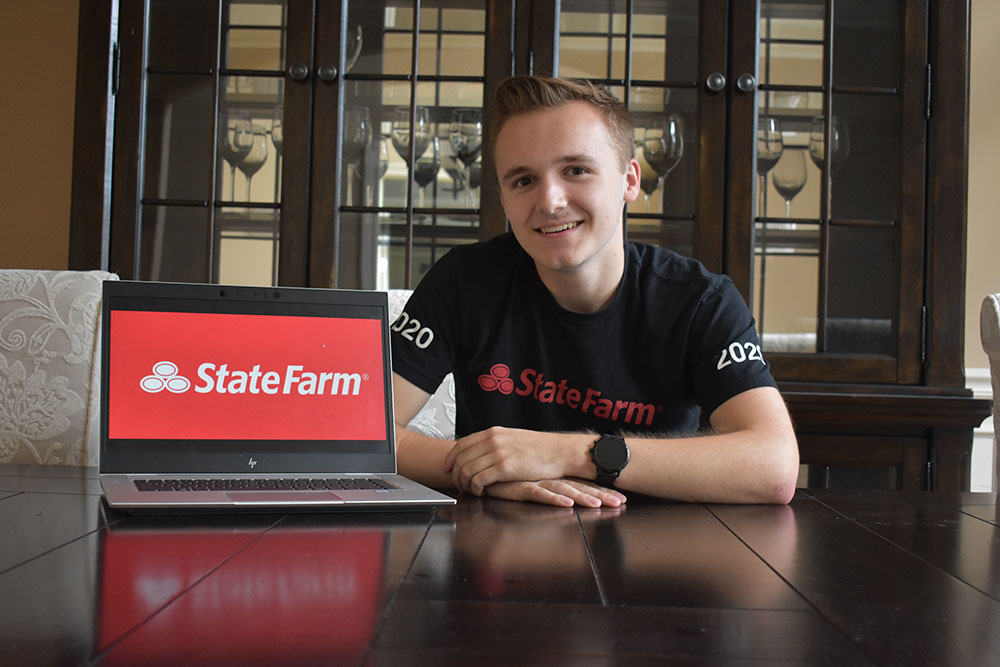 Evan Quist '23
Majors: Computer Science and Finance
Hometown: Mason, Ohio
Quist worked remotely as a Search Engine Optimization & Search Engine Marketing Intern with State Farm in Bloomington, Illinois. Quist's main role was as a software developer, and he spent most of his time writing python code to manage over 6,000 web pages worth of content. Quist also helped in an enterprise-wide page speed effort, which aimed to make StateFarm.com load faster for visitors to the site.
"This internship was awesome because it provided me with hands-on work experience that is incredibly valuable. I can actually point to work that I have completed that is available on a popular website and say that I was entirely responsible for it, which gives me an advantage in future job interviews," Quist remarked. "Additionally I was able to learn how to apply classroom concepts to the real world. Overall it was a great experience."
Students who completed internships during the summer of 2020 who would like to be included in this story are invited to email: univcomm@iwu.edu.