Illinois Wesleyan Lands Bee Campus USA Certification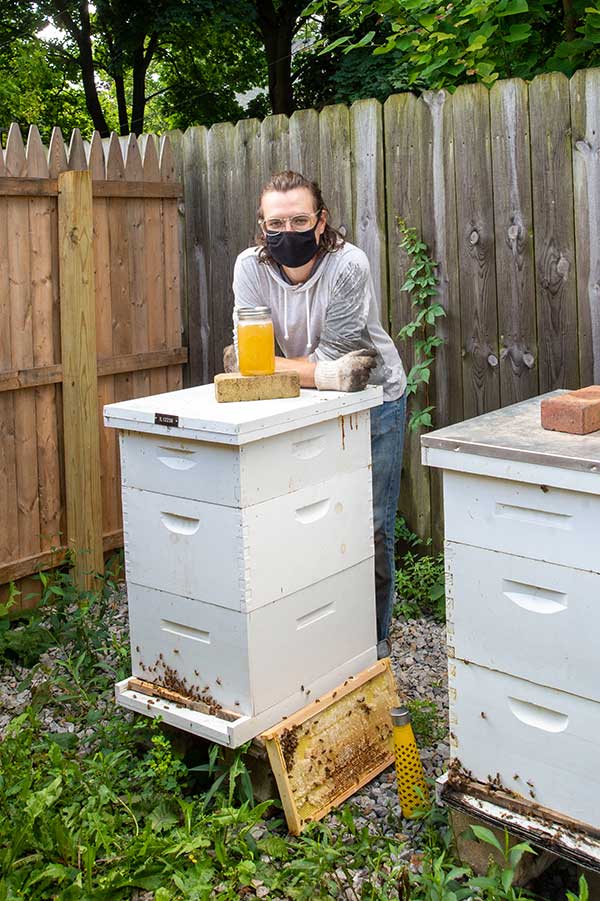 Oct. 1, 2020
BLOOMINGTON, Ill. — In keeping with Illinois Wesleyan University's commitment to sustainability, a coalition of students, faculty and Bloomington residents have transformed the IWU Peace Garden into a nationally recognized safe haven for bees and other native pollinators, earning the University certification as an affiliate of Bee Campus USA.
As bee populations continue to decline globally, Bee Campus USA endorses colleges and universities that create well-maintained pollinator habitats and promote bee conservation efforts within the local community, among other criteria. Over a hundred campuses currently participate in this initiative. Illinois Wesleyan is one of five colleges in Illinois to receive the designation.
"Earning this certification is a big step forward," said Professor of Political Science Jim Simeone, faculty advisor of the Peace Garden and the IWU Beekeepers Club. "It shows how a few committed students can make a difference in shaping our sustainability curriculum. The certification would not have happened without their work."
Economics and political science major David Werner '21 planted the idea of constructing an on-campus apiary –– a place to house bees –– and applying for Bee Campus USA certification at a Peace Garden meeting, and from there, the idea quickly grew. Student Senate Sustainability Commissioner and biology major Ankush Kecht '23 helped secure funding, and with assistance from the Acacia Fraternity, students assembled the apiary, created a wildflower garden to attract pollinators and purchased the bees themselves. Additionally, Peace Garden intern and environmental studies major Janna Fitzgerald '20 drafted apiary signage.
"We decided to name the apiary after IWU President Lloyd Bertholf who was an entomologist and bee researcher," Simeone said. "Janna inspected President Bertholf's papers in the IWU archive and found a number of quotations related directly to bees."
Kecht is now working with the GREENetwork on campus to raise funds for the signs. The students' dedication to seeing this project through, from taking beekeeping classes at Heartland Community College to raising funds for the necessary equipment, demonstrates the kind of work ethic that will further their careers, according to Simeone.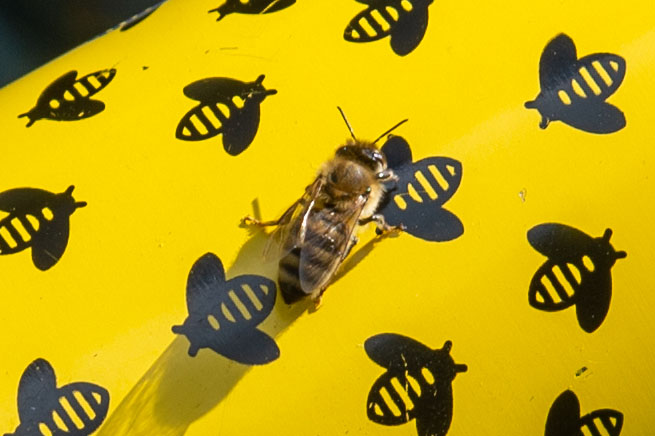 "IWU students are able to pick up a project and run with it—as David did with the Bee Campus initiative. They learn to navigate the university's authority structure and work cooperatively with multiple constituencies. They reach out into the larger community as all our Action Research Center students do. These kinds of project management skills make our students very attractive to employers and effective citizens."
Though beekeeping may sound like a niche hobby, this initiative has touched every branch of the Illinois Wesleyan community, from collaboration with RSOs and Greek Life to outreach programs with local elementary school students. Over 30 students are currently involved with the RSO's honey harvest, with the assistance of several Bloomington beekeepers. George C. and Ella Beach Lewis Endowed Chair of Biology Given Harper also uses the honey bee colonies as a teaching tool in his Environmental Studies courses.
In addition to preserving endangered species, the benefits of a Bee Campus include increased small business opportunities such as pollinator-friendly landscaping and native seed suppliers, improved local food production and heightened awareness of local biological diversity. The apiary is surrounded by native prairie plants, which are vital to preserving native pollinators like miner bees.
While not a bee fanatic at the project's outset, Simeone has found that adapting to the challenges of beekeeping illustrates what good conservation looks like:
"We can't always do exactly what we want with them—even when intervening for their own good as when we treat for varroa mites—and we always have to consider how our keeping activities will impact them. Our response to their behavior fits the approach to sustainability we have sought: working with nature, not dictating to it."
By Rachel McCarthy '21