School of Theatre Arts Presents "The Last Days of Judas Iscariot"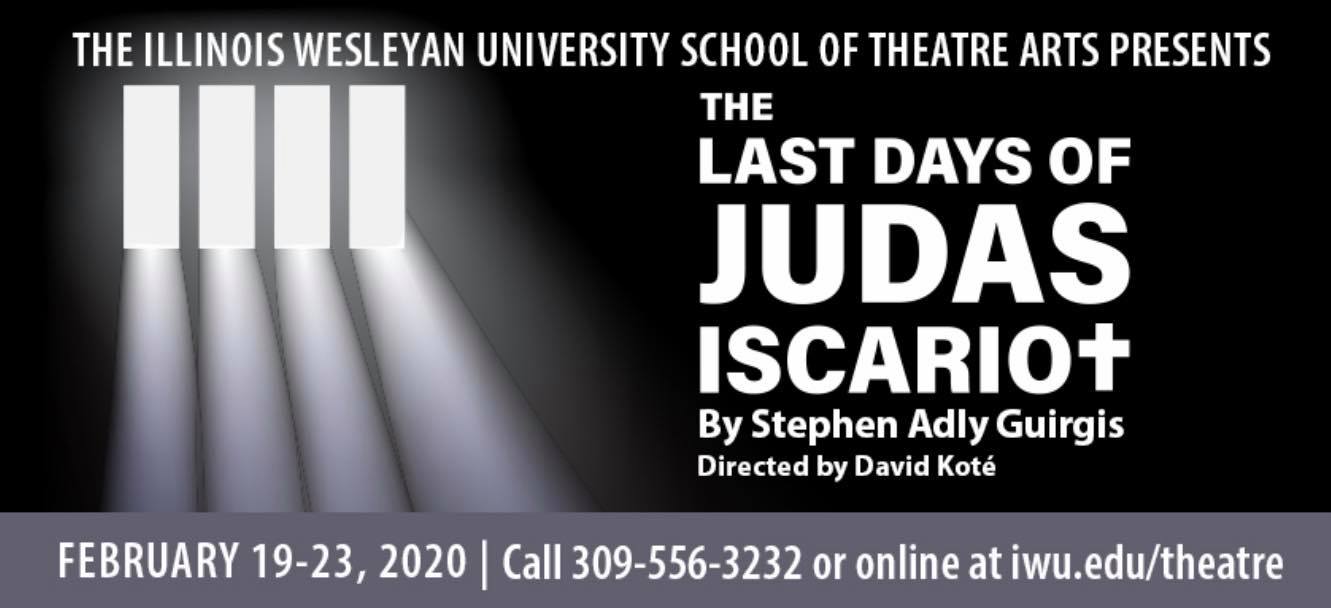 BLOOMINGTON, Ill. — Illinois Wesleyan University's School of Theatre Arts will present Stephen Adly Guirgis' thought-provoking comedy The Last Days of Judas Iscariot, Feb. 19, 2020 through Feb. 23, 2020 at the Jerome Mirza Theatre at McPherson Hall (2 Ames Plaza East, Bloomington).
An infamous figure in Christian ideology, Judas Iscariot was the disciple of Jesus who betrayed his friend and teacher. Seen as the man responsible for Jesus's death, Judas hung himself from an olive tree and has been suffering for his actions in Hell. Set in a courtroom in purgatory, the play tells the story of a court case of Judas, as the inhabitants of Heaven, Hell, and Purgatory — and the audience — determine his fate. The show encourages the audience to reconsider what they know about forgiveness, faith, and human nature.
Award winning director, actor and educator David Kot, is the director of the play. Cast members include: Megan Boggs '22, Jim Conklin '20, Julie Cozette '22, Justine Dacres, Richard Diamond '22, Andrea Froehlke '20, Jay Garner '22, Carson Grey '22, Cat Groth '20, Alexis Jones '22, Zoey Mendoza '22, Deonta Mitchell '22, Ian O'Toole '20, Kira Rangel '20 and Braden Tanner '20.
Curtain is at 7:30 p.m. each evening except for the matinee performance at 2 p.m. on Sunday, Feb. 23. Tickets are $12 for Friday and Saturday, and $10 for Tuesday, Wednesday, Thursday and Sunday. Tickets are $2 for students with a valid I.D., and seniors receive $1 off. Tickets can be purchased online and at the Jerome Mirza Theatre Box Office. For additional information, please contact the box office at (309) 556-3232 or visit www.iwu.edu/theatre.

By Vi Kakares '20