Entrepreneurship Fellowship Winner Creates Coffee Enhancer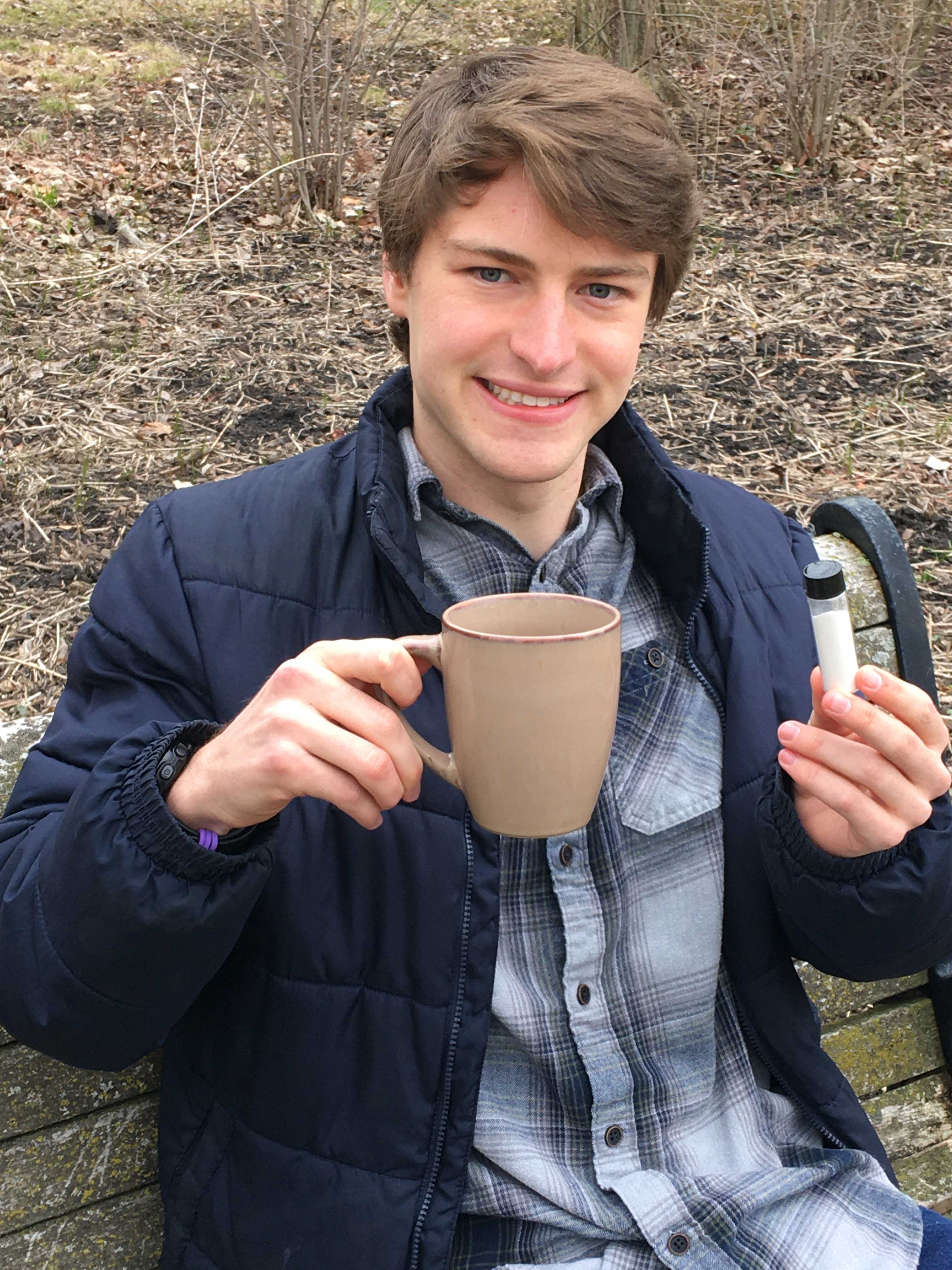 April 16, 2020
BLOOMINGTON, Ill. — A cup of morning joe, with a dash of Illinois Wesleyan senior Jeremy Glickman's newly developed "healthy, functional" coffee enhancer, could provide consumers with increased energy and focus for the day ahead.
Glickman, the winner of the biannual Entrepreneurship Fellowship, has been collaborating with a group of student entrepreneurs to create a "coffee creamer that is designed to amplify the positive effects of coffee — which are mood, energy, and focus — and mitigate the negative effects, which are the jitters and anxiety that come with caffeine."
The coffee enhancer, which doesn't yet have a name, comes in a powdered form and dissolves into a regular cup of coffee, "so whether you're using a creamer or sugar or whatever you put in your normal coffee, you can add the enhancer, stir it up, and it dissolves right away."
"It also prolongs the effects of coffee, so it helps people cut down the amount they need throughout the day," Glickman said.
The idea for the coffee enhancer was hatched last summer when Glickman contacted his childhood friend Zack Schreier, a junior at Williams College, in Massachusetts. Glickman said the two first discovered their shared entrepreneurial spirit in high school when they participated in a program at the University of Chicago called Catapult, which is designed for young entrepreneurs.
"Ever since then, we've really been sticking together and collaborating on our ideas. Six years later, we're starting a business together which is awesome," Glickman said.
As runners, the two friends are always looking for nutritional supplements, "anything for training and energy during the day." Glickman was a four-year member of the Illinois Wesleyan cross country and track and field teams.
"As students, we have crazy lives, and so many products can be of use. We wanted to build something that we could use ourselves to help us with our college lives, with stress, energy and focus. That was really the goal," Glickman said.
Over the summer, after Glickman would finish working at his daily 9-to-5 internship, he would meet with his team members in Schreier's apartment and work on developing their product.
"The shelves were loaded with ingredients, with different supplements. Every day was new experiment testing, trying different ingredients to make the perfect formula, and really just bringing it together as a team."
By the end of the summer, they had created two cognitive-enhancing supplements called "Flow" and "Chill." "Flow" is an energizing supplement that helps with productivity, and "Chill" helps with stress relief and improves sleep. After launching the products in stores in Illinois and Massachusetts, the team found "that people really liked taking Flow with their coffee in the morning."
"We decided to do one better and make it something that you can add to your coffee instead of a capsule form that you take with your coffee," Glickman said.
The entrepreneurial team once again collaborated as they grew their idea from a supplement to a coffee enhancer.
"We all bring a unique skill set. It's definitely a team effort. None of us could have done it alone. All of our skills put together really creates synergy," he said.
In addition to the research and development side of the business, there is also the sales and marketing aspect, which Glickman, a finance and economics double major, has been involved with. In this role, Glickman is in charge of retail sales, sales and distribution channels, reaching out to influencers, and "developing marketing campaigns with other Illinois Wesleyan students and alumni, which is another reason why being at Wesleyan has been so helpful."
Glickman said that working with Illinois Wesleyan students has also been particularly useful in sampling the product, especially because the rest of his team lives in Massachusetts.
"Being in a different location definitely has its benefits. I mean it's a whole other market. The resources at Wesleyan have been very helpful," he said.
Having polled more than 100 people, the team found that over 75% of people said they felt better using the coffee enhancer than using regular coffee.
"We're thrilled by the feedback we've been getting. It's clear that our market research has paid off because people are really liking the samples," Glickman said. "People are saying 'Let me know when you launch because I want to start using this product every day.'"
Glickman said the team plans to use the $5,000 Entrepreneurship Fellowship award money for its packaging design, which costs $1,500, as well as for its branding process, which will include developing a name for their product. Glickman said the team has already partnered with a manufacturer, and the rest of the money will be used to cover initial production costs.
"We will be ready to launch this summer. We'll be able to make our first production run and use the money toward actually making the product," he said.
In addition to receiving financial support from the fellowship, Glickman said he has received continuous guidance from Illinois Wesleyan faculty, including Tara Gerstner, the director of the Design, Technology, and Entrepreneurship program.
"The fellowship has been a great chance to work with Wesleyan and to know that I'm supported by the school, and faculty has been very helpful," he said. "A lot of the professors at IWU have been checking in with me and following my progress, and it's been awesome to be at Wesleyan and a college student while starting this business."
By winning the Entrepreneurship Fellowship, Glickman feels one step closer to achieving his dream job.
"It's the dream to be in control of work and to work on a business with my closest friends. I've learned this past year from working with this company that I want to keep working with these people," he said.
"It's really up to us as to how far we'll be able to take it. It's definitely the dream to be able to turn this into a full-time gig eventually or a summer job. I want to be able to keep working on this business for hopefully what will be the rest of my life."
By Vi Kakares '20