Eckley Scholar Hannah Ogunnubi '22 Designs Harlem-Inspired Musical Production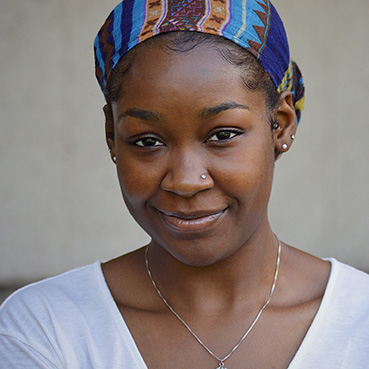 Oct. 16, 2020
BLOOMINGTON, Ill. — As a 2020 Eckley Fellowship recipient, junior theatre design & technology major Hannah Ogunnubi '22 brought the spirit of the Harlem Renaissance to life through her costume and scenic designs of the 1978 musical Ain't Misbehavin'.
Each summer, up to five upperclass students like Ogunnubi receive funding through the Illinois Wesleyan University Robert S. and Nell B. Eckley Scholars and Artists Program to pursue a self-led creative or research project, with the mentorship of an Illinois Wesleyan faculty member.
Ogunnubi worked with Professor of Theatre Arts Curtis Trout throughout the summer to design costumes and sets for her chosen play Ain't Misbehavin', a Broadway musical revue set in 1920s Manhattan. As a result of the COVID-19 pandemic, Ogunnubi met with Trout remotely throughout the summer to present drafts of her designs and receive constructive feedback.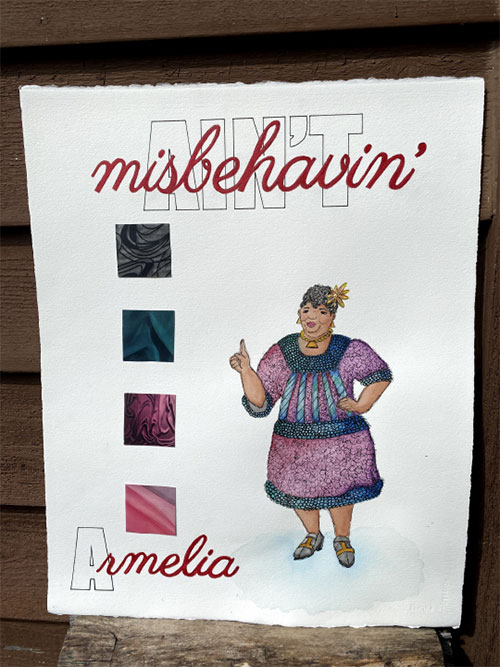 Working remotely on a project that requires such a degree of technical precision proved challenging at times but ultimately rewarding. "When it came to collaboration, there were times where I was in a creative block where I just couldn't figure out how to costume a certain character or how to rework a scenic element," said Ogunnubi. "Curt was able to suggest looking at things from a different point of view, gave me topics to research further, and much more."
Before putting pencil to paper, Ogunnubi first researched and compiled a catalogue of previous costume designs, photographs and details about life in the 1920s to use as references throughout the creative process. "I was very surprised by the amount of information that I found," said Ogunnubi. "There's so much history and information on people, environments, and art styles out there. The more research that I found, the more I wanted to go on my own and find more information."
An Eckley research fellowship provides students like Ogunnubi the opportunity to satisfy this type of intellectual curiosity beyond the boundaries of their curriculum. For Ogunnubi, this meant tackling a creative project outside of Illinois Wesleyan's full-scale theatre productions and seeing it to completion. She one day hopes to see her designs come to life on stage.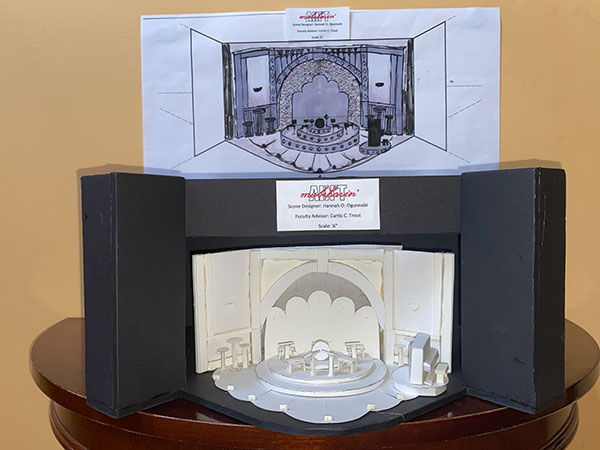 In addition to building her professional portfolio, the chance for Ogunnubi to work on a musical revolving around Black artists carried personal significance. "Black creatives of all mediums are out there, and they should be showcased and celebrated."
When reflecting upon her overall experience as an Eckley Scholar, Ogunnubi emphasized the support she received from her family, friends, the School of Theatre Arts community, and her faculty advisor. "This collaboration meant a lot to me because I look up to Curt as an artist and as a professor," she explained. "I really enjoyed how he saw my potential as a designer and allowed me to have a lot of say in my decisions and creative freedom, while also sharing his knowledge with me and helping me to perfect my artistic ability as a designer. I couldn't have asked for a better person to collaborate with me on this project."
By Rachel McCarthy '21