Students Present at John Wesley Powell Student Research Conference
April 17, 2019
BLOOMINGTON, Ill. –– Students from all years, disciplines and academic interests presented research projects, artwork and music at Illinois Wesleyan University's 30th annual John Wesley Powell Student Research Conference (JWPRC) on Saturday, April 13.
Held annually since 1990, JWPRC provides IWU students a venue to share their undergraduate research through poster presentations, oral presentations, art presentations or music performances. This year's research projects represented nearly every academic discipline at Illinois Wesleyan. A complete list of JWPRC participants and research topics can be found within the conference program.
As an example of JWPRC, Department of Biology sophomores Julia Chen '21, Ria Patel '21 and Julie Xu '21 gave an oral presentation of their research titled "A Novel Bacteriophage Capable of Jumping Between Marine and Freshwater Hosts." The faculty sponsor for this research was Assistant Professor of Biology Richard Alvey. Their research focused on how viruses evolve when moving from host to host, and their findings will help to expand on mechanisms of host switching, phage evolution, and help define functions for newly discovered phage genes.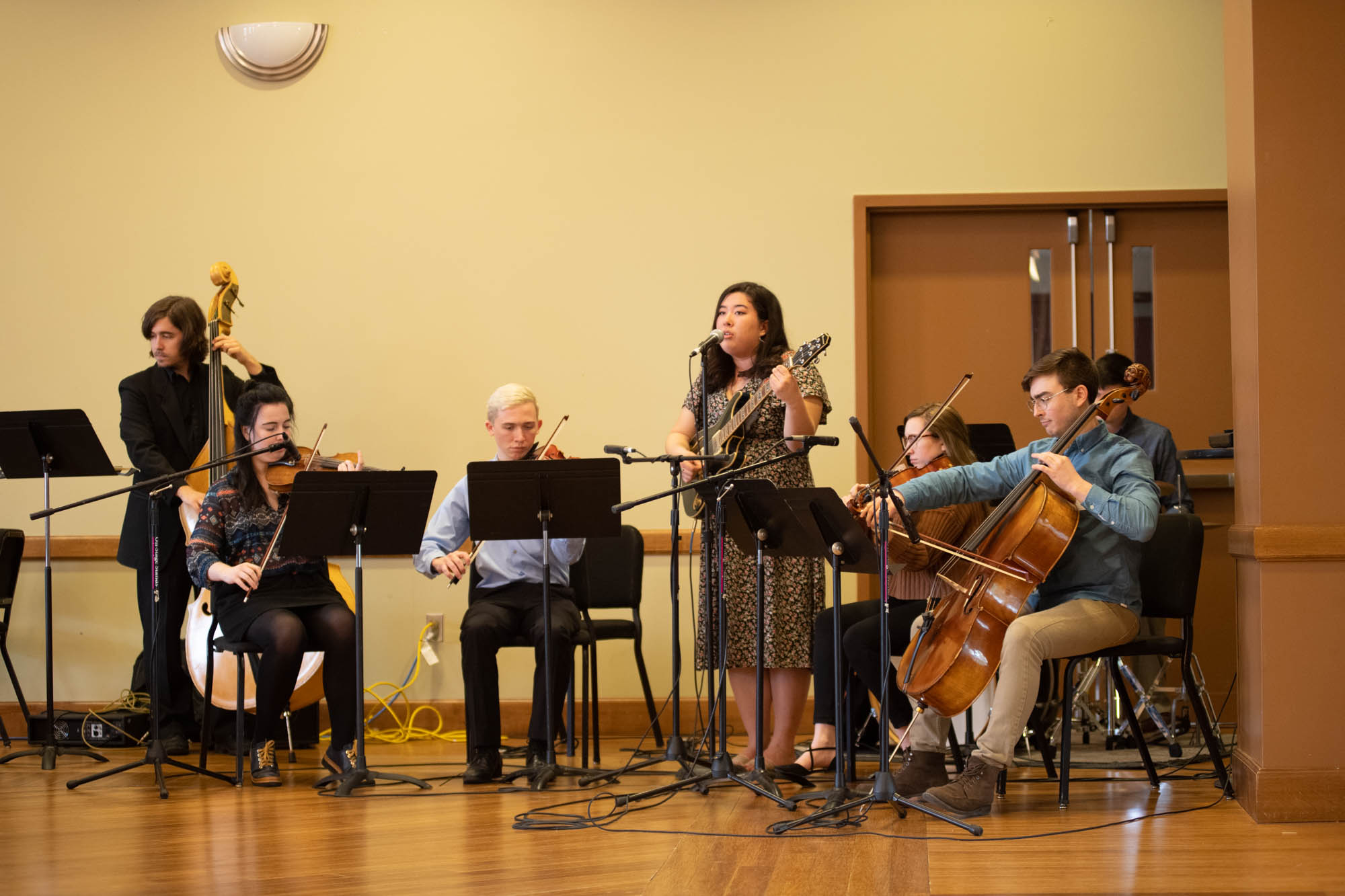 From the Department of English, Adam Cady '20 presented his research titled "La Batalla De Ideas Continua: The Revolutionary Writings of Jose Mart," with faculty sponsor Assistant Professor of English Molly Robey. In his research, Cady discussed the construed interpretations of Jose Mart from communist Cuba and capitalist America, arguing that neither are completely accurate.
In the Business Administration Department, Ziyan Liu '19, David "Nico" Lopez '21 and Michael Modaff '19 presented "Analyzing the Mobile App Industry and the Market of Internet Memes with its Application." Director of Design, Technology and Entrepreneurship (DTE) and Instructor in Business Administration Tara Gerstner '01 was the faculty sponsor for this research. This research analyzed the culture of internet memes and the way they are shared through social media. The project culminated with the development of an app designed entirely for meme sharing, titled "Caption_It."
Graduating teacher candidates presented their poster or oral presentations as a culmination of their capstone research experience during the annual Inquiries into Teaching and Learning Conference in conjunction with the JWPRC. Topics ranged from student engagement, to classroom technology, to grading policies.
School of Music students had the opportunity to perform original compositions during the conference luncheon. The compositions included Solar Chips, A Work for Solo Double Bass by Mitchell Galgan '19 and Mono no aware (Unblossomed) by Minji Will '19. Fern Rosetta Sherff Professor of Music David Vayo was the faculty sponsor for both these projects.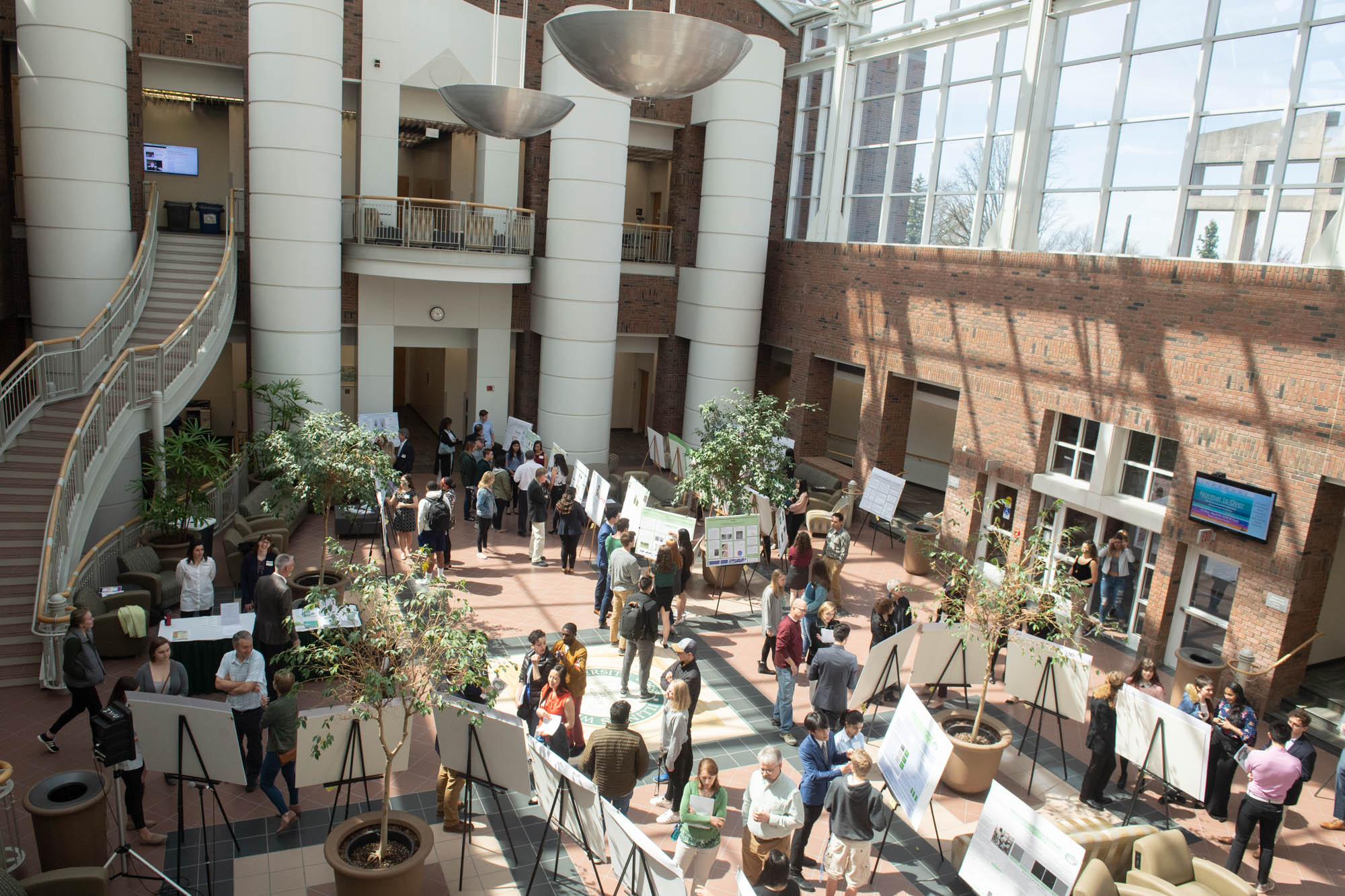 The School of Art hosted the BA/BFA Senior Exhibition Presentations. Macey Grant '20, Emily Wilkes '19 and Lixuan (Lucy) He '19 all showcased their work.
Complementing the annual intellectual theme "Changing Climates," JWPRC also featured keynote speaker Rene Scheltema, a documentary filmmaker and sustainability expert. In 2015, Scheltema debuted her documentary project Normal Is Over, which unravels how current patterns in the economy and food production have caused enduring environmental harm, as well as steps that can be taken to remedy this damage.
Previous campus speakers Naomi Oreskes and Vandana Shiva were both featured in Scheltema's film. Oreskes, a geologist, science historian and author, spoke at IWU's Founders' Day Convocation, and Shiva, an environmental activist, food sovereignty advocate and feminist, presented an address as part of the Adlai E. Stevenson Memorial Lecture Series.
By Megan Baker '21