Students Delve Into Immersive Chicago Healthcare Trip
March 14, 2019
BLOOMINGTON, Ill. — Illinois Wesleyan student participants in the Hart Career Center's annual Career Immersion Excursion networked with alumni who provided valuable insights into the complex and ever-changing world of healthcare.
Held each year during spring break, the Career Immersion Excursion is designed to help current IWU students gain connections in their field of interest through site visits and alumni speakers. Past trips have been held in Chicago, New York and Washington, D.C., with a focus on healthcare, business and politics.
The following is a student blog written by Rachel McCarthy '21 (Riverside, Ill.), who attended this year's CIE in Chicago. McCarthy was interested in learning about careers in genetic counseling and in mental health; however, she also came away from the experience with a deeper understanding of the healthcare field as a whole. The following blog posts recount her insights into the trip.
Day 1: Change Your Expectations
Nothing beats starting a trip the day we lose an hour from Daylight Savings Time, but I did manage to haul myself out of bed and make it to our shuttle bus to Chicago on time. Around noon, we checked into our hotels, freshened up, and then headed off to Second City, where we had a keynote presentation from Dr. Scot Morris '91. He's a prominent optometrist who was the chief editor of a major optometry journal and the founder of his own company that develops new technology for the eye care industry. It's an insane resume, but still, going into his talk, I didn't think that much of what he had to say would apply to my interests.
Boy, was I wrong.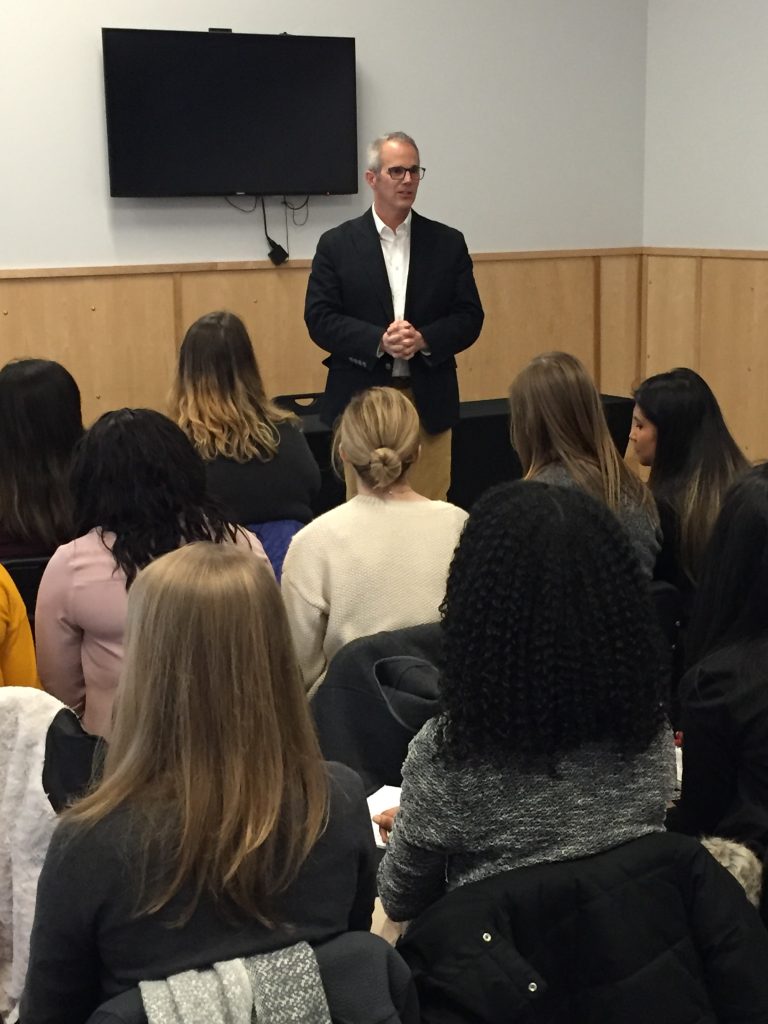 First off, let me say that Dr. Morris is an incredibly dynamic speaker who knows how to engage with an audience. He spoke to us for over 90 minutes, but it felt like it couldn't have been more than 45, largely because of his humor and his evident passion for improving healthcare as a whole. During his presentation, he discussed how the healthcare field is incredibly vast, comprising of thousands of behind the scenes jobs that all fall under the umbrella of healthcare providers. While it's an enormous industry, however, it's also a fundamentally broken one. I've heard some debates surrounding healthcare insurance and universal healthcare, but to learn that the United States' system consistently ranks 37th out of 55 industrialized nations, despite spending the most on healthcare, was shocking to me. Limited access to basic services, unnecessary procedures that doctors have to perform just to avoid getting sued, and patients' lack of control over their own health records are just some of the concerns that Dr. Morris described. And unfortunately, big food companies, pharmaceutical corporations, insurance agencies, and other sectors hold incredible power over public policy, which ultimately hurts advancements in medicine and access to affordable medication.
However, for all that's wrong with healthcare, the field is also on the cusp of tremendous change. It was inspiring to hear Dr. Morris talk about 3D printed hearts, personalized drugs based on an individual's genetic makeup, diagnosing complex illnesses in just a six-question online screening, robotic surgeries, and other futuristic-sounding advancements that are either in development or available already.
I could probably ramble on and on about all the amazing things he mentioned to us; however, a particular line that stuck with me is that healthcare professionals must be both healers and teachers. That is, the current model of healthcare is reactionary, providing healing when something in the body has gone wrong. However, another dimension of healthcare is providing information that patients need to improve their wellness and avoid illness in the first place. Just that idea seems so foreign to us because of how our system is structured, but as someone curious about studying genetic counseling, I believe that advancements in genetics can be the key to guiding personalized, preventative medicine, which is a very exciting prospect to me.
Overall, I found his talk inspiring, given his wealth of knowledge in so many different aspects of healthcare outside of his specialty. He mentioned that he has a new book coming out about some of the topics he discussed with us today, and you can bet that I'm adding it to my Amazon reading list.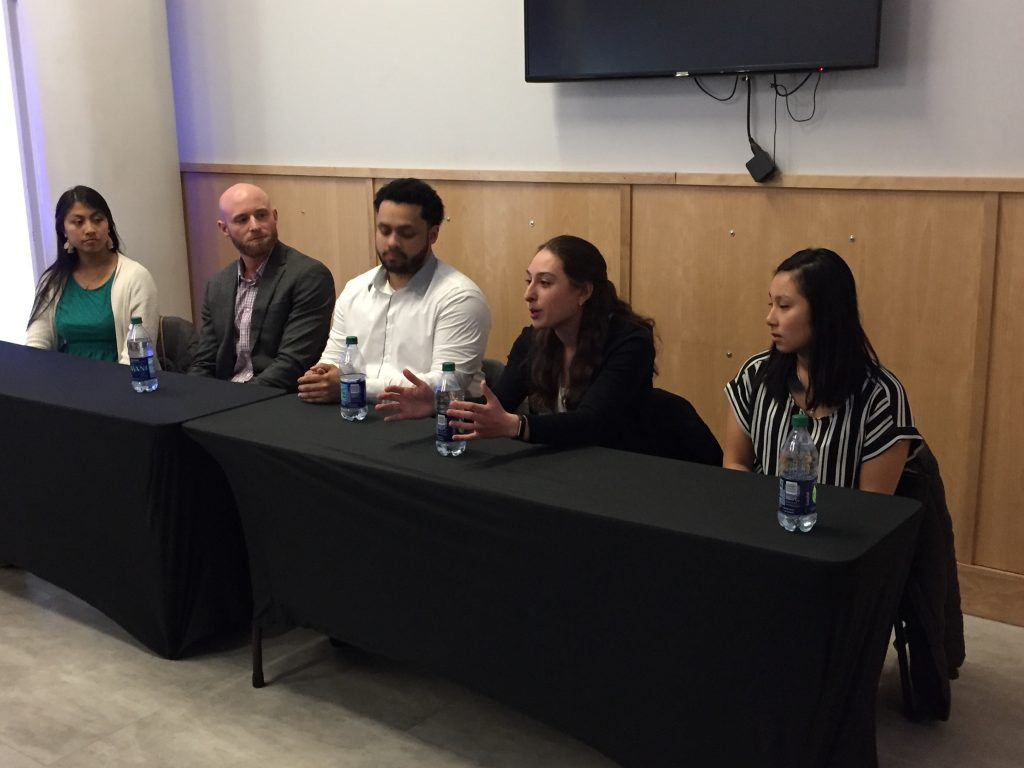 Afterwards, we had the opportunity to speak with a panel of recently graduated alums who are in a wide range of graduate programs. I especially appreciated their insights about adjusting to life in a major metropolitan city and how to avoid procrastination, one of my greatest Achilles' heels. Some of them even mentioned how their graduate programs are even easier than their undergraduate work because of the rigorous preparation they received at Illinois Wesleyan, which gives me hope that there is in fact a light at the end of the tunnel.
Feeling famished, we were all grateful to head downstairs for dinner and chat casually with the alums. Some of them even joined us afterwards to watch a comedy show at Second City, which if you haven't seen before, you're definitely missing out. Some members of the troupe we saw tonight came to Illinois Wesleyan to perform, so I thought I knew what to expect, but once again, my expectations were entirely off. They presented a night of entirely new fast-paced sketches that made me almost spit out my water at some points.
Looking back on the day from the comfort of my hotel room, I can't help but feel exhausted from all we experienced today, and it wasn't even a full day of the trip. So, while I'm a little nervous about how I'll fare during our jam-packed schedule tomorrow, I also can't wait to see how else this trip is going to challenge my expectations. Stay tuned for Day 2!
Day 2: Find Your Own Path Up The Mountain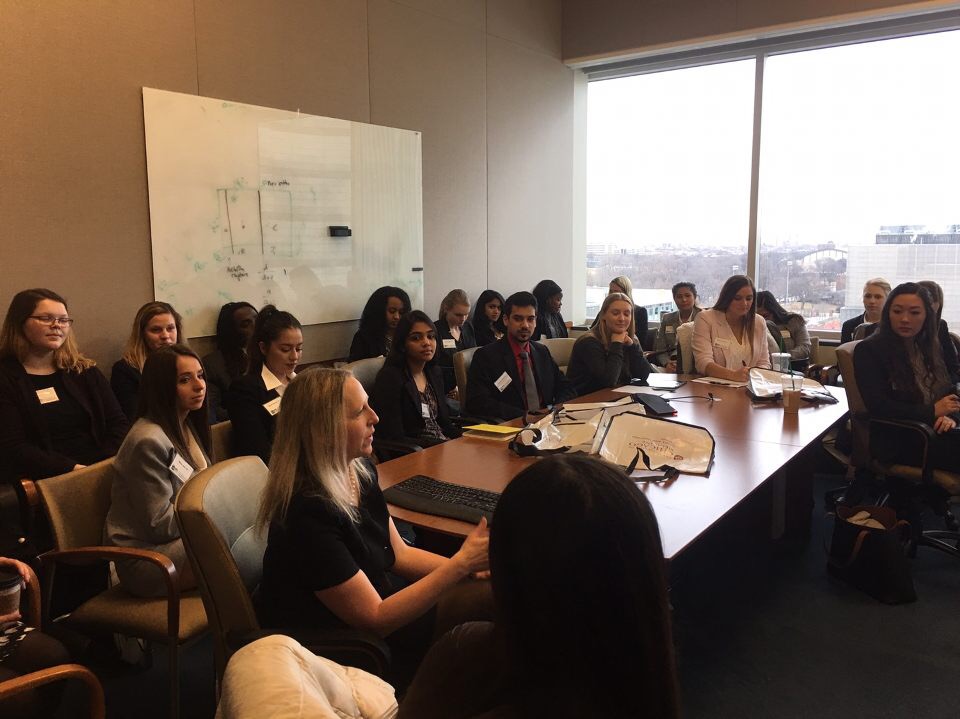 Wow, so even as I'm sitting down to write this post, my mind is still working to sort through all that we did today. Having to start our day at six in the morning definitely wasn't fun, but the breakfast buffet more than made up for it. Then, our group boarded the shuttle bus for the University of Chicago's Pritzker School of Medicine, where we spoke with Dr. Trissa Babrowski. And let me tell you, this woman is nothing short of an inspiration for being a top-notch cardiovascular surgeon, a professor at a world-class university, a researcher who presents her work across the globe, a wife, and a mother of three children. Oh, and in her spare time she's also worked through a longer reading list that I have this year, and I'm an English major.
Aside from her staggering accomplishments, I was also impressed with Dr. Babrowski's self-awareness and confidence in herself. After graduating from Illinois Wesleyan with a degree in biology and a French minor, she decided to postpone going to medical school and instead spend three years living in Europe where she translated French for a sprinkler company. And she knew it was the right choice for her; otherwise, she would have been too burned out to make it through med school successfully. I think that kind of decision takes a rare degree of confidence, as does persevering in her surgery residency despite doubts that a wife and mother could handle that kind of work. It was empowering to hear her talk about breaking the glass ceiling in the surgical field, where only 7.8% of vascular surgeons are women. She was a strikingly eloquent and down-to-earth speaker all the way through, and by the end, I wanted to stand up and cheer for all her amazing accomplishments.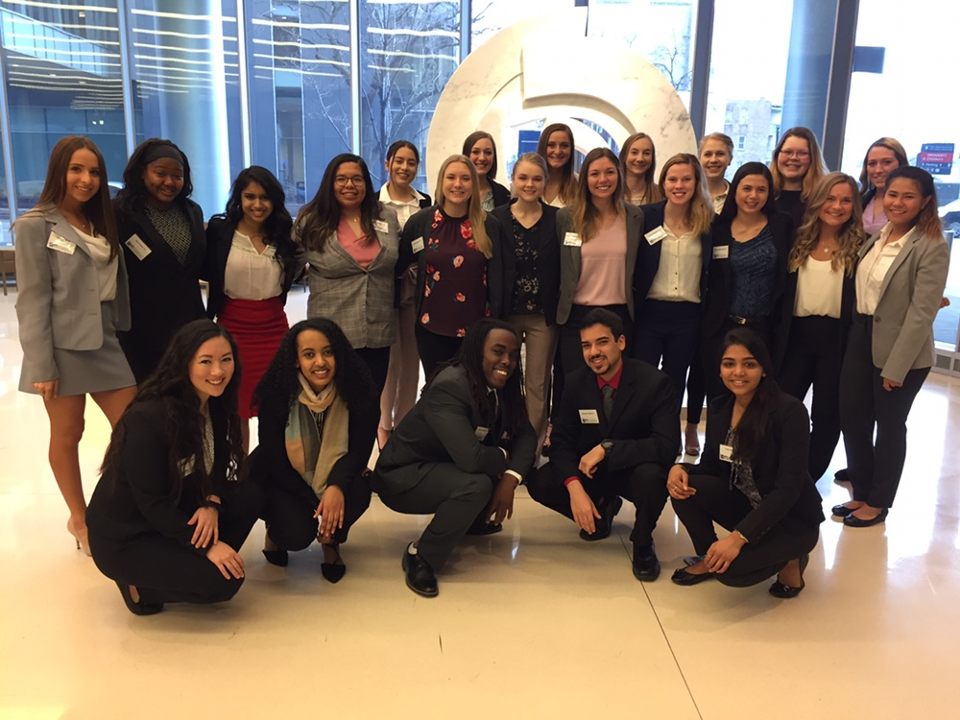 After Dr. Babrowski's talk, assistant director of admissions Sara Roser-Jones came to tell us about Pritzker's medical program and the application process. Even if you're not interested in applying to medical school, I think that much of what she had to say can be applied to any type of application. One of her main recurring themes was that successful applicants aren't simply ticking off checkboxes by performing the bare minimum, but are genuinely passionate in what they want to study. Grades are important as well, and Pritzker is a top-ranked school in that regard; however, she also said that she has turned away applicants with 4.0 GPAs if they weren't able to demonstrate empathy towards patients. Empathy in serving the underprivileged is highly valued at Pritzker; for instance, on top of all their other work, the students manage to run five free health clinics for Chicago residents. And as always, the core message was to simply be yourself… which will hopefully sink in one day!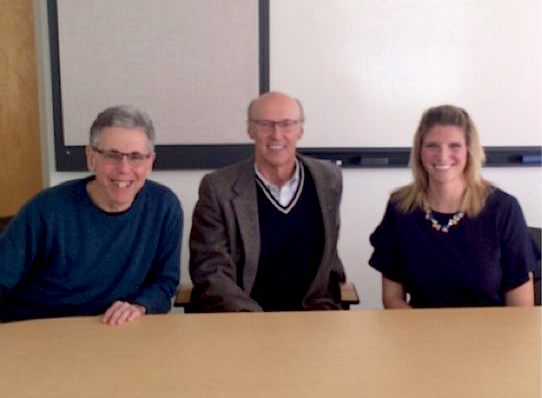 From UChicago, we hopped on the bus again and rushed off to UIC School of Public Health. Our first keynote speaker was Dr. Jack Herrmann, a veterinarian who eventually wound up working in public health as a Congressional Science Fellow in the U.S. Senate. (In case you're also sensing a theme, yes, there is no such thing as an "expected" career path.) He described public health as "assuring the conditions in which people can be healthy," which includes sanitation, food regulation, and water treatment. The fact that struck me the most during his talk was that declining mortality rates in the past century can be largely attributed to work in public health, such as providing access to immunizations and healthy foods, something which never would have crossed my mind. He also talked about a movement towards "one health," which integrates human, animal, and ecosystem health in order to solve public health crises. His colleague, Dr. Hershow, went into further detail of an example of a one health project that ended up saving the lives of endangered lions in Serengeti National Park. Even though I walked into the talk thinking that public health would just go over my head, both doctors gave off an air of grandfatherly wisdom that made me genuinely interested in learning about their passion for this type of work.
Next, we heard from Erin Howes '12, an education major who, after teaching English and citizenship classes in an underrepresented community through the AmeriCorp program, found herself called to work in public health in order to address many of the hardships her students faced. Currently, she works as a care coordinator in a Federally Qualified Health Center, serving mostly people from marginalized communities. She also advised us to just say yes to everything and see where it takes you. I think that kind of open mindedness can help students like me explore new opportunities, so I was glad she shared that with us.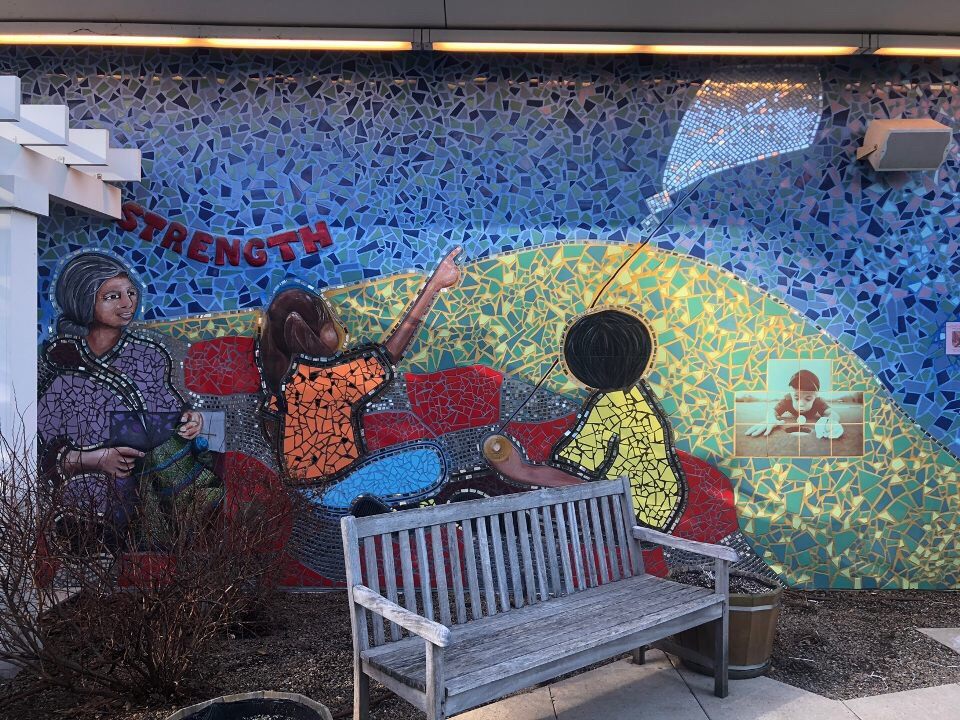 After UIC, we went on a tour of the Ronald McDonald House, a non-profit which houses families while their children are in the hospital. Earlier this year, we held a raffle to raise money for the Ronald McDonald House, and it felt good to know that we were able to help this amazing facility continue its mission. I would recommend that anyone take a tour at one point, just to see the care and thoughtfulness that goes into creating a fun, supportive space for these families.
But wait, there's more! For dinner, the students were assigned to groups with different alumni. I ended up dining with Dr. Michael Henry, an ophthalmologist, and his wife Megan, who is a social worker helping victims of domestic violence. I was definitely nervous for the dinner, but I quickly learned that I had no reason to be. Megan and Michael were more than happy to tell us about their professions, as well as about their Illinois Wesleyan experience and how they met their freshman year. We also ended up discussing personality types (Michael is scarily adept at reading people), whether or not the International House is haunted, and other tangents that kept the conversation from becoming too formal or awkward. I was so happy to meet them, and apparently they live close to my hometown, so chances are I might meet them again!
I came out of today feeling so much more at peace with myself after hearing that so many of these successful people took their time to explore multiple paths before discovering their true passion.
Overall, today was another day filled with incredible speakers who make me want to change my career every time I walk out of a panel. I wish that were a joke, but honestly, I circled "psychiatry" half a dozen times in my UChicago admissions pamphlet, and I Googled the requirements for getting a masters in public health when we came back to our hotel room. Not entirely sure if this is the effect a career trip should be having on me, but I'm loving it. I came out of today feeling so much more at peace with myself after hearing that so many of these successful people took their time to explore multiple paths before discovering their true passion. As an indecisive person with several competing interests, nothing could have been more affirming to hear from these alums than simply: take your time, because it all works out in the end.
Speaking of time, it's definitely time for me to get some sleep before another day of guest speakers, site visits, panelists, and gasp the big Alumni Social we've all been anxiously waiting for. Hope you'll stick around for Day 3!
Day 3: Step Out of Your Comfort Zone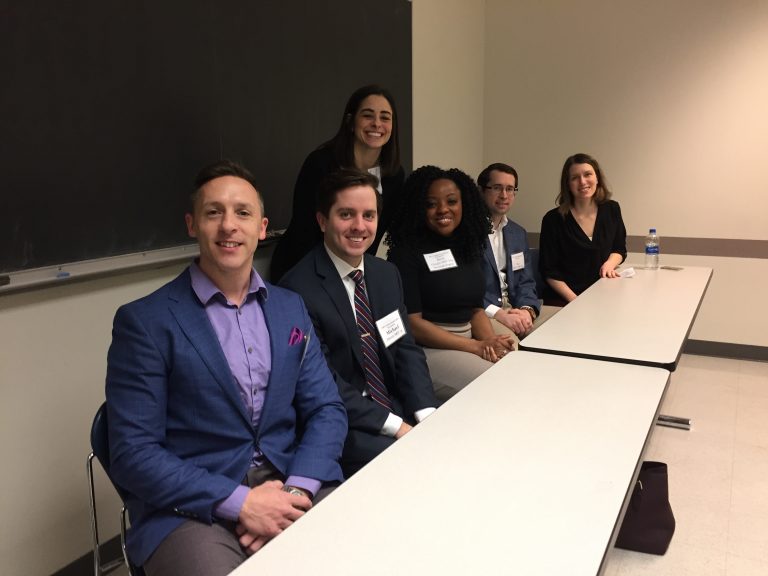 Following our regular routine of waking up, sighing at the pitch-black sky, and blearily shuffling downstairs for breakfast, we took the 'L' to Rush University Medical Center. IWU alums Jill Volk and Stephanie Hollis came to talk to us about admissions and special healthcare programs at Rush; afterwards, we had our Professional Practice panel with alums ranging from dermatology to physical therapy. I loved watching them interact during the Q&A session as they laughed about professors and classes they shared, because I think it exemplified how much of a community IWU really is, regardless of individual academic interests.
The alums also shared stories of their most memorable patients, some of which showed the alums' greatest successes, while other alumni used a tragic experience with a patient as inspiration to improve as a healthcare provider. In one story, an alum mentioned that he learned that he was "treating a whole patient," rather than being solely focused on making a diagnosis within one's own area of expertise. That statement struck me as insightful, and it complemented the recurring mantra among alums that a liberal arts education creates well-rounded students who can think holistically in order to solve the complex problems within a patient.
Next, we went on a campus tour with some IWU alumni as guides. My favorite place we saw was probably the cadaver room, morbidly enough, just because I've never found myself in that type of setting. I don't have any pictures from the cadaver room out of respect for those who chose to donate their bodies, and it was very evident from the demeanor of the students that they took their work in the cadaver room seriously.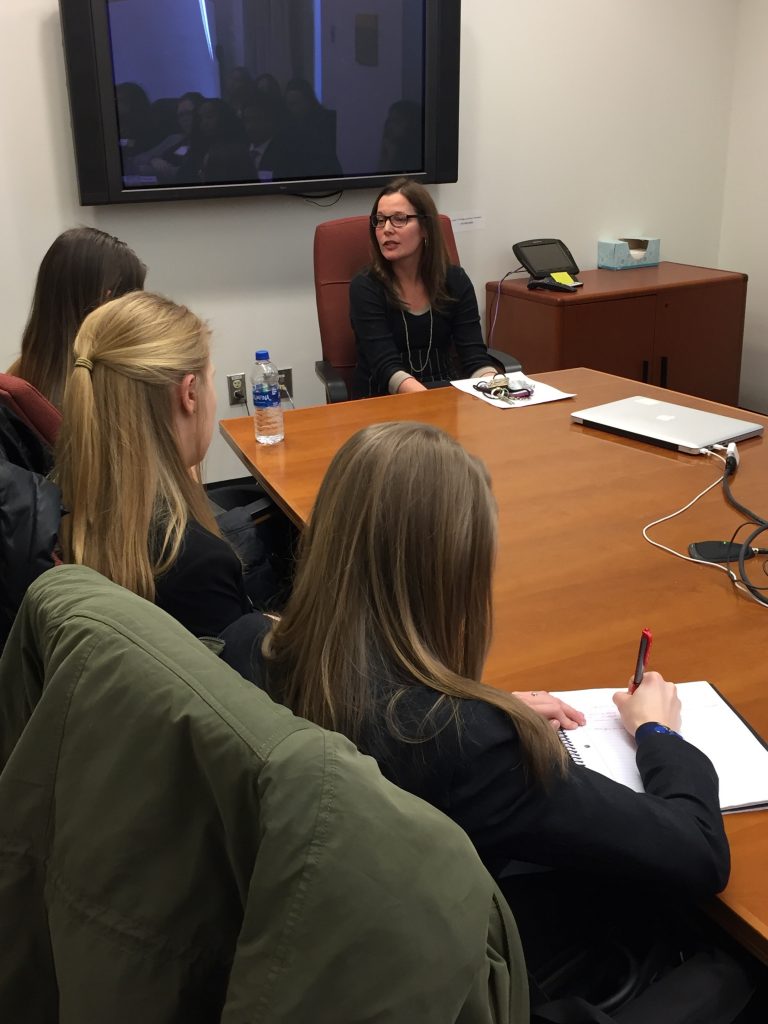 After chatting with some of the med students over sandwiches and chips, we said our goodbyes and went to meet with Dr. Lisa Castillo, a genetic counselor at the Center for Genetic Medicine at the Northwestern University Feinberg School of Medicine. As someone interested in specifically learning more about genetic counseling, I had spent the last few days anticipating her talk, and like the keynote speakers before her, she did not disappoint. After graduating from IWU with a degree in biology, she didn't have a clear idea of what she wanted to do, so she worked in regulation for Abbott for a few years before deciding to go into genetic counseling, which had briefly interested her as an undergraduate.
Despite having researched the genetic counseling field beforehand, I came away from Dr. Castillo's talk with even more insights into the field. Genetic counselors spend time with patients to discuss the risk of carrying or passing on a genetically-linked disorder, as well as time in the lab researching these genetic mutations. However, in Dr. Castillo's experience, the ratio of patient time and research time is different at each job site. Like me, research didn't appeal to her as much initially; however, she soon came to love her research work. Dr. Castillo also was able to hop between several specialties within genetic counseling before arriving at cardiovascular diseases, which is exciting to me as someone who enjoys learning different things and doesn't have a particular specialty in mind. She also recommended that I attend Northwestern's Genetic Counselor Awareness Day, which is essentially a career day centered on genetic counseling, and yes, I've already marked it on my calendar.
After a brief Q&A session (and you can bet that I peppered this woman with questions), we took a tour of the lab where she works and chatted with some lab students about their experience in graduate research. These people are working crazy hours in the lab for years, but they didn't look worn down at all, and you could tell that they wouldn't want to do any other type of work, which was heartwarming to see.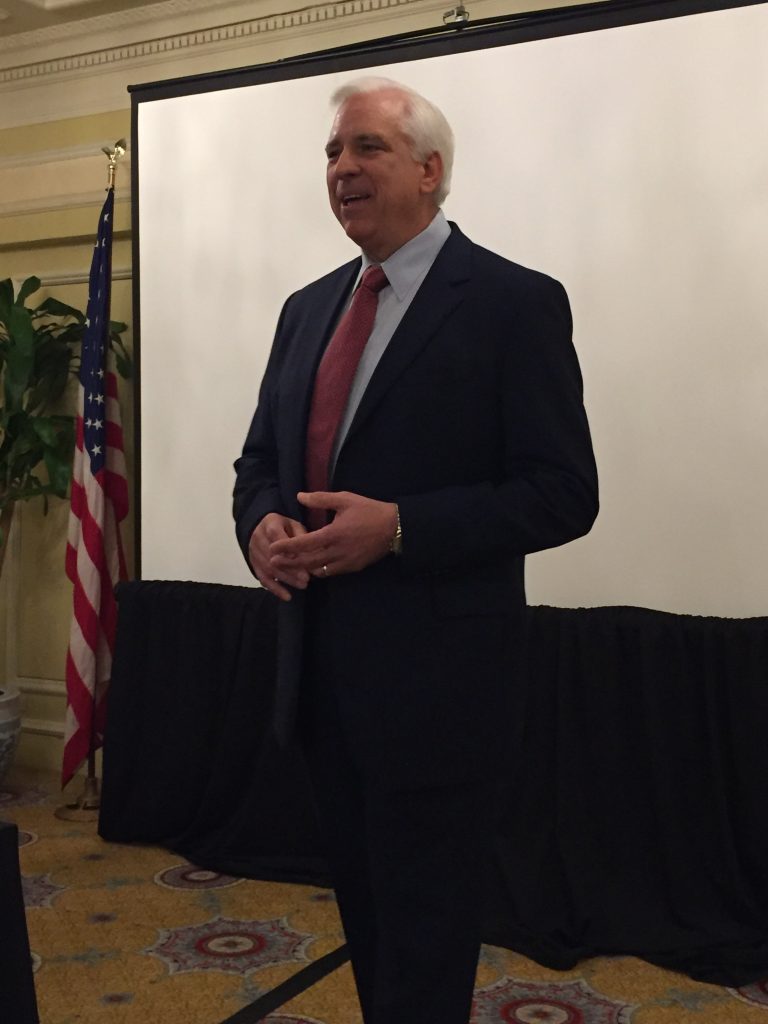 Unlike the past few days, this trip was truly non-stop, so instead of going back to the hotel to freshen up, we boldly marched ahead to the Union League Club, host of our IWU alumni social. Beforehand, however, we got the opportunity to hear a keynote speech from Dr. Steve Ondra. Before I go any further, please Google this man, because there's just too much about him for me to cover in the blog, but let me just throw out neurosurgeon, military doctor, and member of Implementation Deputies Group for the Patient Protection and Affordable Care Act as some of the job titles this man has held throughout his career.
He talked to us about his work in the Obama Administration and how he views the ACA as a flawed yet important first step toward reform. This man has managed to work in nearly every aspect of healthcare, so he understands that no one entity is to blame for the current state of healthcare. Each sector is just understandably concerned for its own welfare, so reforming healthcare is a matter of creating win-win situations that incentivize more cost-effective ways to manage healthcare.
When discussing his career path overall, he talked about the importance of continuing to learn and grow your skills, even after leaving formal education. Knowing that he wouldn't be able to be the best possible neurosurgeon as he aged, Dr. Ondra spent decades slowly acquiring skills to thrive in the business world, and later in government. I think that given the changing landscape of the job industry, and that more people than ever are having multiple careers, I appreciated that particular piece of advice.
I know going forward that I can always find friends in Illinois Wesleyan alumni, and that truly means the world to me.
It was an absolute delight to hear from Dr. Ondra, a man who comes off as eloquent and well-learned, yet still very personable and approachable. After his talk, we had the chance to mingle with him and alumni in healthcare who showed up for the social. Even though I found the idea of casually walking up to strangers in the middle of a conversation and saying hello very daunting, in hindsight, I really had nothing to worry about. Every single alum I spoke to was excited to engage with students, was doing interesting work in his/her field, and had tons of advice to give about making it in the healthcare industry. I even managed to walk away with some business cards, which I can add to my growing stack from this trip. It was a shame that I couldn't have met with more alums that evening, but I feel so grateful to every one of them for taking time out of their very, very busy lives to support us. You could palpably feel that support in the room, and it was reassuring to see that the adult world, as daunting as it is, is filled with friendly, welcoming faces. I know going forward that I can always find friends in Illinois Wesleyan alumni, and that truly means the world to me.
We're coming up on the final day of our whirlwind career trip! Thank you all very much for reading along so far, and I hope you're looking forward to Day 4 like I am!
Day 4: Do Something That Matters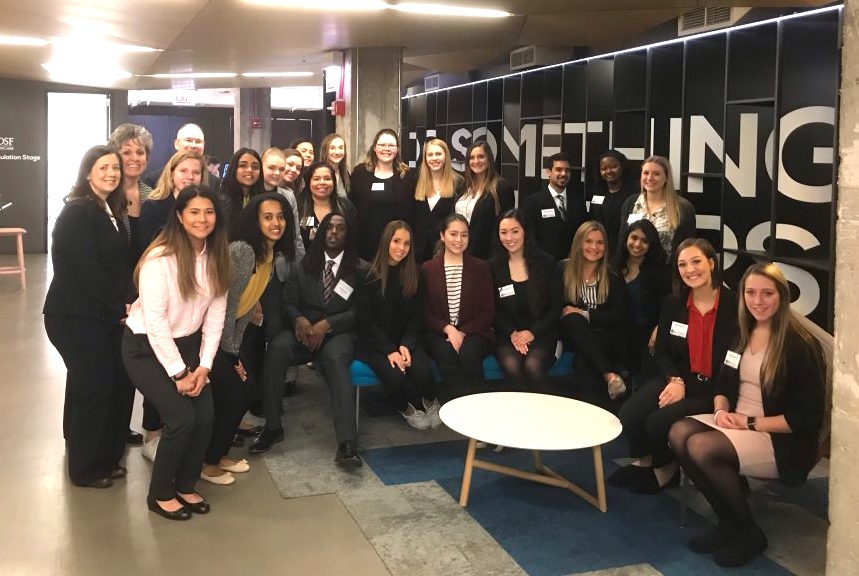 So, I actually fell asleep in the middle of writing yesterday's blog post, so even though we were supposed to get an extra half hour to rest, I ended up jolting awake at 5:30 a.m., hammering out a conclusion, and passing out again. When morning came, we packed our bags, checked out of the Hyatt Place, and made our way to Matter. As one of the staff members explained to us as we sat in their sleek, modern office areas, Matter works to help startups in healthcare by offering business workshops and creating partnerships with larger healthcare companies interested in their products.
We heard from a few Matter entrepreneurs about their work, and it's exciting to think about the innovations that are soon going to change people's lives. One entrepreneur shared with us his product CareBand, a simple wristband that can monitor a patient's location within a house as well as outdoors without having to rely on Wifi. The product is designed to help caregivers find patients with dementia, who often wander off on their own, before a fatal accident can occur. If widely implemented, CareBand could enable those with dementia to live in their houses with loved ones for longer periods of time before transitioning to a long-term care facility. It was easy to tell how much this project mattered (semi-intentional pun) to him, and Matter was the organization that made it feasible.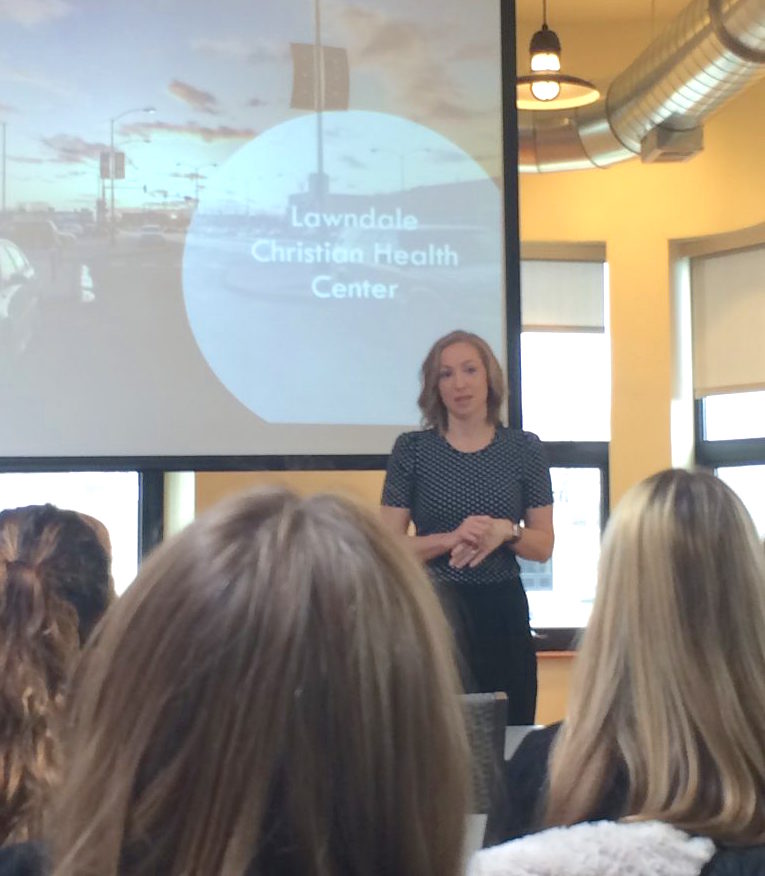 From Matter, we rode the 'L' train to Lawndale Christian Health Center, our final site visit. From the moment we stepped off the train, it was clear that this was a community in need of quality resources. Over half of Lawndale has a household income under $25,000 a year, and unemployment is rampant. It is here that Cassandra Phiri '04 works as a physician's assistant (PA) to provide quality care to those who otherwise would be unable to afford treatment.
Like so many alums on this trip, her career path was filled with twists and turns. After graduating with a psychology major and anthropology minor, she spent time in South Africa on a mission trip, where she met her future husband. She said that she chose to be a PA largely because of her indecisiveness, and she liked how PAs can hop from speciality to speciality very easily. I think that for those of us on this trip, it's easy to feel overwhelmed by the number of possible careers being thrown at us, so it's comforting to know that you can settle on a career and still have the freedom to change your mind.
Following a Q&A with Phiri, we met the panelists for our mental health panel. Despite the variety of careers they represented, from social workers for domestic violence victims to psychologists working with veterans, their views on the mental health field as a whole were strikingly similar. First, mental health services are painfully underfunded, and there is a great need to address mental illness in underprivileged populations. Second, the hope is that mental health care can be integrated with primary care; that is, an annual check-up at the doctor's office could one day include having a conversation with a professional therapist. Given the stigma that still surrounds mental illness, it's difficult for many people to have the courage to step into a mental health facility without knowing what to expect, so bringing mental health professionals to a familiar environment could go a long way to make mental illness feel just as valid as any other physical illness.
On a slightly tangential note, I was grateful to have the chance to speak briefly with one of the panelists, Dr. Herb Zerth, who works in emergency care at Hinsdale Hospital. My father has been taken to the ER at Hinsdale a few times over the years, and I've always been thankful for the quality care he's received there. Many healthcare professionals see people at their very worst, and the things those people say aren't always kind as a result, so I hope that you can take time to thank a healthcare provider for their hard work!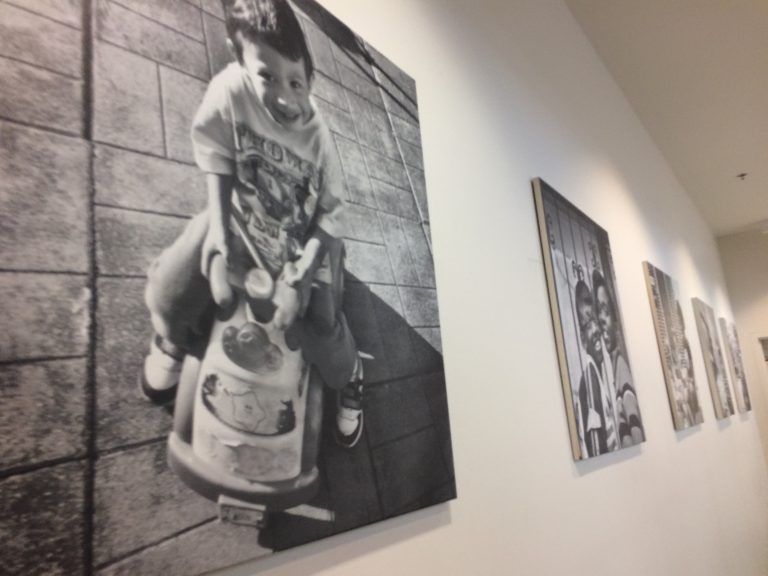 After lunch, we took a tour of LCHC facilities, and I say facilities with an 's' because there is so much more to Lawndale than a single clinic. Walking down the street, you could see a whole row of social service buildings with a little cross logo and the acronym CHC, meaning that they are either affiliated with the Lawndale church or the health clinic. We started at the main clinic, which was built in the shell of an old warehouse that collapsed in the '80s. I loved how it was designed specifically to meet the needs of the community; for example, a group of teenagers wanted a safe place to play basketball, but the roof of the clinic wasn't high enough, so they spent a whole summer digging a space with the right dimensions for a basketball court. Walking through the clinic itself, we also noticed some rows of canvas photographs which turned out to be photos of people in the community. In doing so, the clinic wanted to send a message that its patients were beautiful and therefore worthy of being art, and I personally was moved by the meaning conveyed in that simple act.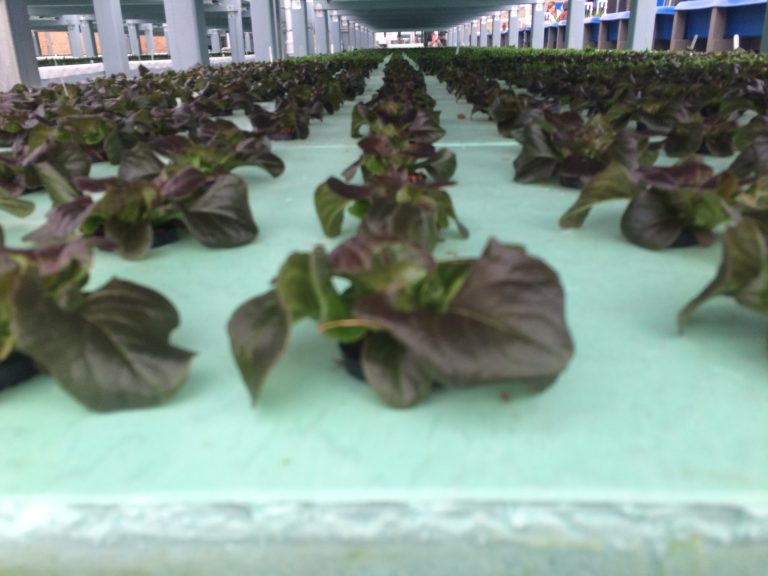 But if you thought that LCHC was all waiting rooms and doctors' offices, you'd be wrong. After taking a tour of their newly opened walk-in clinic, built to give people in need of immediate care an alternative to costly ER visits for minor problems, we tramped through the newly formed rain puddles to their cafe. A cafe, you ask? Why would a health clinic add a cafe? Has the world gone mad?! Well, I'm here to tell you that no, it hasn't (yet), and apparently it's tough to tell patients to eat healthier if all you've got lining the streets are convenience stores and fast food chains. Following that line of thought, above the cafe is a fitness center that provides equipment and classes for people to exercise their bodies, and just down the street is a farm (yes, a farm on Ogden Avenue of all places, for people to buy fresh produce). What's more, the farm actually offers classes to teach residents how to start their own small farming business.
Overall, it was incredible to see LCHC's holistic approach to healthcare in action, because it pushes the boundaries of what we even consider as healthcare. Everything they do makes sense, and it's cost-efficient (seriously, these people somehow take runoff water from their parking lot to use as energy for buildings), and it's effective in changing people's lives, so it's a wonder that we don't see more community health clinics with similar programs.
On the 'L' ride back to our hotel to pick up our bags, I think the general consensus was that we were so glad for the trip to be done so that we could spend the rest of Spring Break relaxing, but we also wouldn't have had this trip structured any other way. Hopefully these blogs illustrate that we managed to do so much during this trip, to the point where the mornings, afternoons, and evenings felt like completely separate days. I don't think a single one of us could say that they didn't get something valuable out of this experience.
To be honest, I remember being on the fence about even applying to the CIE program. I wasn't pre-med, I wasn't a nursing major, and I knew that the majority of the trip would be targeted toward students pursuing careers in those fields. I was there to meet a genetic counselor to find out if that was something I was truly interested in pursuing, maybe say hi to some mental health panelists, eat Chicago food, and that was it. That being said, I came away with so much more.
I kept finding myself amazed with how interested and engaged I felt throughout the entire trip. Early on I found myself in a cycle of thinking "wow, that was an incredible talk, I can't believe how much I learned… but I bet the next one won't be relevant to me at all." Needless to say, I was proven wrong every time.
Because the fact of the matter is that healthcare is relevant for all of us. Doctors, nurses, and other healthcare providers are often the easiest for people to take out their anger and frustration when something goes wrong or doesn't seem fair. However, this trip helped me appreciate the fact that healthcare is a system that is amazing, complex, and more than a little broken, but there are thousands of people working to make it better in their own way. And because it's this vast, sprawling mess that requires so many talented people behind the scenes to make it work, I think that pretty much anyone can find a place where their unique interests and talents are needed, whether that's straight out of Illinois Wesleyan or ten years down the road. This trip ended up widening my possibilities rather than narrowing them, but I think that's a very good thing. I can't reiterate how happy I am that I made the decision to go.
In summary, to anyone interested in going on this trip in future years, I'd say to go for it and keep an open mind while you're there. Because if you think you know exactly what you want to do in healthcare, or any other field for that matter, there's a 99.9 percent chance you don't, and the Career Immersion Excursion trip is definitely the place to start finding out.
Thank you all very much for reading along and sifting through my rambling thoughts. I can't wait to read about all the exciting experiences that IWU students will have on this trip in future blogs!
By Rachel McCarthy '21