Student Writers Inspired by Stories of Local Veterans
Jan. 8, 2019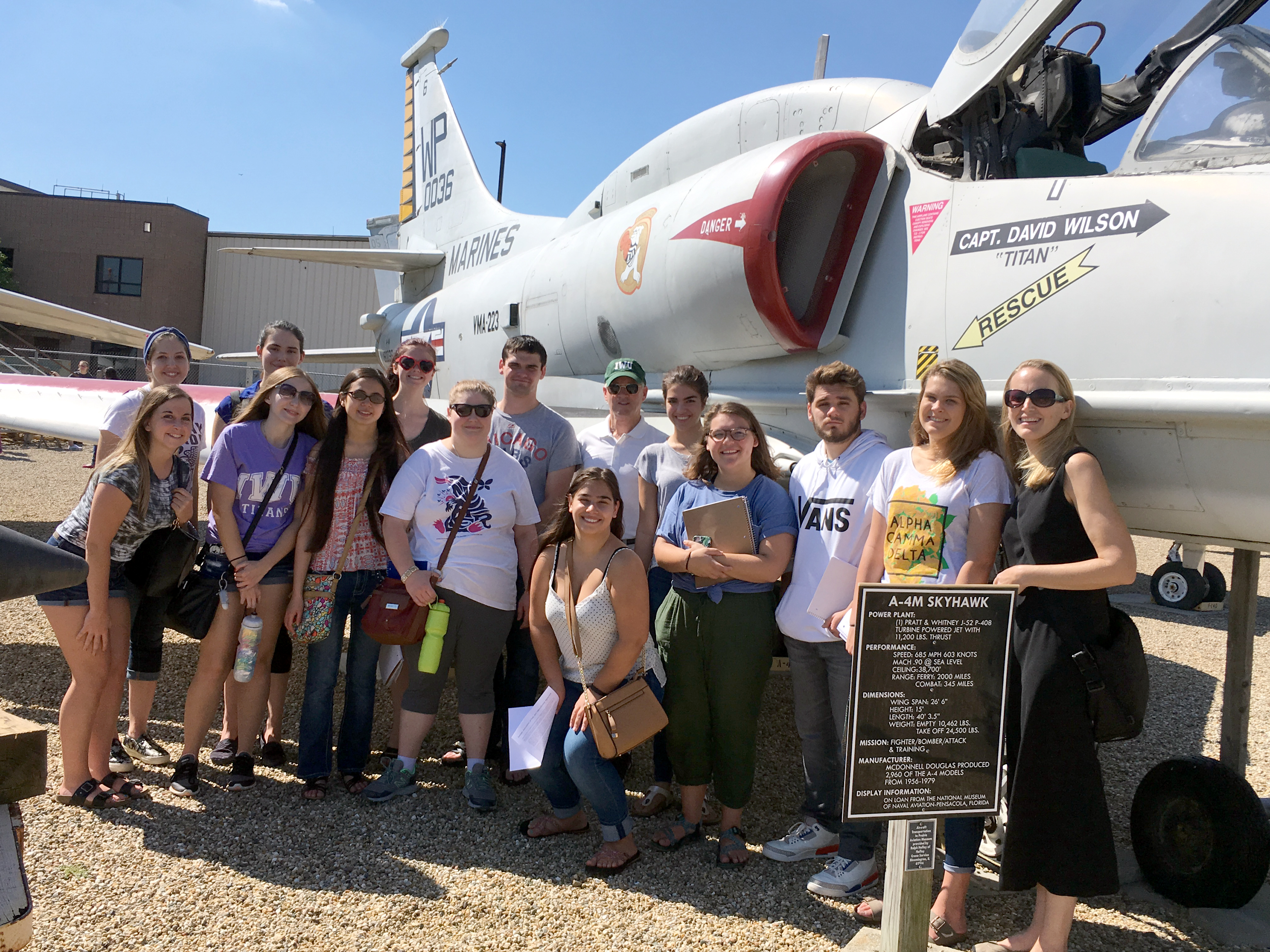 BLOOMINGTON, Ill. — To craft a work of fiction requires an in-depth understanding of others' realities, as Illinois Wesleyan University students enrolled in Writing Fiction 201 learned during a unique partnership with local veterans in collaboration with the Prairie Aviation Museum in Bloomington.
When the time came for students to craft their first short story for the class, Assistant Professor of English Brandi Reissenweber encouraged them to look for inspiration outside their own perspective as young adults living in the 21st century.
"I want to give students an opportunity to reach well outside of their own experience, and to do this in an informed way," Reissenweber explained when describing the project. "The partnership with the Prairie Aviation Museum made character development a more immersive experience, and situated that at the core of their creative process. They developed skills essential for the fiction writer: empathetic imagination and an ability to inhabit a perspective very different than their own."
During a visit to the Prairie Aviation Museum, students were given the opportunity to imagine themselves flying and working with planes from World War II and the Vietnam War, then sat down individually with veterans to hear their stories firsthand.
The resulting works of fiction, while not autobiographies, presented a realistic portrayal of wartime because of details the veterans shared. Whether from the perspective of fighter pilots on the front lines, domestically stationed soldiers, or family members left behind during the war, the experience of interviewing someone who had lived through it all informed the authors' imaginations throughout each stage of the writing process.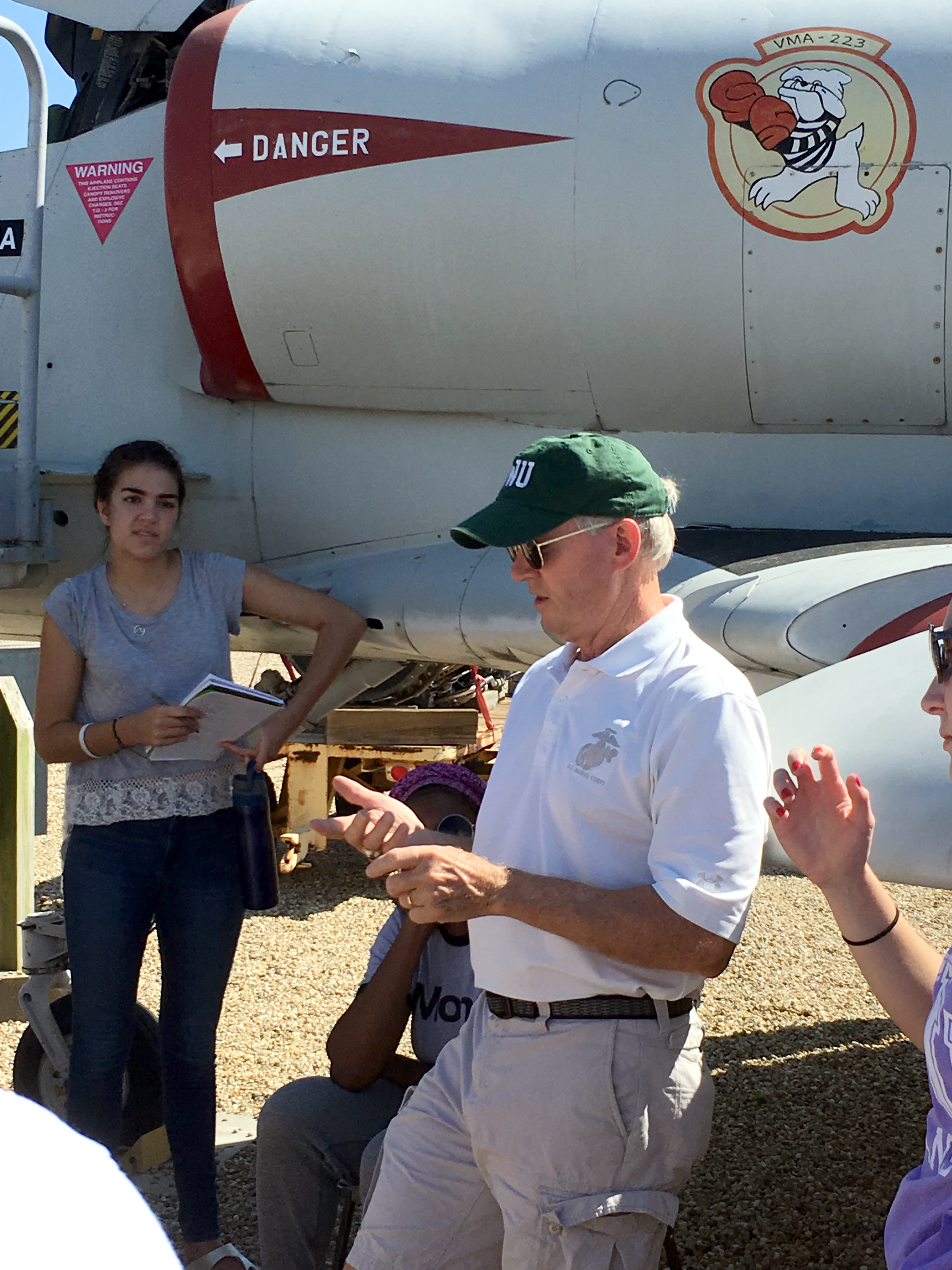 "It was really cool getting insight from someone who actually lived it, rather than doing research myself and not necessarily getting my questions answered," said English major Sarah Buchmann '22. "By actually interviewing someone, I was able to go into specifics and hear details I wouldn't otherwise know."
Veterans and Prairie Aviation Museum members Phil Mastrolia, Rob McCullers, John Nafziger, John Ohler, Doug Reeves, Karl Rubbel, Pete Troesch and David Wilson '70 volunteered their time to speak with the students, and in doing so, came away with a valuable cross-generational exchange of thoughts and memories.
"I often regret that I did not reach out to my parents' generation to ask more about their life experiences," said Wilson, who served on active duty in the Marines from 1972 to 1975. "Now that most of that generation has passed, we are not able to have those conversations to learn about their stories. As a Wesleyan student, I wish that there had been a Professor Reissenweber to crack open those doors to help build bridges between the generations."
Sharing these stories furthered the Prairie Aviation Museum's mission to "educate, entertain, and inspire through collecting, preserving, and displaying aircraft, artifacts, and memorabilia about aviation and space." The museum will archive the professionally-recorded student interviews and potentially incorporate them into an exhibit.
Reissenweber and the Prairie Aviation Museum are also exploring the possibility of making these interviews available on a website to highlight IWU's collaboration with the museum.
"As a member of the Prairie Aviation Museum, and the Bloomington-Normal community, I encourage any activity that fosters a relationship between campus and community," said Wilson.
Reissenweber said she is grateful to Bill Arbogast, the Prairie Aviation Museum member who helped coordinate the partnership, and hopes to continue partnering with local organizations in future classes.
"Creative writers have a long history of activity in the community; it was—and continues to be—a part of my own development as a writer and I want to share that process with students in my classes," Reissenweber said. "The ability to take on perspectives other than one's own allows writers to imagine the individual human experience with intimacy and depth, and that helps them to craft characters with authenticity."
By Rachel McCarthy '21
-Rachel McCarthy was a member of Writing Fiction 201.