Student Research Explores Human Rights and Changing Climates
March 4, 2019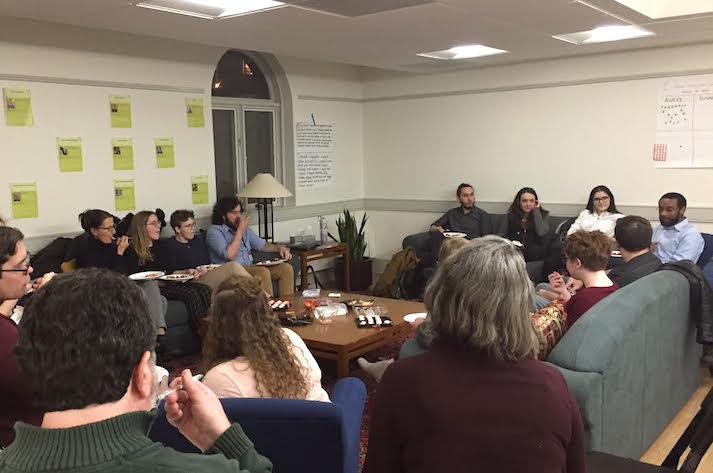 BLOOMINGTON, Ill. — Illinois Wesleyan University's seventh annual Human Rights Undergraduate Research Conference, held Feb. 15-17, invited students of all majors to present research tied to this year's theme, "Changing Climates and Human Rights Discourse."

In conjunction with the University's 2018-19 intellectual theme Changing Climates, undergraduate students from Illinois Wesleyan and neighboring liberal arts institutions presented their research on human rights issues that have evolved given recent changes in environmental, political, social, cultural and religious climates.

Changing climates can impact the lives of people around the world, as anthropology major Chaepter Negro '19 discovered through speaking with indigenous rice farmers in the Philippines as part of his 2018 summer internship with the International Rice Research Institute (IRRI). In his presentation "Terrace Degradation and Heirloom Rice Preservation Initiatives in the Philippines: Varied Perspectives and Dwindling Time," Negro described the work of IRRI's Heirloom Rice Project and similar initiatives to halt degradation of rice terraces in the Cordillera Mountains in order to preserve heirloom rice varieties and the livelihoods of Cordilleran farmers. As part of his research, Negro interviewed several farmers about how terrace degradation has impacted their lives.

"Indigenous heirloom rice farming communities rely on the terraces as a source of farming land, income via tourism, and community/heritage engagement," Negro explained. "I hope that my research gives the true owners of the rice terraces an opportunity to have their voices heard, as their cultural livelihood is so deeply tied to the survival of the terraces."

Close by in Vietnam, Katherine Henebry '19 and other senior environmental studies majors witnessed the detrimental impact of climate change in Ho Chi Minh City, a rapidly-growing metropolis marred by air pollution and intense flooding. As part of their senior seminar work, the students created a feasible plan for establishing a more sustainable and inclusive transportation sector in the city, with the hopes of reducing traffic from thousands of motorbikes and improving accessibility for residents with mobility impairments.

With the increase in environmental disasters as a result of global climate change, political science major Shakira Cruz-Gonzales '21 examined government responses in the aftermath of these disasters. In her presentation "Education in Disaster Capitalism: Three Areas," Cruz-Gonzales focused her research on Hurricane Katrina in 2005, the 2010 earthquake in Haiti and Hurricane Maria in 2017. Cruz-Gonzales noted that in each scenario, the government pushed pro-corporate measures that allowed corporations to privatize housing and education to the public's detriment. This phenomenon, known as "shock doctrine," resulted in loss of local jobs and dependence on government programs.

In such times of crisis, one of the most immediate issues to address is food insecurity. However, the global food crisis of 2008 has required new innovations to reduce hunger, especially in developing nations. Zambian Breweries is one such initiative which Ann Crumbaugh '19, an international studies and political science double major, shared in "Fueling the Brewery, Feeding the Poor: Cassava Commercialization and Food Insecurity in Rural Zambia." In an effort to minimize rural food insecurity in Zambia's Luapula Province, the brewery takes cassava grown by local farmers as part of a value chain to feed its urban brewing plant. Crumbaugh's research investigates if the project promotes dependency from smallholder farmers, if female farmers are adequately included in the project, if social protections are offered to community members who do not participate in the project, and other questions to determine if the project's model of rural development is effective.
In addition to those in poverty, another vulnerable population in times of political change is children. In his presentation "Child Soldiering and the Sierra Leone Civil War," economics and political science double major David Werner '21 explored the moral dilemmas surrounding child soldiers, who are both victims and perpetrators of violence. His research narrowed in on the difficulty of defining childhood, and how Western thinking about childhood may be culturally insensitive when attempting to create universal human rights for children.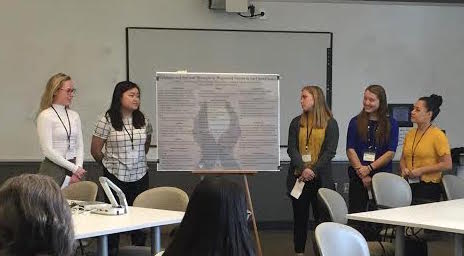 As activists raise awareness of the need for cultural sensitivity in various fields, religious and spiritual diversity often goes overlooked. Nursing majors Jenny Ly '21, Anna Mitroszewska '21, Mimi Nguyen '21, Rebecca Rochacz '21, Amanda Rogers '21 and Jennipher Sanchez '21 hope that their research into religious and spiritual diversity of nurses in the United States can someday lead to more inclusive care for patients. After finding little to no pre-existing evidence on the subject, the students conducted a survey of registered nurses in Illinois in order to gain information on their religious and spiritual beliefs and practices, and how nurses implement religion and spirituality into their patient care. The students believe that conducting further surveys on a national scale can help identify gaps in nurses' religious or spiritual diversity, so that nurses can receive training in how to best meet their patients' needs.
The Human Rights Undergraduate Research Workshop is an annual two-day event sponsored by the Center for Human Rights and Social Justice at Illinois Wesleyan University. For more information, please contact the center's director, Ben and Susan Rhodes Professor of Peace and Social Justice Irv Epstein at iepstein@iwu.edu.
By Rachel McCarthy '21