Shull '03 Shares Power of Personal Branding
Oct. 30, 2019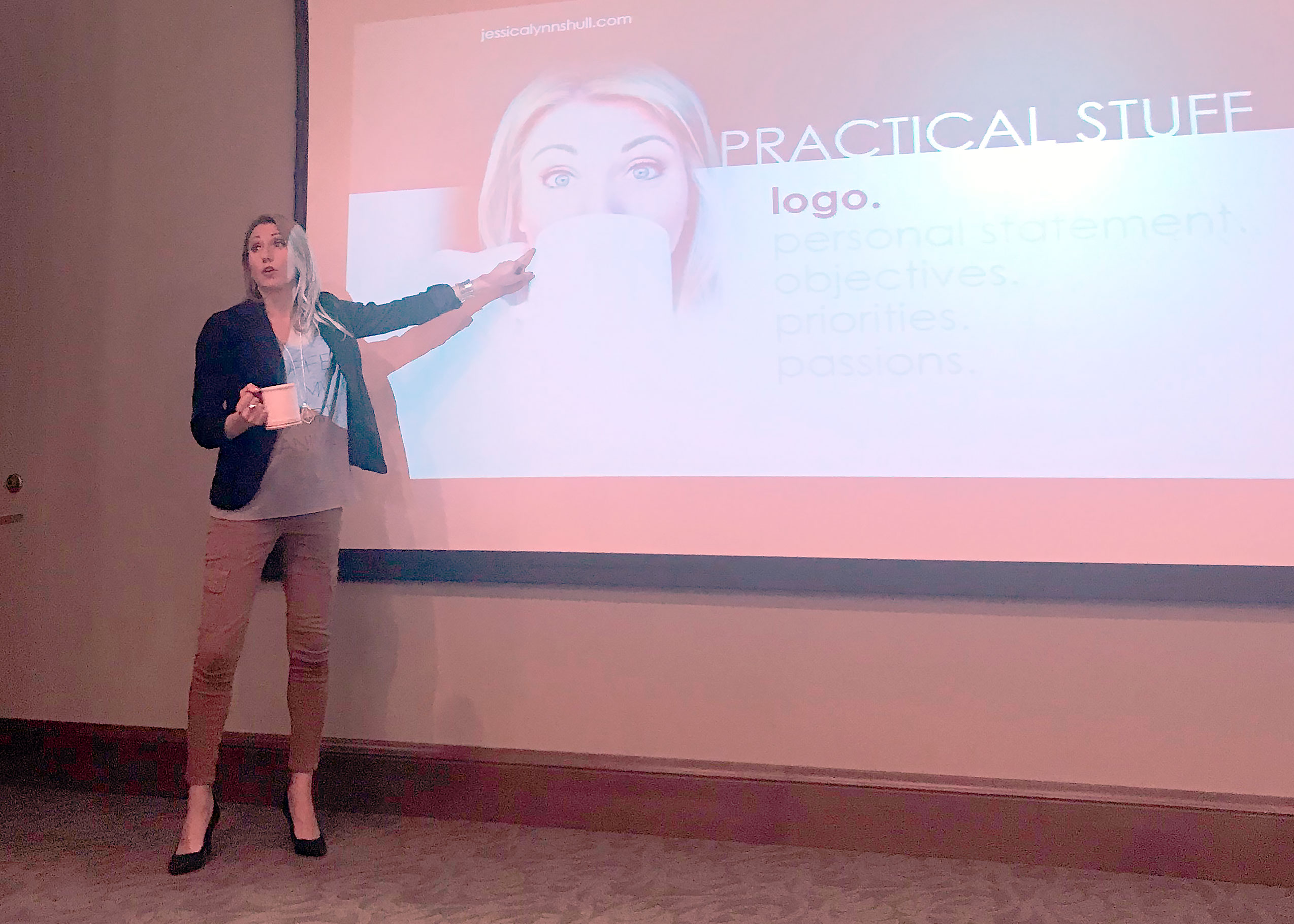 BLOOMINGTON, Ill. — Jessica Lynn Shull '03 understands that nobody can control the internet, but she believes that "you can absolutely influence it."
"You can play with it, and manipulate it to work to your advantage," she said.
In her talk, hosted by the Hart Career Center, Shull shared advice with current students regarding how to create and control a digital personal brand to help them land a job.
Upon graduating from Illinois Wesleyan University with a degree in business administration, Shull began working in marketing at State Farm. After 17 years holding a variety of marketing positions, she now works in Enterprise Technology as the leader of the Agent Digital Presence Team where she helps State Farm agents maximize their digital presence through social media tools and website content.
But Shull admitted that –– unlike today –– social media was not as important in the business world when she started at State Farm.
"I didn't know it when I went into it. I had to learn it as I went along, and I ended up learning a lot about personal branding," she said.
One of the things she learned was that creating a personal brand is the first step in creating trust with people, especially employers you don't always have the luxury of meeting face to face as your first impression. Shull said it's easy for people to generally make "snap judgments" of others based off of their presence on the internet.
"A lot of times you don't know anyone at all, and all you have is what a search result says about you on the internet," Shull said. "What you put about yourself on the internet can either increase or decrease someone's level of trust in you."
After Google-searching her own name for the first time, Shull found that what was being said about her on the internet was an inaccurate representation. It turns out that she was not the only "Jessica Lynn Shull" in the U.S.
"If you didn't know me, how would you know that wasn't me?" Shull said. "I realized that I wasn't controlling the messages that were being said about me. None of the search results were me."
Shull took the initiative to create and control her personal brand, and she encouraged students to do the same.
"I want you to Google yourself," Shull said. "What is being said about you? Is that what you want the story to be?"
To create an accurate online presence, Shull advised students to treat their personal brand like a business and establish a consistent image.
"You trust brands that you know will produce the same product for you every single time with the same level of quality," she said, adding that as a manager looking to hire a new employee, "I'm trying to decide if you're going to produce the same thing every time with the same level of quality."
Shull told students that the first step in creating a consistent brand is determining who they are as people. A self-proclaimed "traveler, foodie, marketer, and Christian," Shull encouraged students to interview friends and family in order to determine the words that best represent them. Students can then use the representative words to construct their personal statement.
"Image consistency and word consistency convinces the internet that it's you," Shull said.
An avid coffee drinker, Shull said she uses the same image with her eyes peeking out over a coffee mug as her profile picture across every social media platform.
"That level of consistency shows people that they found the right person. That's how people got to know me," Shull said.
People also got to know Shull through her personal blog, which she advised students to consider creating. She said blogs not only help with consistency, but they also let employers know what people value.
"What are your goals in life? What are you passionate about? What do you want to be known for? When you put these things in writing, it makes it real," Shull said.
Shull said she is consistently uploading content to her blog that reflects her values, interests and goals.
"This also helps Google search results. Google cares about consistency and fresh new content," she said.
In addition to creating their own personal brand, Shull noted that the way in which students treat others on the internet is also important to employers.
"Who you follow and how you interact with them will shape someone's opinion about you," Shull said. "I'm not telling you who you can or can't follow. Just know that it matters. Be intentional."
She recommended students "be intentional" by following influencers in their field of interest which attracts employers, and posting about topics that align with their values. She also advised students to take precautions in addressing things they disagree with on the internet, especially when leaving reviews and comments.
"The way that you treat other people matters. The way that you address things that you disagree with matters," she said.
By creating a positive digital presence, Shull said that students become more competitive for a job.
"Not a lot of people do this: they don't take the time. It's competitive. Everybody's looking for a job, so if you do these things and nobody else does these things, you just improved your odds phenomenally," Shull said.
She even encouraged students to take an extra step and challenge themselves during their time at Illinois Wesleyan. Reflecting upon her own experience, Shull said the classes she took at Illinois Wesleyan –– both inside and outside her major –– made her a well-rounded, highly qualified candidate when she entered the job market.
"I want you to be more competitive. I think this place makes us more competitive. I think because you go here, because you take different types of classes, you will be more grounded," Shull said. "Take other classes that aren't in the curriculum. Get a minor, get a double major, pair things together that are unique. Because you go here you have significantly more control (over your job prospects), but you have to take that step."
By Vi Kakares '20