Scholarship Grant Awarded by the Consulado General de México
Aug. 22, 2019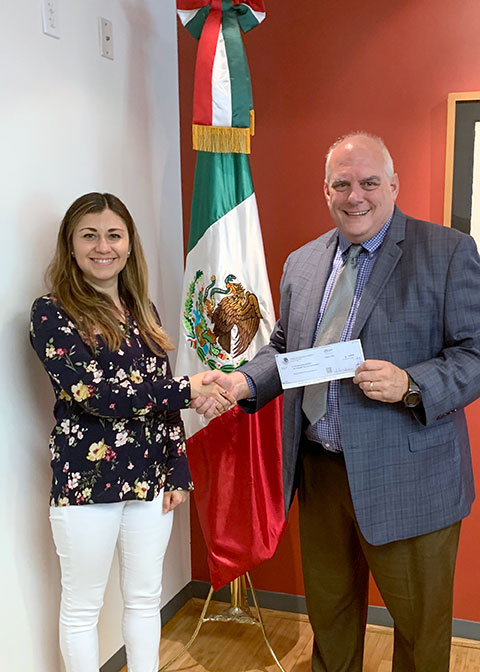 BLOOMINGTON, Ill. — A $10,000 scholarship grant to support students of Mexican origin or Mexican descent has been presented to Illinois Wesleyan University at the Consulate General de Mxico en Chicago.
Representatives from Illinois Wesleyan accepted the award from Consul Eduardo Nio valos of the Cultural Affairs department during a signing ceremony on Wednesday, Aug. 21.
"Over the past two years, the Consulate General of Mexico in Chicago has focused their recognition and support on Mexicans and children of Mexicans living in the region who are achieving success in education, arts and culture, and work through integration into American society," Illinois Wesleyan Director of Grants and Foundation Relations Dick Folse '85 said.
Illinois Wesleyan is the only institution of higher education to receive funding from the Chicago consulate.
"This funding acknowledges the great efforts of our students from Mexico or of Mexican descent to pursue their dreams," Folse said. "Our relationship with the Consulate serves as a measure of our commitment as a University to diversity and inclusion."
The Mexican Government's Institute for Mexicans Abroad (IME) sponsors the granting program that will support two Illinois Wesleyan students during the 2019-20 academic year. Illinois Wesleyan Director of Financial Aid Scott Seibring '85 will administer the scholarships.
By John Twork