Phoenix Gates to be Dedicated at Homecoming
Sept. 9, 2019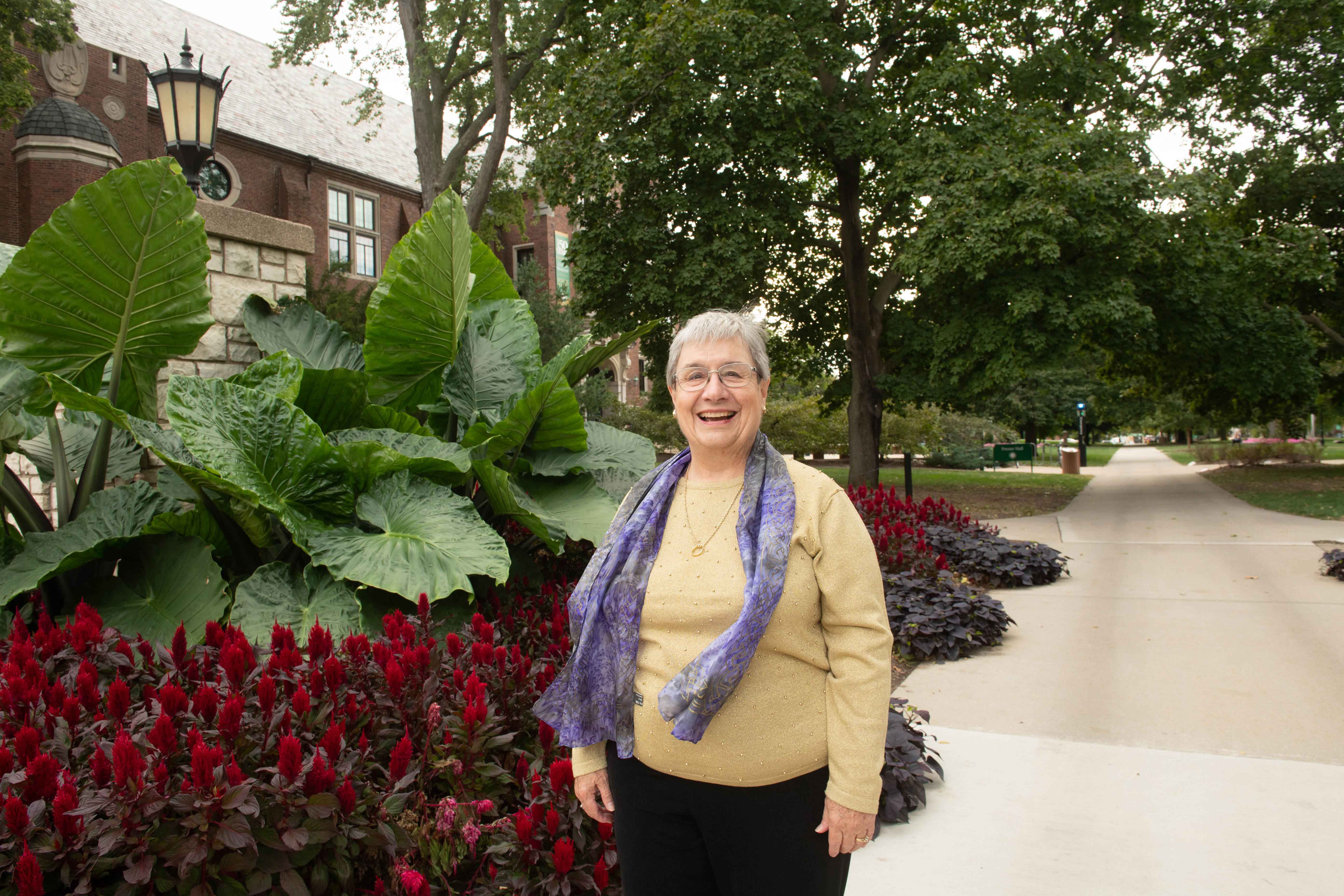 BLOOMINGTON, Ill. — A set of gates welcoming students, faculty, staff and visitors to campus will soon be named in honor of the local family who sold land to Illinois Wesleyan University some 165 years ago.
The campus gateway at the Presser Hall sidewalk, across from Evelyn Chapel, will officially be renamed The Phoenix Gates to honor Carol (Pedigo) Phoenix '67, her late husband John Phoenix, and the Phoenix family legacy, in a dedication on Oct. 5, 2019, at 9:45 a.m., as part of Homecoming 2019 festivities. Alumni and friends are welcome to attend the dedication.
"It makes me feel really terrific to do something to help preserve the land and the value of education and art for future generations," Carol Phoenix said.
Much of Illinois Wesleyan's campus was built on a 10-acre plot sold to the University by Franklin K. Phoenix, then-owner of Phoenix Bloomington Nursery, in 1854. Franklin K. Phoenix was the great-grandfather of John Phoenix.
The naming of the Phoenix Gates will permanently recognize the Phoenix legacy on campus, where the name is already associated with a pair of endowed scholarships established by Carol Phoenix, reflecting her family's values and interests. The Carol (Pedigo) Phoenix '67 and John Phoenix Endowed Scholarship, for a student majoring in environmental studies, and the Yenerich-Pedigo-Phoenix Endowed Scholarship for the School of Music, for a student majoring in string, piano or voice, relate closely to John and Carol Phoenix's college majors (in biology and violin/music education). Carol and her sister, Julia Pedigo '74, are also IWU legacies of their mother, Ruth Yenerich Pedigo '34.
"I felt a special connection with Illinois Wesleyan when I was in school," Carol Phoenix said. "I felt understood and appreciated and connected and alive, with like-minded people to learn with and perform with and discover with, that I hadn't had before."
Phoenix pursued a career in music, both as a performer and a teacher, after her IWU graduation. She later met and married John Phoenix, but neither knew the connection between his family and her alma mater. "It was President Minor Myers jr. who really connected all the dots," Carol Phoenix said. "We discovered all this together, and I can't tell you how exciting it was."
To have the connection live on through the naming of the Phoenix Gates is important to Carol Phoenix. "It humbles me, but it's not about me," she said. "It's about the Phoenixes and the Pedigos that came before me."
By Matt Wing