IWU Graduates Win Top Honors at 2019 National Student Auditions
July 3, 2019
BLOOMINGTON, Ill. — Crystal Muro '19 won first place and Kelly Riordan '19 took second place in the Upper College/Independent Studio Women category at the 2019 National Student Auditions, sponsored by the National Association of Teachers of Singing (NATS), at St. Olaf College in Northfield, Minnesota. Both Muro and Riordan are former students of IWU Instructor of Music Ingrid Kammin, who was present at the competition.
"I think it is simply incredible and is a wonderful culmination of the past four years of hard work and dedication at Illinois Wesleyan University," said Kammin on the students' wins.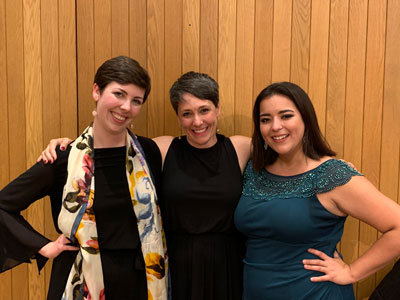 Students participate in chapter, district and regional auditions each year, with constructive feedback provided along the way. Muro and Riordan, both vocal performance majors at IWU, advanced to the national round after competing in the regional round in October 2018 at Southern Illinois University Edwardsville.
Muro and Riordan competed in the semifinal round on the morning of June 28, 2019, and advanced to the final round held that afternoon. Muro performed "Non so le tetre immagini" from Giuseppe Verdi's opera Il Corsaro and Riordan performed "Chacun son got" from Johann Strauss' operetta Die Fledermaus. Muro was awarded a cash prize of $1,600 and Riordan took home $900.
"To perform in the finals and place in the top three was such a validation of all of the hard work we've put in over the past few years and was a testament to our wonderful faculty in guiding us through this journey," Muro said. "Standing on that stage with some of the nation's top singers was an incredible feeling and I am so grateful for everyone on our Wesleyan team cheering us on from the beginning."
Katie Fata '22