IBHE Grant to Support Internship Opportunities
June 21, 2019
BLOOMINGTON, Ill. — Illinois Wesleyan University's Hart Career Center has been awarded a $27,803.64 Illinois Cooperative Work Study Program grant from the Illinois Board of Higher Education to support internship opportunities for IWU students who are Illinois residents.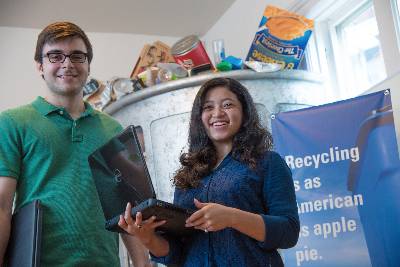 The University has earned the Illinois Cooperative Work Study Program grant for many years, and it has aided the process of providing internship opportunities for students at local organizations. The grant pays a percentage of the intern's wages and the organization pays a percentage, making it possible for students who cannot participate in an unpaid internship to get paid for their work.
"Internships are vitally important for students, as employers expect to see practical experience outside of the classroom when selecting candidates for post-graduate employment," said Hart Career Center Director Warren Kistner '83. "We have chosen to focus primarily on non-profit organizations when identifying organizations to participate in the grant. Many of these organizations have wonderful, rich experiences that benefit our students. The grant makes it possible for these organizations to also compensate students for their time."
Illinois Wesleyan is currently working with local organizations such as the Bloomington Center for the Performing Arts, Downtown Bloomington Association, Ecology Action Center, Illinois Heart and Lung Foundation, Marcfirst, McLean County Office of the Administrator, West Bloomington Revitalization Project, and Westminster Village Retirement Community.
The Illinois Cooperative Work Study Program provides grants to both public and independent colleges and universities and is designed to enhance public-private sector partnerships, expand internship opportunities, reduce student reliance on loans, encourage permanent employment of Illinois graduates in Illinois, and provide links between academic programs and employment.
By Katie Fata '22