Gustafson '20 Awarded Economics Research Fund
June 10, 2019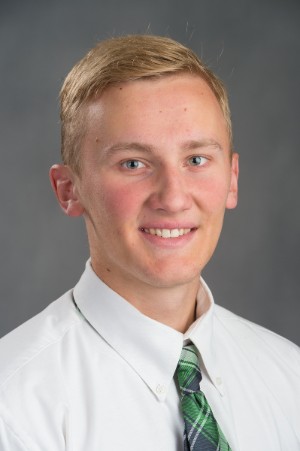 BLOOMINGTON, Ill. –– Junior Economics major William Gustafson '20 has been awarded the Mark Israel '91 Endowed Summer Research Fund in Economics.
With guidance from faculty sponsor Robert S. Eckley Distinguished Professor of Economics Mike Seeborg, Gustafson is asking the question: Do second generation Mexican immigrants fare better in the labor market than their parents, and if so, why do they do better?
Using descriptive statistics and the results of multiple regressions, Gustafson plans to compare the gaps in wages between first and second generation immigrants to the native mean and explore the reasons for those gaps. Furthermore, he will explore analyzing levels of human capital to see how rates of return on education or other investments vary between first generation, second generation, and natives.
Gustafson hopes his research will help inform the policy discussions that relate to the quantity and quality of education of immigrants and their children.
"We cannot know the full effect of immigrants on the economy without knowing how their children, who would not be here if not for the first generation, do in the economy," explained Gustafson.
Gustafson was inspired to undertake this project after taking the course "Labor Economics," which ignited his interest in this field of study.
"I applied for the research fund because I wanted to be able to engage in real-world, hands-on research during my time at IWU," Gustafson said. "I am considering a career in researching economics, so this research would be an outstanding way to jumpstart myself with the guidance of a veteran in the field like Professor Seeborg.
"My experience thus far at Illinois Wesleyan has sufficiently prepared me to undergo this research through the combination of liberal arts classes I've taken along with my Economics major," Gustafson continued. "Writing research papers and giving presentations in classes such as "Sitcoms and Society" with (R. Forrest Colwell Endowed Chair of English and Professor of English) James Plath and "Introduction to Japanese History" with (Professor of History) Thomas Lutze have honed my writing and oral skills to a level that I am comfortable undergoing this research, writing the paper and presenting it."

In 2013, Mark A. Israel, '91 established the Mark A. Israel '91 Endowed Summer Research Fund in Economics to provide a generous stipend and expense allowance to a student wishing to collaborate closely with a faculty member in IWU's Department of Economics.
"I would like to express my dear gratitude to Dr. Israel for funding this wonderful opportunity," Gustafson said. "I am very much looking forward to the experience."
By Megan Baker '21