Georgia Nugent Named Interim President of Illinois Wesleyan University
June 26, 2019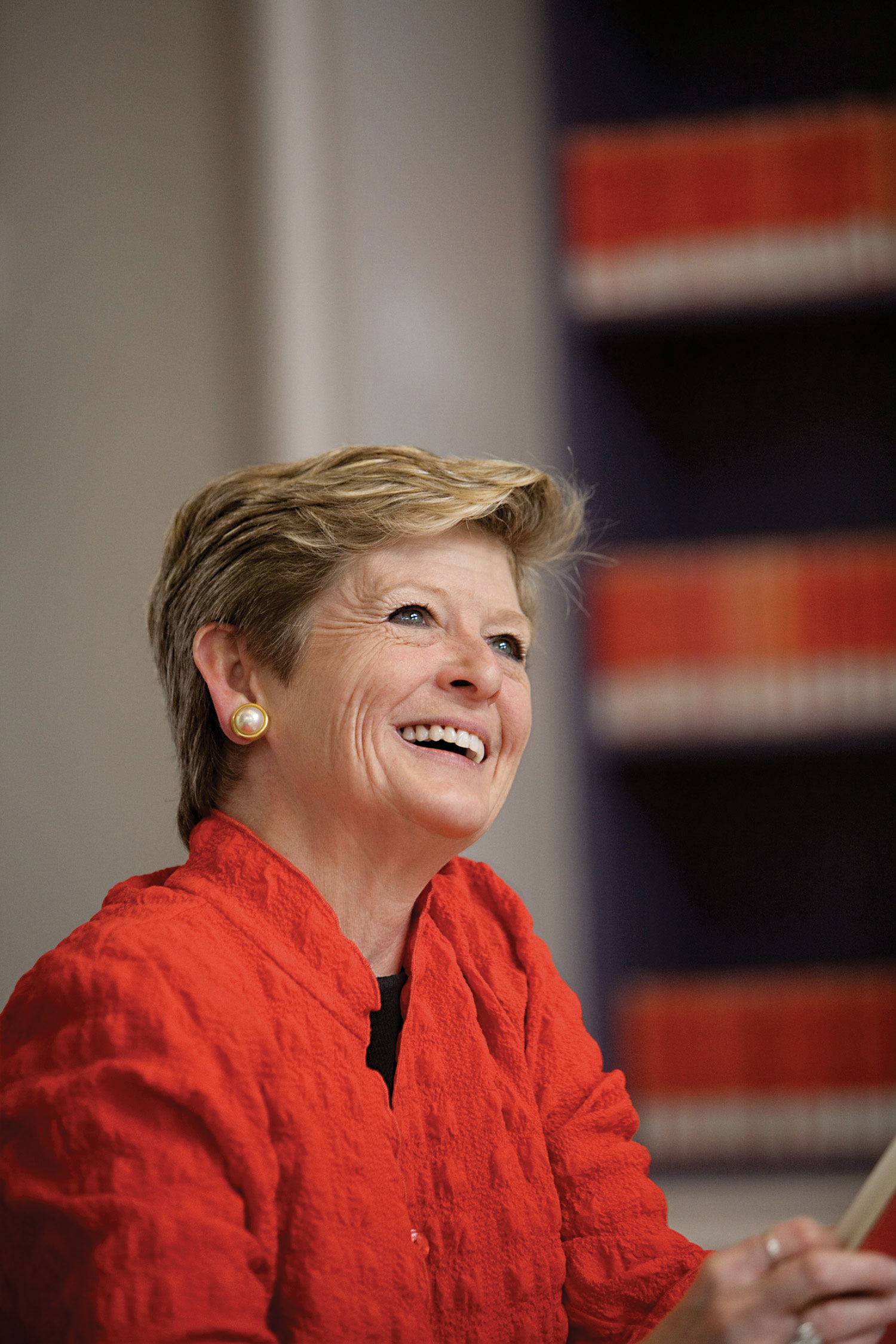 BLOOMINGTON, Ill. — S. Georgia Nugent, Ph.D., Kenyon College president emerita, has been appointed by the Illinois Wesleyan University Board of Trustees to serve as interim president, effective August 15. Nugent will lead Illinois Wesleyan through the 2019-20 academic year while the University conducts a national search for its next president.
A widely published scholar of the classics and of higher education, Nugent earned a bachelor's degree from Princeton University and a doctorate from Cornell University. Before beginning her decade-long presidency at Kenyon, Nugent served at Princeton as assistant to the president, associate provost, and dean of the Center for Teaching and Learning, and as professor of classics at Princeton and Brown universities. She also taught on the classics faculties of Cornell as well as Swarthmore College and Kenyon.
Nugent later served as interim president at The College of Wooster during the 2015-16 academic year and is currently a senior fellow at the Council of Independent Colleges (CIC).
Board Chair Timothy J. Szerlong said, "Dr. Nugent brings a compelling track record of accomplishment as both an educator and administrator, with academic credentials from Princeton and Cornell, and distinguished experience leading a noted private college, Kenyon. She has earned a national reputation as a true champion for the liberal arts, including her work with the CIC. All those in the IWU community who have met Dr. Nugent welcome her innovative spirit and leadership from a foundation of listening. The opportunity to benefit from her knowledge and skills will be of tremendous value in shaping today's student experience and the future direction of Illinois Wesleyan."
As president of Kenyon from 2003 to 2013, Nugent focused on strengthening the college's core academic values while launching new programs in Islamic culture and Latino studies, and the Center for the Study of American Democracy. During Nugent's tenure, funding for faculty research was increased, new endowed professorships were created in anthropology, drama, economics, English, and international studies, and new hires increased the diversity of the faculty as a whole. Additionally, enrollment grew slightly and the College held its top-35 ranking among national liberal arts colleges, according to U.S. News and World Report.
A first-generation college student herself, Nugent took a personal interest in the goal of increasing financial aid to make a Kenyon education affordable for talented students regardless of their socioeconomic background. Under Nugent's leadership, the "We Are Kenyon" campaign, which raised more than $240 million, brought in $60 million in new endowment dollars for financial aid, doubling endowment funds for that purpose. Kenyon is a highly selective, nationally recognized private liberal arts institution with an undergraduate enrollment of approximately 1,700.
Nugent said, "I'm very excited to be joining the Illinois Wesleyan community and honored to have been chosen by the trustees. I have already had the opportunity to visit the beautiful Bloomington campus, to meet with a number of wonderful IWU people, and to hear from alumni about the difference this institution made in their lives. IWU is a strong university with, I believe, great potential for continued success. My goal during this academic year will be to work with the campus community to do all that we can to fully realize that potential, so that my successor will come to a campus that is proud of its past and well-positioned for its future."
As a senior fellow at the CIC, Nugent has helped design, develop and oversee a public information campaign advocating for the value of a liberal arts education. The national, multi-pronged initiative directed attention to the compelling evidence that smaller independent colleges produce graduates who are among the best prepared for success in their personal, career, and community lives. While serving as interim president, Nugent will remain a senior fellow and will continue to assist with some CIC projects. As a scholar, Nugent specializes in epic poetry and Greek tragedy. She has numerous articles and presentations to her credit, as well as a book on allegory.
As interim president, Nugent will guide Illinois Wesleyan while the University conducts a search for its 20th president, to succeed Eric R. Jensen, who retired and subsequently resigned his position as president at the end of May. At her request, Nugent will not be considered as a candidate for the presidency on a longer-term basis.
Former Illinois Wesleyan President Richard F. Wilson, who has served as acting president since Jensen's departure, said, "I am delighted that Dr. Nugent has agreed to serve as interim president of Illinois Wesleyan University. She has been an inspirational leader and advocate for the liberal arts and private higher education for many years. Furthermore, from our professional interactions over the last decade, I know she has the ideal background and sensitivities to sustain IWU's momentum during her interim term."
Founded in 1850, Illinois Wesleyan is a nationally recognized, highly selective liberal arts university. The University is exclusively undergraduate and enrolls approximately 1,700 students from across the nation and around the globe. Illinois Wesleyan prides itself on producing graduates who are well-rounded, broadly educated individuals with a spirit of inquiry who can successfully adapt to the demands of a rapidly changing, complex world.
By John Twork