Freeman Asia Interns Share Unique Experiences
Oct. 25, 2019
BLOOMINGTON, Ill. –– Following a summer of cultural immersion at internship sites in four countries across Asia, 36 Illinois Wesleyan University Freeman Asia interns shared their experiences during a recent poster presentation.
The students, whose internship and travel expenses were fully funded by a Freeman Foundation grant, interned across Hong Kong, Japan, the Philippines and Thailand.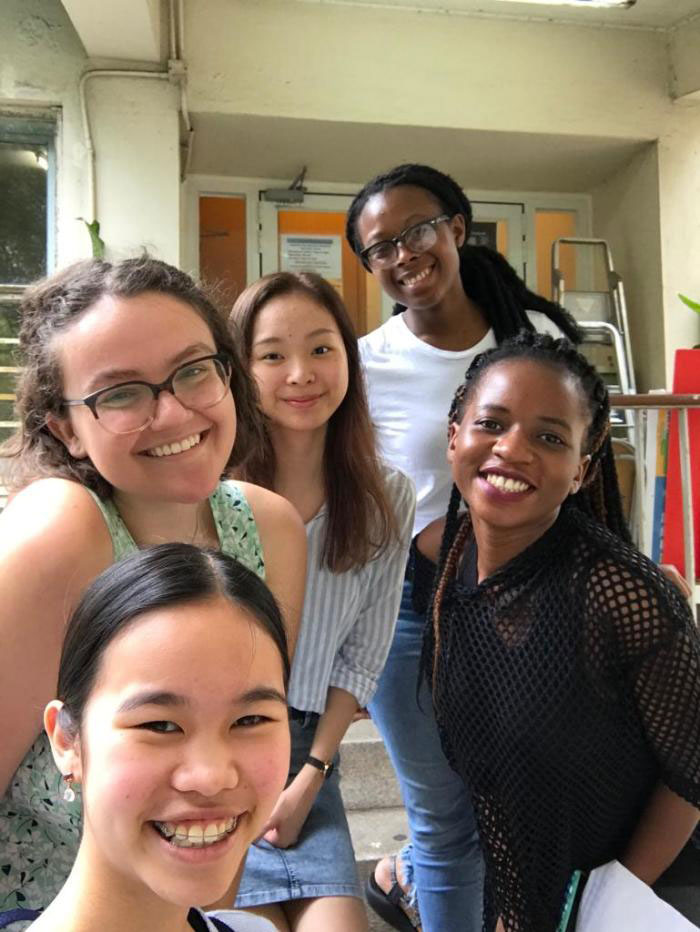 In Hong Kong, Adna Mujovic '21 (Glenview, Ill.) and Shaela Phillips '20 (Marrero, La.) interned with Mission for Migrant Workers. This non-profit organization provides consultation and services to migrant women working in Hong Kong. These women mostly hail from the Philippines and Indonesia.
"They're viewed as second tier citizens, so you can imagine the extent to which they are exploited or abused, and the rights they lack under the government and the Hong Kong people in general," explained Mujovic, a German and international studies major. "So this is an NGO that grew out of a need to provide service for these women."
Beyond their internship, Mujovic and Phillips, along with Koding Kingdom intern Jarlai Morris '21 (New Orleans, La.) witnessed frequent pro-democracy protests and demonstrations. Illinois Wesleyan alumnus Mark Sheldon '70 took Mujovic, Phillips and Morris to witness the first protest of the summer.
"Little did we know, after the second or third week of constant protests, we realized this is a historical time that we are witnessing," said Mujovic. "We read about it in the past but now we're actually seeing it in real time. It was incredible to see the persistence and resilience of the Hong Kong people."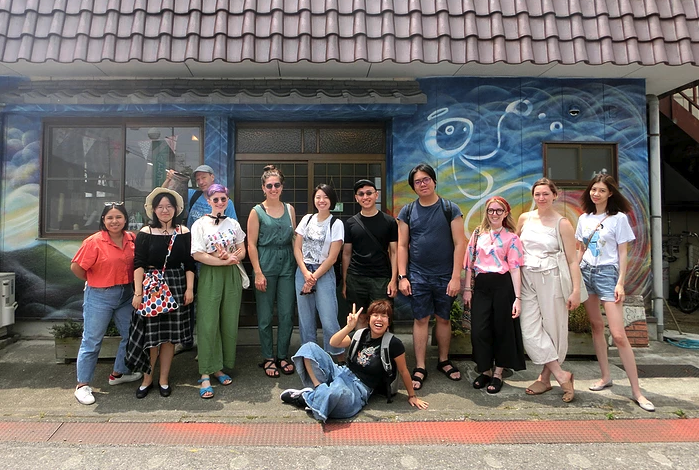 Lizette Toto '21 (New Orleans, La.) and Yubei Shen '20 (Changsha, China) interned with Shiro Oni Studio, an arts collective in Onishi, Japan. Toto, an art major, primarily worked as a graphic designer and assistant to the resident artists.
"Any work I did for their studio or their website, I can count as portfolio material. I intend to get my master's in fine arts, so these experiences are really important in the application process," Toto said. "Also, being able to talk to international artists and practice my major abroad, to see real life applications of talking about art and presenting art, and especially helping people to present their own work in a small community was really important."
Beyond their work, Toto and the other interns were given time and opportunities to engage with Japanese culture.
"We were involved in the summer festival in Onishi and had a lot of really wonderful interaction with their cultural traditions, especially the drum playing," explained Toto. "We also helped set up their seasonal art show that features 10 international artists who came from around the world."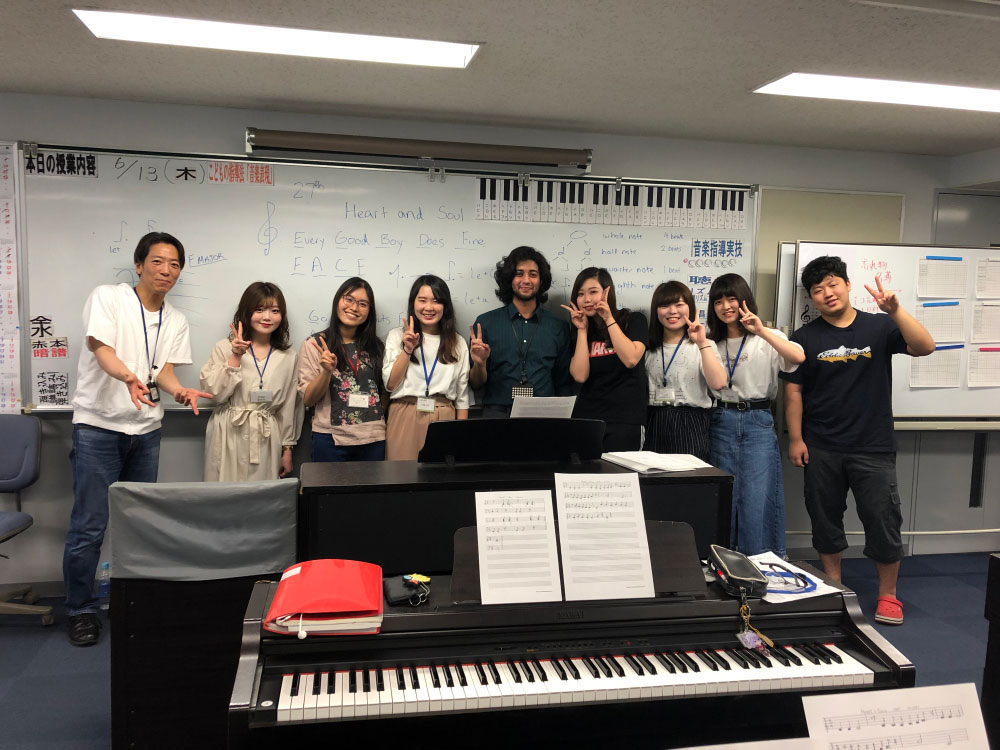 Also in Japan, Rachel McCarthy '21 (Riverside, Ill.), an English and psychology double major, and Devesh Mondal '21 (Aurora Ill.), a finance major, interned at Technos International College in Tokyo. They worked as teaching assistants for the English Department where their main job was grading homework and tutoring the students. The students also helped organize Technos International Week, a two-week program in which students from around the world –– including Illinois Wesleyan students –– participate in a cultural exchange in Tokyo.
"Working with the students at Technos was so memorable," said Mondal. "After work, I would stick back to hang out with the students and we'd grab dinner now and then. And, I still keep in touch with quite a few students, so I'd say that was my favorite part."
"There was one night we went out to sing karaoke, and we were there for like five hours," added McCarthy. "Things like that, where we got to hang out and relax with the students, were so meaningful and something I'll never experience again, no matter how many times I visit Japan and its cultural sights. Getting to form those kinds of bonds was really impactful."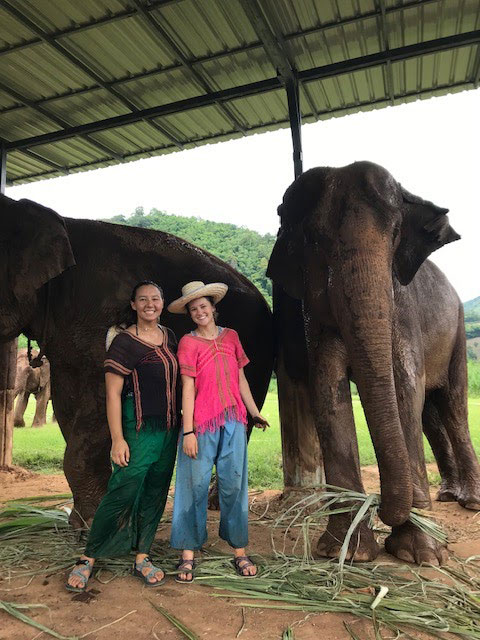 Angela Roman '20 (Mt. Prospect, Ill.) and Annika Fuller '20 (Kansas City, Mo.) interned at EarthRights International in Chiang Mai, Thailand. This nonprofit organization is dedicated to defending human rights and the environment. They advocate, campaign and study the effects of how humans rights intertwines with earth rights. As part of their advocacy work, the organization runs a school, and the IWU interns worked as English tutors for the students.
"They gathered students from different areas of the Mekong River such as China, Vietnam, Laos, Cambodia, Myanmar and Thailand, and they want to teach them how to be leaders in the community," explained Roman, a biology and secondary education major. "So our role was helping them learn English. We worked on vocab and grammar, and we helped them practice their English so that they can do more research and communicate with others about how to improve their community through earth rights and human rights.
"I learned so much from the students," Roman continued. "I grew up in a suburb of Chicago, so I've had a lot of things ready for me. I've never had to deal with hardships, but I talked to a student from Laos whose town was destroyed by a flood, destroying a lot of the things he worked hard for. Hearing about how he got through it and how his family powered through was really inspiring. It opened my eyes to all the preconceived notions I had, and going there and experiencing it all completely shattered that."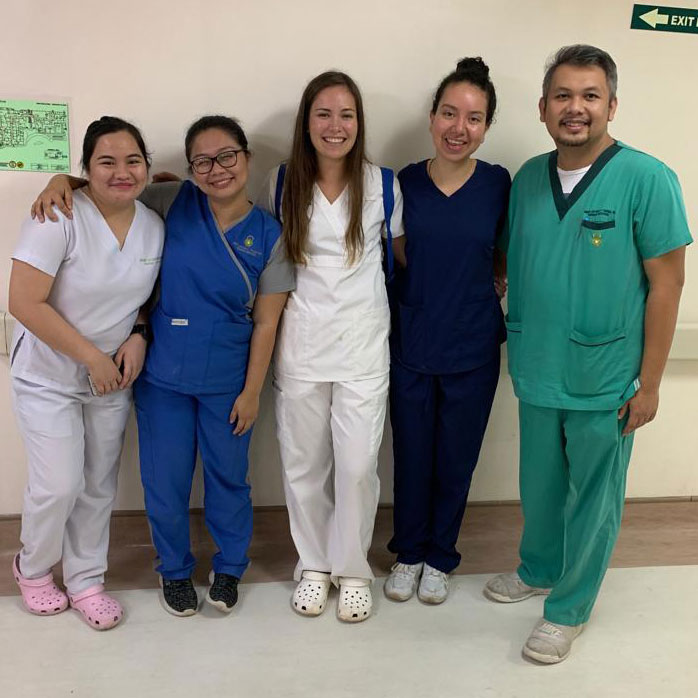 Nursing majors Emily Lezcano '20 (Wood Dale, Ill.) and Elia Nava '20 (Chicago, Ill.) interned at the St. Frances Cabrini Medical Center in Sto, Tomas City, Philippines. The hospital offers the latest in medical technology, specifically in cancer treatment. The interns gained experience working with patients in the Philippines which they can incorporate into their work back home in the U.S.
"I feel a lot more culturally competent in being able to deliver care here because the United States is such a diverse country. I need to be able to deliver culturally competent care to a wide variety of patients," said Lezcano. "So being able to interact with and talk with patients was the most valuable experience that can translate into my work here."
As with all Freeman Asia internships, the students had ample time to explore their surroundings.
"Everything is really inexpensive in the Philippines. I lived on a dollar a day so I had a lot of money left over to travel through the Philippines," Lezcano recalled. "We went to two World Heritage Sites — we saw the Rice Terraces and the Hanging Coffins — we went to beautiful rock formations, we went snorkeling, caving and hiking."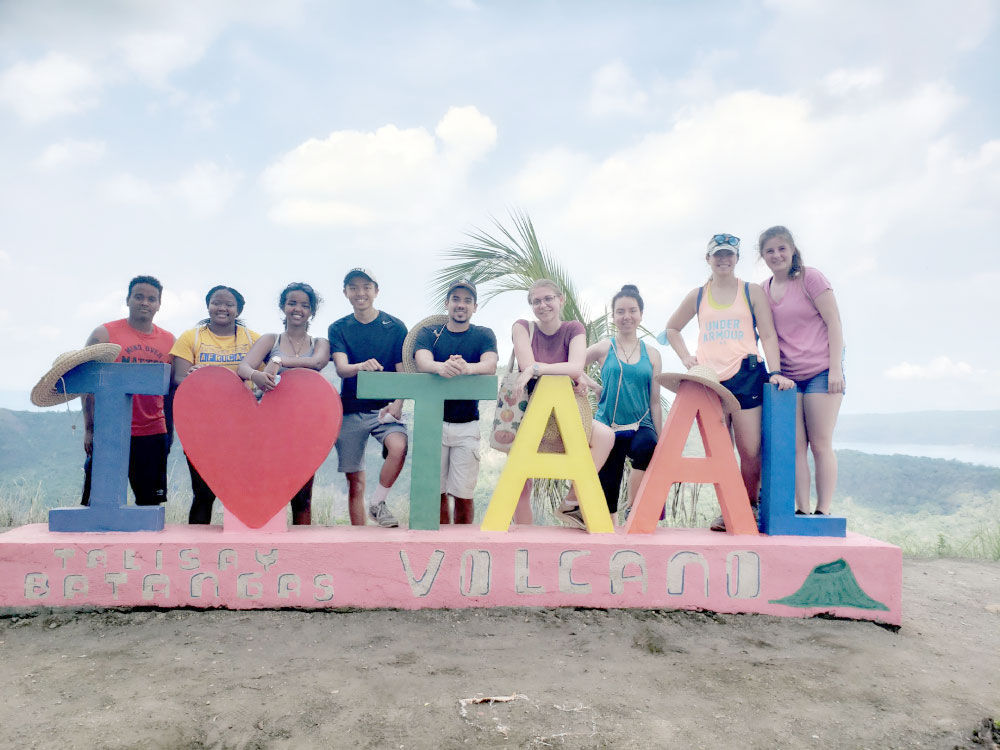 Also in the Philippines, Sean Ly '21 (Harvey, La.), Anaol Dalle '20 (Addis Ababa, Ethiopia), and Michael O'Neill '21 (Chalmette, La.) interned at the Food and Nutrition Research Institute in Metro Manila. This organization focuses on ending widespread hunger and improving nutrition in the Philippines and around the world. The interns were able to explore much of the Philippines beyond their internship, too.
"What I'd want most people to know who are interested in Freeman Asia is that, while you have a lot of work to do and it is about the internship, there's a lot of time to experience the culture and have a little fun too," said O'Neill, a biology major. "We hiked a volcano, we saw an underground river, one of the seven natural wonders of the world. And we had plenty of beaches in the Philippines, obviously."
"For me, it's the cultural aspect of it. That's why I'd want people to participate in this, because going somewhere and experiencing its culture will make you a more well-rounded person," said Dalle, a biochemistry major. "Personally, this is one of the most amazing experiences I've ever had."
"One thing I've taken from this internship is breaking out of your comfort zone. You definitely experience culture shock," echoed Ly, a biology major.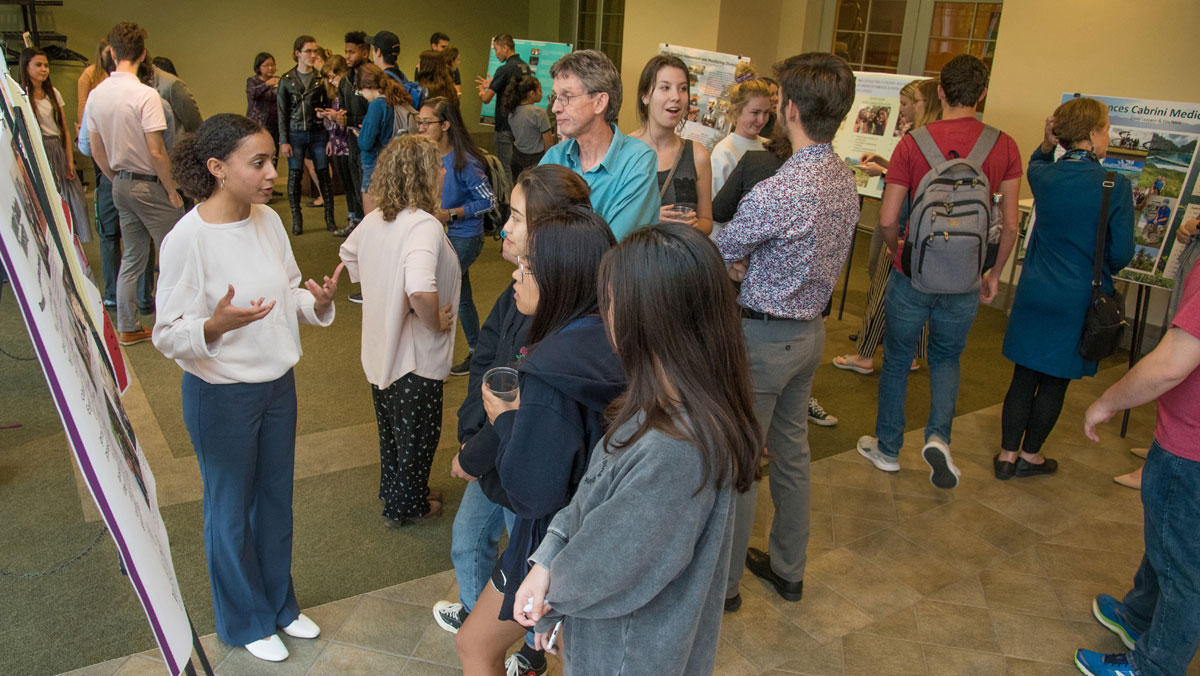 The students all emphasized that the Freeman Asia Program is unique for its accessibility and affordability.
"If you want to go abroad, this can be your chance. They've got something here for everyone," O'Neill explained. "It's a once in a lifetime opportunity and everyone should take advantage of it."
Through the generous support of the Freeman Foundation, the IWU Freeman Asia internship program will continue during the summer of 2020. This opportunity is available to all domestic and international students who are currently sophomores and juniors and who will return to the IWU campus for at least a semester following the internship. International students (sophomores and juniors) can apply for opportunities that are not in their home country.
Internships last from six to 10 weeks depending upon the internship site, and most internships begin in June. Funding support includes airfare, housing, a living allowance, and all internship placement and visa costs.
An informational session will be held Monday, Dec. 9 at 4 p.m. in the Welcome Center Auditorium. The deadline to apply is Jan. 30, 2020. For more information, please visit www.iwu.edu/career-center/freeman-asia-page.html.
By Megan Baker '21