Culture and History Celebrated at the International Food Symposium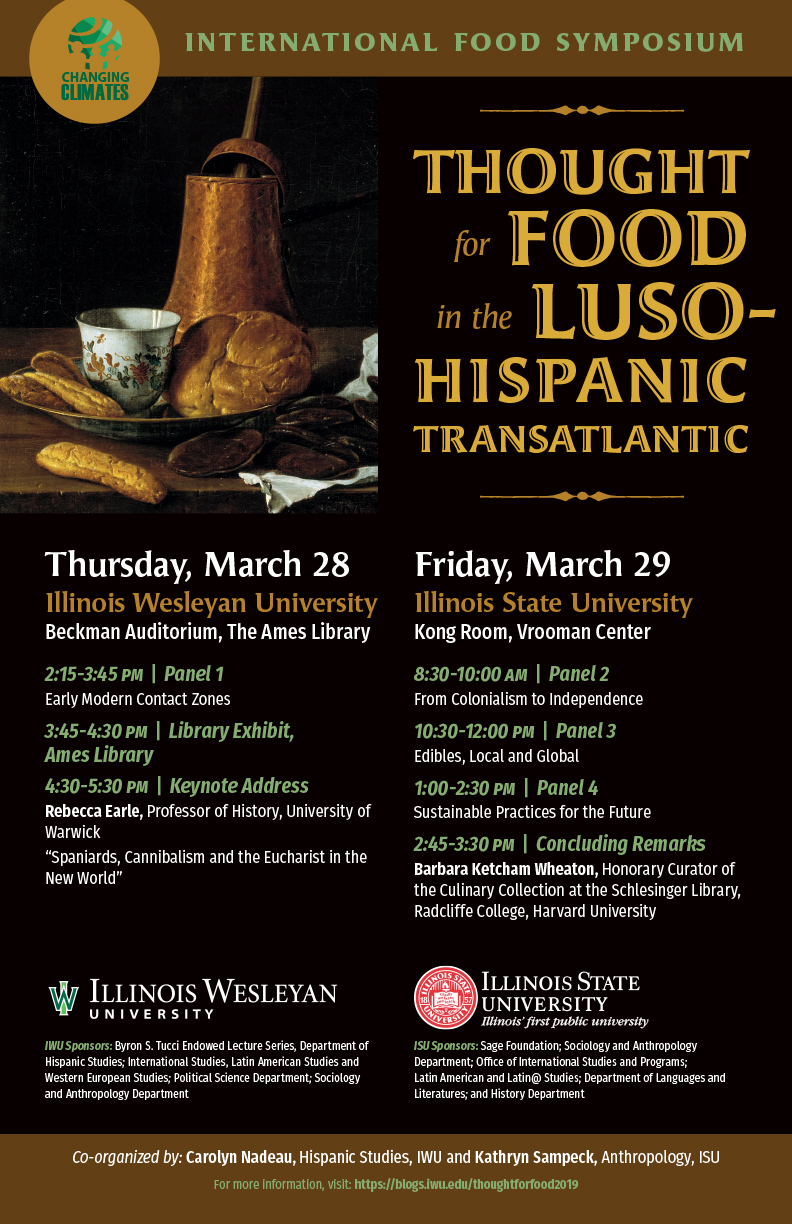 BLOOMINGTON, Ill. –– In celebration of the history and diversity of food in the Hispanic transatlantic world, Illinois Wesleyan University and Illinois State University are collaborating to host an International Food Symposium on Thursday, March 28 and Friday, March 29.
Titled "Thought for Food in the Luso-Hispanic Transatlantic," the International Food Symposium aims to celebrate and examine the complex cultural, social, environmental, political, and economic interconnections that define food's position within these regions.
Embodying Illinois Wesleyan's annual theme "Changing Climates," the history-themed discussions will focus on effects of the Columbian Exchange, which was the historical transfer of food, animals, technologies and humans between the Americas and the Old World in the early modern era.
Thursday's events run from 2 p.m. to 6:30 p.m. in The Ames Library's Beckman Auditorium located at 1 Ames Plaza, on Illinois Wesleyan's campus. Friday's events run from 8:30 a.m. to 3:30 p.m. in the Vrooman Center's Kong Room on Illinois State's campus. The Vrooman Center serves as the main entrance to Hewett and Manchester Halls located at 101 N. Fell Avenue.
Thursday's events include a panel titled "Early Modern Contact Zones," a library exhibit, and a keynote address by University of Warwick Professor of History Rebecca Earle titled "Spaniards, Cannibalism and the Eucharist in the New World."
Friday's events will feature three panels titled "From Colonialism to Independence," "Edibles, Local and Global," and "Sustainable Practices for the Future." The symposium's closing remarks will be delivered by Barbara Ketcham Wheaton, Honorary Curator of the Culinary Collection at the Schlesinger Library at Radcliffe College of Harvard University.
The International Food Symposium is organized by Illinois Wesleyan Byron S. Tucci Professor of Hispanic Studies Carolyn Nadeau and Illinois State Associate Professor of Anthropology Kathryn Sampeck.
IWU's sponsors include the Byron S. Tucci Endowed Lecture Series; the Department of Hispanic Studies; the Department of International Studies - Latin American Studies and Western European Studies; the Political Science Department; and the Sociology and Anthropology Department.
Illinois State's sponsors include the Harold K. Sage Fund and the Illinois State University Foundation; the Department of Sociology and Anthropology; the Office of International Studies and Programs; Latin American and Latino/a Studies program; the Department of Languages and Literatures; and the Department of History.
For more information, please visit: blogs.iwu.edu/thoughtforfood2019.
By Megan Baker '21