Community Greenhouse Blooms from Partnership
June 25, 2019
BLOOMINGTON, Ill. –– A group of first-year Illinois Wesleyan University students helped grow a community greenhouse from an idea to reality this spring, in collaboration with the West Bloomington Revitalization Project (WBRP).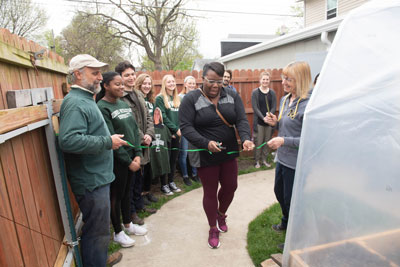 Project collaborators held a ribbon cutting ceremony in April to commemorate the newly opened WBRP greenhouse.
According to Illinois Wesleyan Action Research Center Director and WBRP President Deborah Halperin, West Bloomington contains a food desert, which is an area where it is difficult to buy affordable or good-quality, fresh food. For the WBRP, food access and food security are top priorities, and the greenhouse will assist in efforts to bring fresh produce to the neighborhood to promote a healthier lifestyle among residents.
"We can help people to grow their own food by creating gardens, offering seeds, and using this greenhouse to grow starter plants," Halperin said. "Teaching people the process of seed starting and empowering them to try gardening is fun and educational. Gardening has many benefits for individuals and the community as a whole."
IWU played an important role in this project through Professor of Political Science Jim Simeone's "Improvising Citizenship" Gateway course. As First-Year Citizen Scholars, students learned about community development, advocacy, and how to engage with neighborhoods. They also assisted in researching and executing the greenhouse project.
"These students met with leaders, researched best practices, designed the structure, and built it –– literally –– from the ground up," Halperin said. "The project would not have been possible without these students. It would have stayed on the WBRP 'wish list' for a long time."
At the grand opening, students involved in the project spoke about the process of designing and constructing the greenhouse, and WBRP Project Leader Armando Baez talked about why the greenhouse is a valuable addition to the community.
"The WBRP is grateful for the partnership with IWU and the many ways that the students and the University share their resources so that we can do important things together," Halperin said.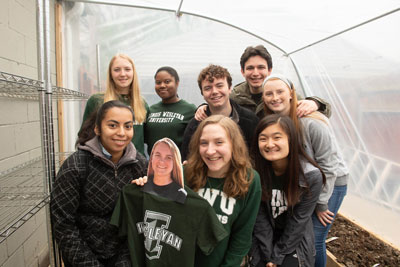 The WBRP is a nonprofit organization dedicated to creating a stronger, safer, and more beautiful West Bloomington by empowering residents and revitalizing the community. Illinois Wesleyan has a longstanding partnership with the WBRP, and many IWU community members serve on the WBRP board, including retired University Librarian and Professor Karen Schmidt, Action Research Center Director Deborah Halperin, and Action Research Center Coordinator Bevin Choban '10, as well as alumni Julia Zuniga-Alzamora '17 and Scott Black '10.
In addition to the new greenhouse, the WBRP coordinates the Tool Library, the Bike Co-op, the Veggie Oasis, community gardens, and other programs. To learn more, visit www.westbloomington.org.


By Megan Baker '21