Bantas '21 Awarded Phi Kappa Phi Study Abroad Grant
June 21, 2019
BLOOMINGTON, Ill. — Gabriela Theadora "Theo" Bantas '21 is one of 75 students nationwide to receive a study abroad grant from the Honor Society of Phi Kappa Phi, which has enabled her to study in Finland this summer.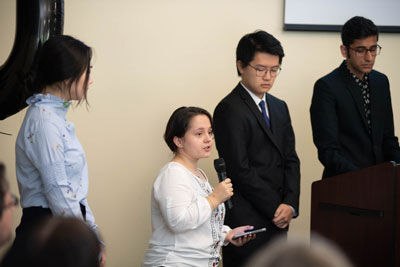 "I was extremely grateful for receiving the grant," Bantas said. "Being an international student from Romania, my family has been making extraordinary efforts to be able to provide me the opportunity to get my bachelor's degree in the United States at Illinois Wesleyan. The grant was tremendously helpful in that it allowed me to pursue my dream of studying at the University of Helsinki, where I intend to pursue my graduate degree. This opportunity will be wonderful for getting to know people and the environment that I will be studying in, in only two years time."
The $1,000 grant, awarded to 75 students across the country, is intended to support undergraduates as they seek expanded knowledge and experience in their academic fields by studying abroad. The selection process for a study abroad grant is based on the applicant's academic achievement, campus and community service, relation of travel to academic preparation and career goals, a personal statement, letters of recommendation, and acceptance into a study abroad program.
Bantas, who is studying political science and philosophy at Illinois Wesleyan, is using the grant award to study at the University of Helsinki in Helsinki, Finland where she is enrolled in a course titled "Global Poverty, Human Rights and Development."
"Overall, I chose to study at the University of Helsinki during the summer in order to be challenged and to use my summer productively, getting to know people with similar interests, learning from professionals in my future career field, and visiting the city that I hope to be living in after graduating from IWU," Bantas said.
Bantas selected this course because she plans to pursue a master's degree in international and comparative law. Studying at the University of Helsinki will not be Bantas' first time abroad while at IWU. She previously took part in the May Term course "Politics and Society in Contemporary South Africa" with Betty Ritchie-Birrer '47 and Ivan Birrer Endowed Professor of Political Science Professor William Munro, in which students examined South Africa's transition from authoritarian apartheid rule to a democratic dispensation, focusing on the legacies of apartheid and the characteristics of the liberation struggle; emerging political issues; the design of new political institutions; the political economy of uneven development and the challenges of poverty and social reconstruction.
"As part of this immersive learning experience, we met with a wide variety of professionals to discuss and analyze the new and emerging political institutions, as well as the challenges posed by poverty and social and political reconstruction," Bantas said. "This opportunity was very eye-opening, both culturally and academically, and it provided meaningful insight into the divisions that can be formed between people, and the dehumanization they entail.
"This international exposure, complemented by the strong foundation provided by my previous courses — such as Comparing Nations, Philosophy of Race, Modern Political Theory, Contemporary Ethics, and the Politics of the European Union — will allow me to get the most out of the Helsinki Summer School experience."
Katie Fata '22