IWU Connections Abound at Illinois Shakespeare Festival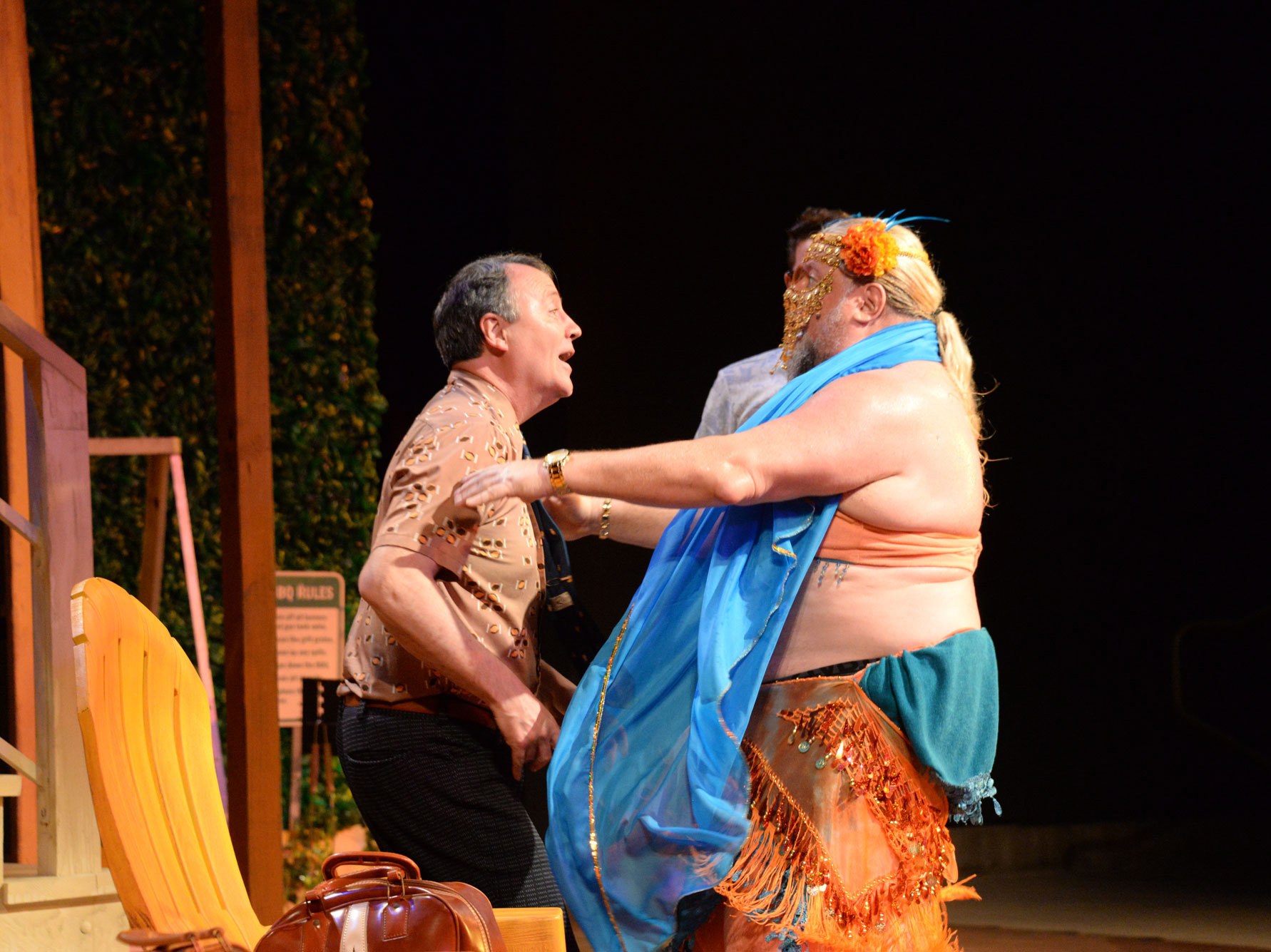 July 19, 2018
BLOOMINGTON, Ill. — Illinois Wesleyan alumni, faculty and students are playing their parts on the stage – and behind it – to ensure the success of the Illinois Shakespeare Festival (ISF), playing through August 11.
"It's always delightful to write for ISF, but especially this year with so many fellow Titans on board," said Nancy Steele Brokaw '71, a frequent show writer for the festival.
For more than 40 years, the School of Theatre and Dance and the College of Fine Arts at Illinois State University has hosted ISF. Performed at the Ewing Theatre (48 Sunset Road, Bloomington), the festival primarily consists of three plays, written or inspired by Shakespeare. In more recent years, the festival has included additional plays aimed at children, improv Shakespeare plays, and other attractions. Information about showtimes and ticket prices can be found here.
A lead visionary for the festival is artistic director John Stark, who taught at IWU from 1982 to 1985. Throughout his career, Stark has designed plays for several theater companies both in Chicago and nationwide, and he has worked with ISF for 18 seasons since 1993 to design over 30 productions.
As the festival's artistic director, Stark hired directors for each play, including his former student Deanna Jent '84, who is directing this year's "The Merry Wives of Windsor."
"Deanna is an accomplished director and theatre professional," said Stark, who remained in contact with Jent and even designed a series of shows for the Mustard Seed Theater in St. Louis, which Jent founded in 2007. "But she's also a good friend. What a great combination."
In addition to Jent, Stark also brought on Marti Lyons '08 as director for "Shakespeare in Love" and Associate Professor and Director of the School of Theatre Arts Thomas Quinn as an actor for his 13th season with ISF.
Another long-time creative with ISF, Brokaw, is pleased to continue her work with the festival. An established playwright for the Prairie Fire Theatre, Brokaw is the author of two comedic shows – "Henry 1-2-3-4-5" and "Will in the Bachelorette" – that will precede "Henry V" and "Shakespeare in Love" respectively. She also wrote the Theater for Young Audiences show "Double, Double," in which Abraham Lincoln and William Shakespeare have an unexpected run-in outside the McLean County Courthouse.
Brokaw is excited to be working alongside Lori Adams, who taught at IWU for eight years and directs "Double, Double" "with humor and heart," according to Brokaw. Adams is currently the head of the theatre department at Illinois State University.
New additions to the ISF creative team include Whitney Meltz '19 and Andrew Neeley '19, who are gaining valuable experience as interns for the festival this summer.
"As a scenic artist with ISF, I have been having a great time expanding my painting skills and learning new techniques," said Meltz, a theatre arts design and technology major. "ISF's scenic designs for this summer are in a very different aesthetic range than anything I've worked on at IWU, which has been very interesting to dive into."
Whether constructing props, sets or any other component of a production, both interns are also building upon a strong network of Illinois Wesleyan's connections to the Illinois Shakespeare Festival, one that will surely continue to grow for years to come.
By Rachel McCarthy '21