Torres Luna Shares Transformative Narrative at Benefactor Dinner
Oct. 5, 2018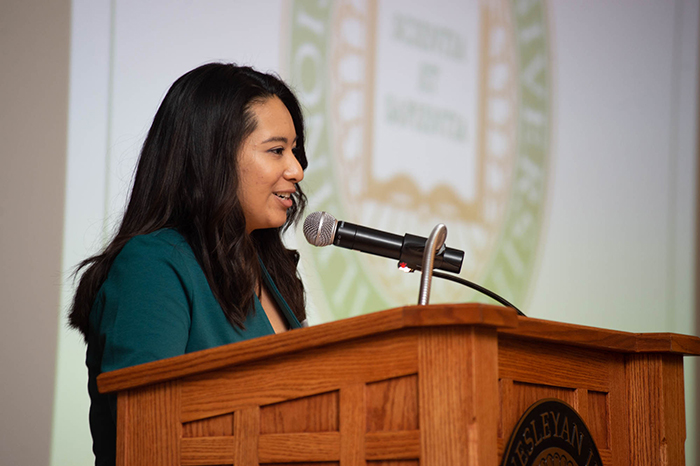 BLOOMINGTON, Ill. — Veronica Torres Luna '19 immigrated with her parents and siblings to the United States 11 years ago in search of better opportunities.
This December, Torres Luna will become the first in her family to earn a college degree, a transformative milestone which would be unobtainable, she said, without significant financial support from generous donors.
"Now that I have started looking for jobs and graduate schools, I understand what an Illinois Wesleyan degree can do for my future," Torres Luna told the gathering of 268 attendees – matching last year's record-setting crowd – at the 22nd Scholarship Benefactor Dinner on Thursday, Oct. 4.
"I am very thankful that you have made it possible for a Latina immigrant to realize that dreams can turn into actions and those actions lead to unimaginable possibilities."
A high-achieving high school student with her sights set on college, Torres Luna felt a sense of home when she visited Illinois Wesleyan. However, she wondered "how can a low-income student pay for this education?"
"It turns out that there are really, really nice people out there that take the time to share part of their income with a stranger that attends their alma mater," Torres Luna said. "Your much-appreciated contributions have given me opportunities I never thought were possible for someone like me."
Torres Luna was one of 95 students who joined 119 benefactors to celebrate 304 scholarships – including 35 new scholarships – awarded to 352 recipients. Thursday night's celebration featured the announcement of an eight-figure endowment, established by Gene Nuziard '50 and his wife, Marilyn, to support student scholarships at Illinois Wesleyan.
"It's moving stories like yours, Veronica, that led Gene and Marilyn, and everyone in this room, to make significant commitments to this institution in support of students," President Eric Jensen told the crowd. "Making Illinois Wesleyan accessible to students who gain so much as Titans is a challenge we face. Everyone in this room makes it possible."

More than 90 percent of Illinois Wesleyan students receive some form of financial assistance from the University. Nearly seven out of 10 students on campus have demonstrated need and receive scholarships and grants from Illinois Wesleyan.
Scholarships created by alumni and friends meet part of the needed funds for those students, allowing Illinois Wesleyan to provide more than $41 million in annual financial aid.
The tradition of named scholarships at Illinois Wesleyan dates back to 1893, when the Board of Trustees decided it was important to recognize supporters by naming scholarships in honor of those contributing $1,000 or more.
To learn more about providing support for Illinois Wesleyan, please contact the Advancement Office at 1-800-689-9743 or advancement@iwu.edu.
By John Twork