Summer Reading Selection Becoming Nicole Introduces Annual Theme
July 31, 2018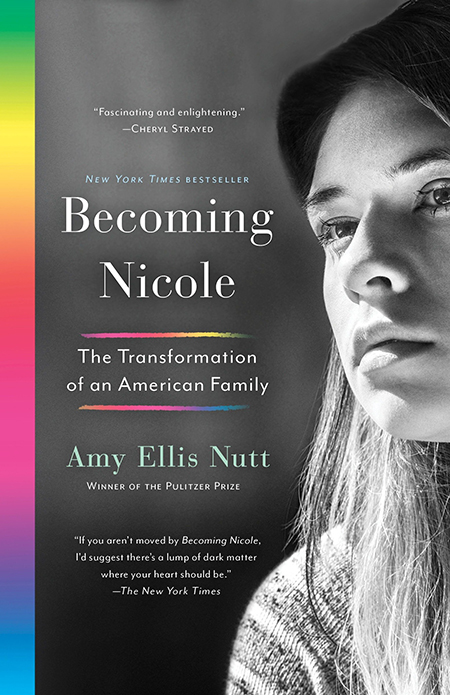 BLOOMINGTON, Ill. — Illinois Wesleyan University's Summer Reading Program selection Becoming Nicole: The Transformation of An American Family by Pulitzer Prize winner Amy Ellis Nutt chronicles the story of a transgendered twin sister and her struggle to find acceptance within her family, school and community.
The book was selected in response to the University's 2018-19 intellectual theme Changing Climates. This theme asks the campus community to examine a variety of the racial, ethnic, religious, political, environmental and economic climates that contribute to national and global discourse. In her journey of asserting her identity and "becoming Nicole," Wyatt Maines challenged those around her to do the same, by confronting commonly shared beliefs regarding gender identity, family, education, the legal system and faith.
From the moment their adopted twin son Wyatt began to imagine himself as the Little Mermaid and ask his mother when he could become a girl, the Maines family faced an unexpected hurdle in their desire to provide the best possible life for their children. Between a mother fighting to give her child the freedom to express her gender identity and a traditionalist father pushing past his doubts to advocate for transgender rights in a conservative community, Becoming Nicole illustrates the triumph of love over adversity.
A New York Times bestseller, Becoming Nicole has been named One of the Ten Best Books of the Year by People and One of the Best Books of the Year by both The New York Times Book Review and Men's Journal. It has also received accolades as A Stonewall Honor Book in Nonfiction and a finalist for the Lambda Literary Award for Transgender Nonfiction.
In writing Becoming Nicole, Amy Ellis Nutt brought to the table her prolific background in journalistic writing, as a Nieman Fellow in Journalism at Harvard University, a Ferris Professor of Journalism at Princeton, and an instructor of journalism at the Columbia University Graduate School of Journalism. She was a 2009 finalist for a Pulitzer Prize in feature writing for The Accidental Artist, later made into a book, Shadows Bright as Glass. Nutt was awarded the Pulitzer Prize in 2011 for her feature series The Wreck of the Lady Mary, about the 2009 sinking of a fishing boat off the coast of New Jersey. Becoming Nicole is Nutt's second New York Times bestseller, following her 2014 co-authored book The Teenage Brain. She is currently a health and science writer at The Washington Post.
Amy Ellis Nutt will be this year's speaker for the President's Convocation on Wednesday, September 5 at 11 a.m. in Presser Hall's Westbrook Auditorium (1210 N. Park St., Bloomington).
Illinois Wesleyan's Summer Reading Program is designed as an opportunity for incoming students to participate in a shared intellectual conversation about a common text with their Gateway Colloquium classmates and the University community (faculty, staff, alumni and student leaders) during Turning Titan: New Student Orientation.
By Rachel McCarthy