Students Share Freeman Asia Internship Experiences
Oct. 30, 2018
BLOOMINGTON, Ill. — Learning through immersive, hands-on internships at 16 sites in four countries across Asia, a record 36 IWU Freeman Asia interns shared their life-changing experiences during an October poster presentation.
The students, whose internship and travel expenses were fully funded by a Freeman Foundation grant, interned across Hong Kong, Japan, the Philippines and Thailand. Internships ranged from teaching English to Japanese students, to conducting research on food and nutrition, to helping migrant workers fight for equal rights.
Michael Modaff '19 (Lincoln, Ill.) and Min Hyuk Kim '20 (Seoul, South Korea) said they enjoyed impacting the lives of students at Aoyama Gakuin University in Tokyo, Japan. As interns at the University, Kim and Modaff's primary responsibility included helping Japanese students enhance their English skills by leading discussion group chat sessions.
"I felt that one of my greatest accomplishments was making the connections with these individual students," said Modaff, a computer science major and Japanese minor. "It was great to envelop myself within the community and become a part of it and help facilitate their goals."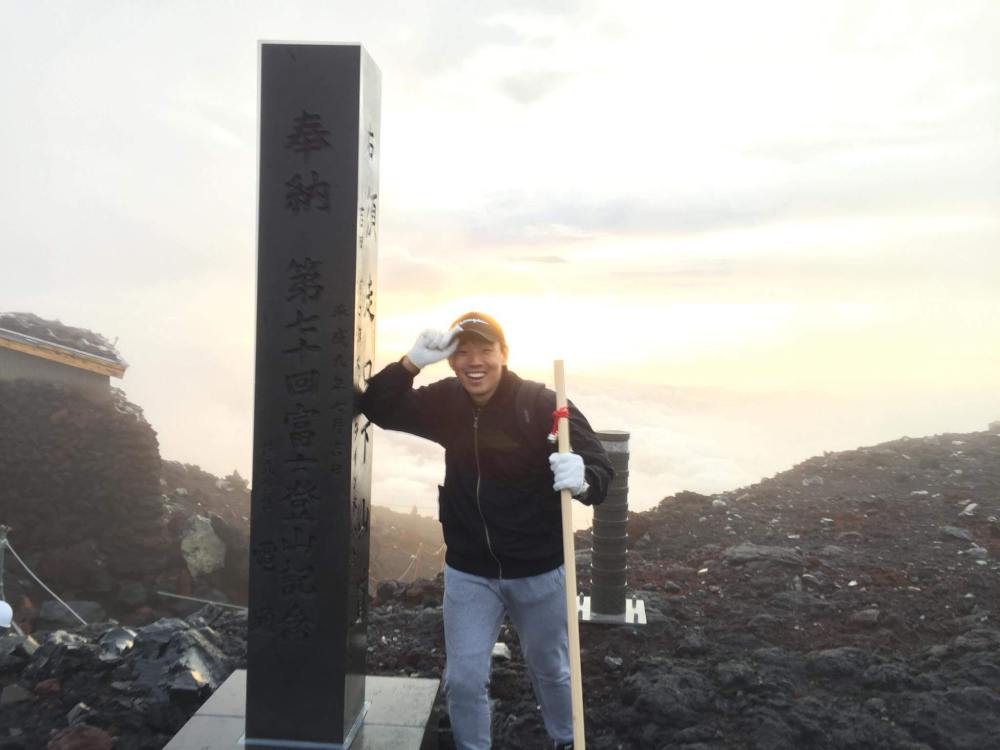 Still maintaining regular contact with some of the students, Modaff said the connections he made are "very real." He said, "They don't just go away when the internship ends."
In addition to connecting with students, Modaff became accustomed to Japan, including its complex transportation system.
"I'm very proud of my geographical progress," he said.
Kim also made geographical progress. Although he is originally from Korea, Kim had never travelled to nearby Japan. He said this opportunity allowed him "to explore more and let (himself) out there, and see what (he could) do to really serve others using (his) talent and skill."
From exploring Tokyo's busy city, to experiencing Japan's famous "Hot Springs," Kim also completed his first-ever hike, an eight-hour journey 12,000 feet up Mount Fuji. Completing the hike independently, Kim was able to climb out of his comfort zone.
"After that I felt like I conquered Japan—I did this," said Kim, an accounting major.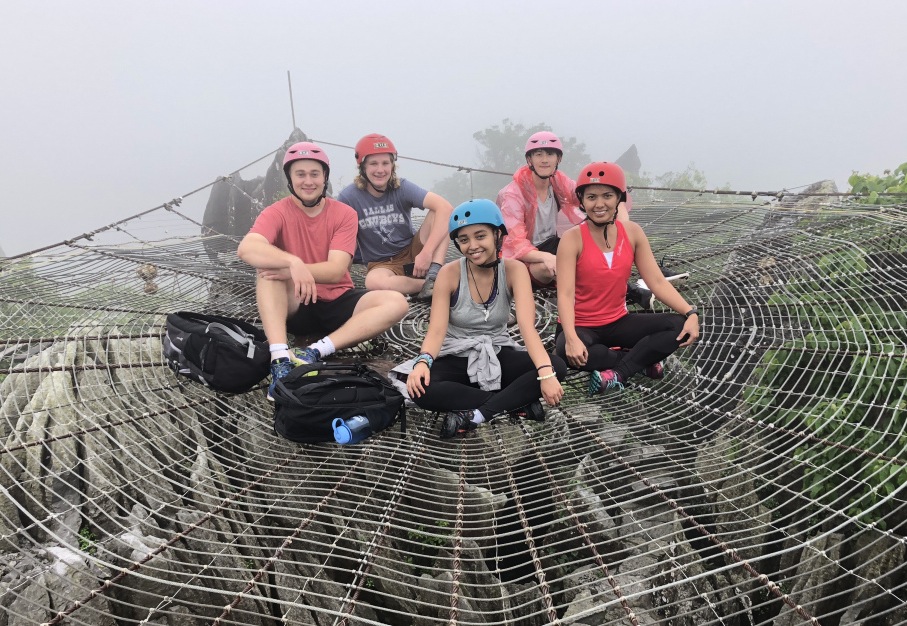 Nitsueh Kebere '19 (Addis Ababa, Ethiopia) said her internship at the Food and Nutrition Research Institute (FNRI) in Taguig, Philippines also pushed her to grow personally and professionally. As an intern at the Knowledge and Diffusion Sector at FNRI, Kebere — a biology major and math minor — was responsible for translating scientific research papers from the nutrigenomics and biochemistry lab into layman's terms. Kebere said it was her job to help ordinary people understand research regarding their health and nutrition.
"It's important research that's been done, and people need to know this research for their health benefits," Kebere said.
While the internship strengthened her abilities as a writer and scientist, Kebere said her experiences outside of the classroom also encouraged her passive-self to "step up and act fast."
"I learned if I didn't ask, I couldn't get answers and learn about the culture and the people around me. I learned to ask questions, be confident and try to make friends. Those are important life lessons I feel like I've gained from this experience," she said.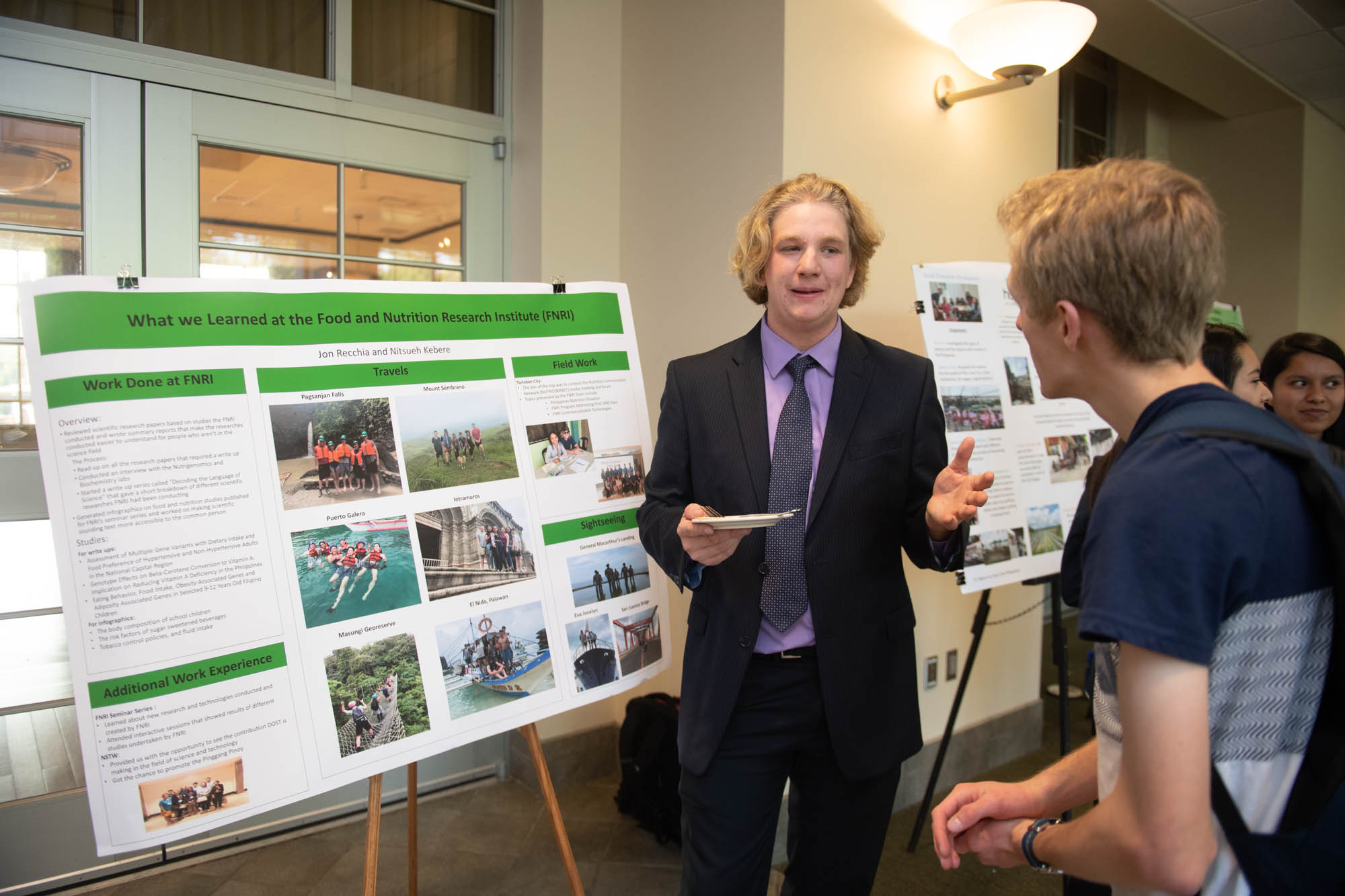 Fellow FNRI intern Jon Recchia '20 (Chicago), who first studied abroad with the IWU London program in 2017, said his Freeman Asia internship in the Philippines was a very different, yet similarly rewarding experience.
An English-writing major, Recchia was able to strengthen his writing skills by composing infographics for the various studies conducted at FNRI. He also created a personal travel blog and videos, capturing the highlights of his experiences, as he travelled throughout the Philippines. He said these travel opportunities opened his eyes to the problems in developing countries and made him realize how fortunate he is for earning an education because for "so many people in the Philippines and so many people in the world, it's only a dream for them."
"To go from London to a developing country, to provinces where there's a level of poor that is just nonexistent in the U.S., was an eye-opening moment and a humbling experience for me," Recchia said. "London was the best three months of my life. The Philippines was probably the most important experience of my life."
As interns for Mission for Migrant Workers, Phillip Duda '19 (Barrington, Ill.) and Sydney Rowley '20 (Schaumburg, Ill.) were also exposed to the problems people face in Hong Kong. A registered charitable organization, Mission for Migrant Workers is dedicated to providing services for the more than 300,000 foreign domestic workers in Hong Kong whose labor rights are frequently violated.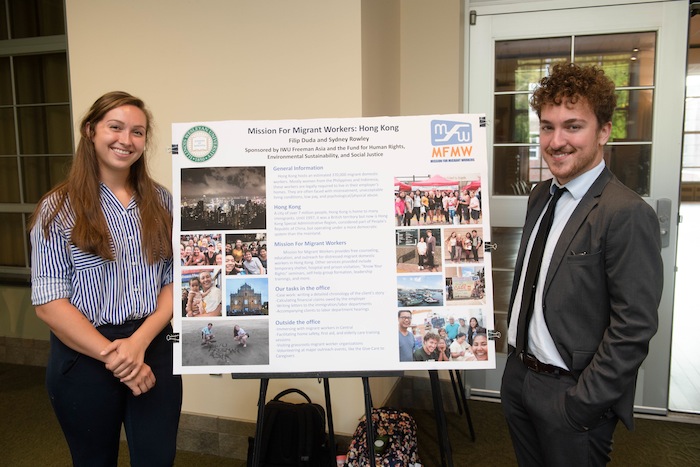 Duda and Rowley were responsible for helping this part of Hong Kong's population who are mistreated, overworked and underpaid. They not only gave advice to people who were experiencing problems with their employers, they also accompanied them to hearings, wrote letters to the immigration or labor department on their behalf and provided them with the help needed to win their cases.
"I really came to know their stories, and it was really rewarding to talk to people and make a difference in their lives," said Rowley, a psychology major who focused on how migrant workers' jobs affect their mental health.
"It's really great to be able to be a part of their lives in some way," said Duda, who continues to talk with clients through Whatsapp.
A political science major, Duda was able to familiarize himself with the laws of Hong Kong that dictate the lives of migrant workers, including their ability to legally live and work in Hong Kong. From meeting with many migrant workers, specifically Indonesian and Filipino groups, Duda was exposed to the problems they faced with organizing and communicating their message across to the government.
"I think the stance of the Mission for Migrant Workers is really that research is the way to make it clear to the Hong Kong government that these are the problems," Duda said. "They're real, they're human rights violations, and if you are not going to do anything about it, you are an accessory to human rights violation."
While in Hong Kong, Duda and Rowley helped create real solutions to these real problems.
"I'd go back in a heartbeat," Duda said.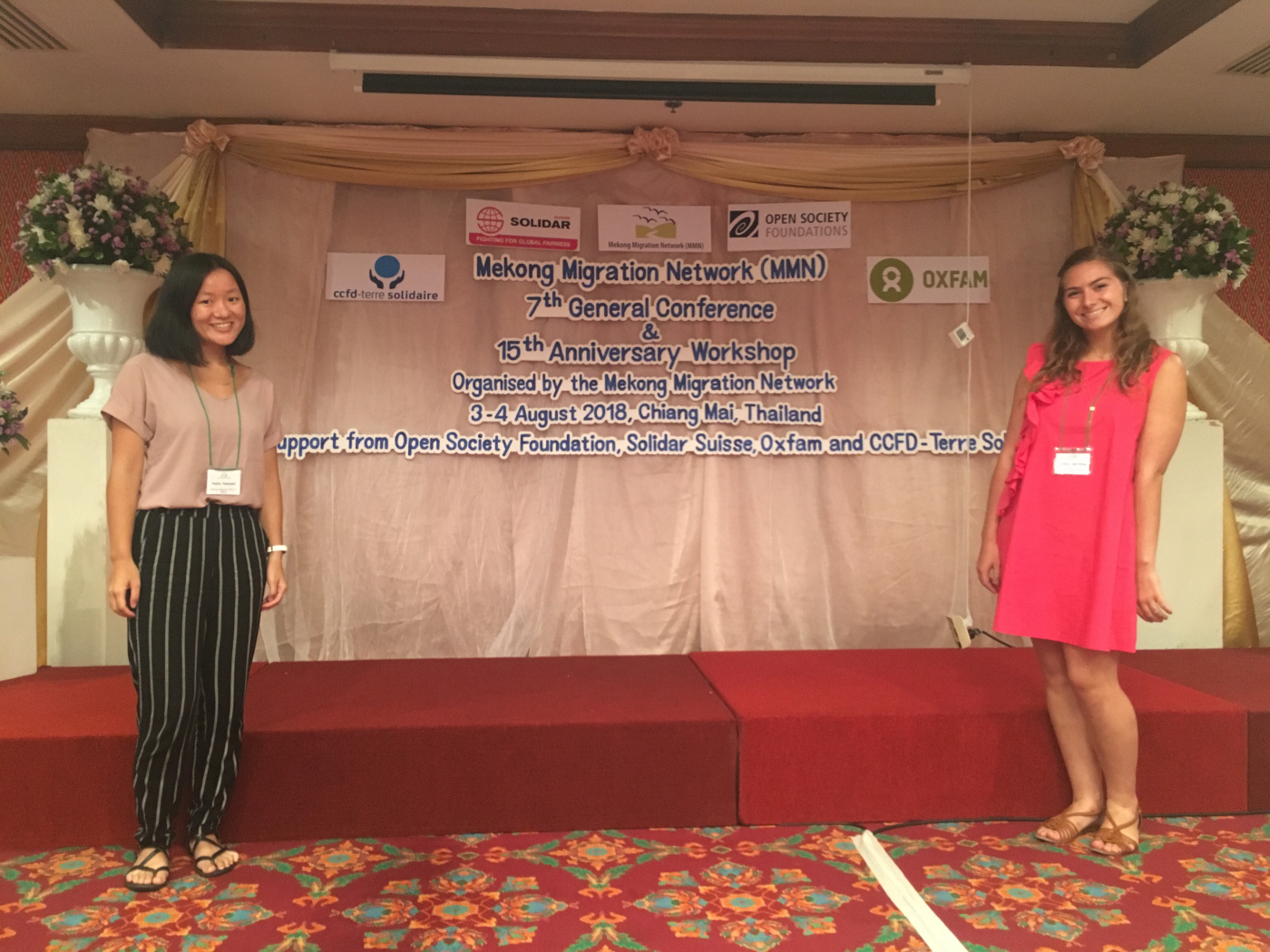 Through their internship with the Mekong Migration Network in Chiang Mai, Thailand, Amber Gauthier '20 (Westmont, Ill.) and Haila Hassan '19 (Chicago) also focused on human rights and social justice issues concerning migrant workers in the Mekong region.
Hassan, a psychology major, worked on a summer-long project collecting research on the policies, laws and working conditions within Laos and the reasons people migrate for labor. Hassan presented her findings to project partners at a general conference at the end of the summer and collaborated with a professor from the Asian Institute of Technology, who used some of her findings to help direct the next phase of the project after she completed her internship.
Hassan said the internship further sparked her interest in the field of social justice, human rights and advocacy for migrants, and "brought new perspectives in what is going on around the world and how it parallels and contrasts with what's going on here in the U.S."
Gauthier said her internship also heightened her interest in international issues. A psychology and international economics double major, Gauthier's main responsibilities included analyzing research in social economic zones in the Mekong Region, and then, comparing demographics for workers inside and outside these zones. From her work in data analytics, Gauthier found that she "really likes working with numbers in an international capacity."
"It sparked my interest for international studies and how countries operate, which is why I added an international concentration to my economics major," she said.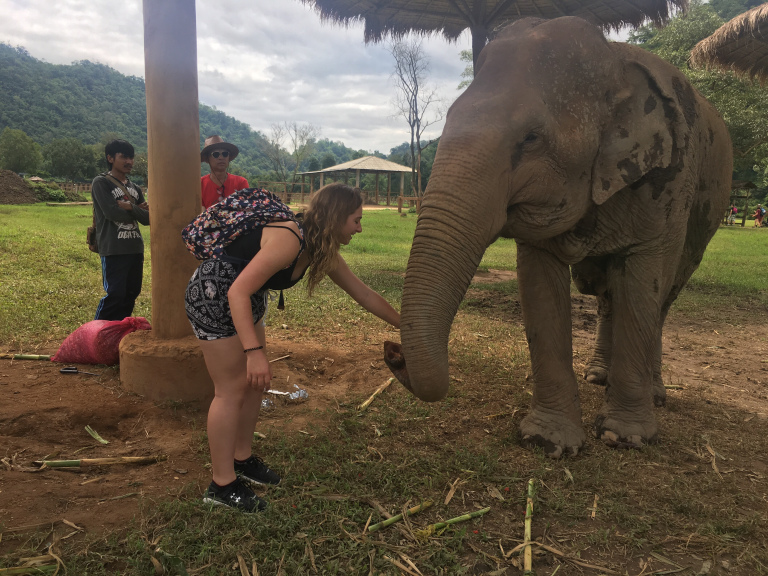 Not only has Gauthier's internship in Thailand helped her choose a potential career path after graduation, she said the internship is very "marketable and could serve as a gateway to other internships."
Hassan agreed, adding that work experiences abroad are attractive to potential employers.
"You get to be abroad in Asia, which is very unique. You also have the chance to work abroad and really absorb the culture in a working environment," Hassan said. "I thought it was an awesome opportunity to gain professional, cross-cultural experience."
In addition to growing professionally, Gauthier and Hassan also had the opportunity to explore the rich culture of Thailand. From participating in cooking classes to visiting Thailand's temples and white water rafting, the interns also learned about the culture surrounding elephants – Gauthier's favorite animal – in Thailand.
"It was very eye-opening, because you see elephants in the zoo, but there's actually so many issues surrounding these creatures," Gauthier said.
From these many experiences, Gauthier concluded that she loves "studying abroad, and I think it's an experience that every IWU student should try to make possible during their time here."
The $400,000 grant received last year from the Freeman Foundation will provide full funding for students to intern in Asia again during the summer of 2019. Funding supports airfare, housing, a living allowance, and all internship placement and visa costs.
Application for the Summer 2019 IWU Freeman Asia Internship Program will be open to all domestic and international students who are currently sophomores and juniors and who will return to the IWU campus for at least a semester following the internship. Destinations include Hong Kong, Japan, the Philippines and Thailand.
Informational sessions will be held Tuesday, Nov. 13 and Wednesday, Jan. 16 from 4 p.m. until 5:30 p.m. in the Welcome Center Auditorium. The deadline to apply is Jan. 30.
By Vi Kakares '20