Students Explore Career Opportunities in NYC
April 23, 2018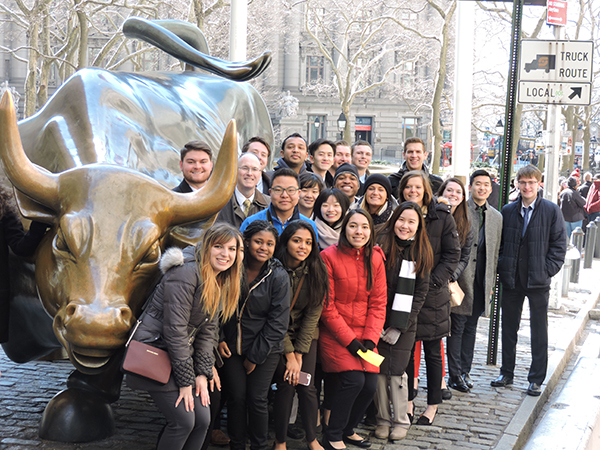 BLOOMINGTON, Ill. — When it comes to job searching, it is not always about what you know, but who you know. During the Hart Career Center's third annual Career Immersion Excursion (CIE), 21 students had the opportunity to meet and network with alumni living and working in New York City.
Designed to connect current students with alumni working in different cities, the CIE allows students in different majors to gain exposure to a variety of careers and industries.
"This career discovery trip is an outstanding way for students to expand their horizons and meet our many successful IWU alumni," said Director of the Hart Career Center Warren Kistner. "Networking is vital, and a trip like this provides students with the opportunity to connect with alumni and other professionals in selected fields."
Over the course of four days during Spring Break, students gained exposure to the fields of banking, finance and technology through attending employer site visits, industry specific panels and social events guided by IWU alumni.
Amidst their visits to companies including Oppenheimer Funds, Morningstar and Verizon, students also visited several landmarks of New York. These site visits included the National Basketball Association's (NBA) headquarters, the New York Stock Exchange and the Federal Reserve Bank.
"It opens you to the world beyond Illinois and Bloomington," said Anuvrat Baruah '18, a finance major and economics minor.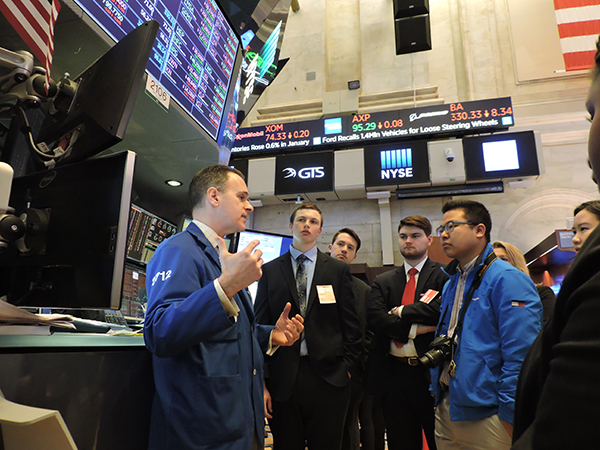 When students were not learning about the lives of investment bankers and consultants, exploring the gold vaults of the Federal Reserve or learning about the NBA's growth as a global company, they were personally connecting with alumni in small group dinners and alumni social events.
CIE participant Matthew Bomba '19, an accounting major, said that through events like these, he "built relationships that will last a lifetime, not only with working professionals, but also with peers." These professionals and peers "will impact your life for the better," said Stephanie Day '18, a math major.
Kistner said both students and alumni benefit from what participant Tulasi Jaladi '20, a biology pre-med major and entrepreneurship minor, called "a powerful and professional experience."
"Our alumni are genuinely interested in assisting, and what better way than to share their expertise with our students?" Kistner said. "It also allows alumni to connect with one another, fostering a sense of IWU community in various cities."
Not only does the CIE trip allow students to envision possible post-graduation career paths, but finance major Jihoon (John) Park '19 said by witnessing the success that IWU's alumni have achieved, the trip also alleviates some of the anxiety that most undergraduates feel when entering the workforce.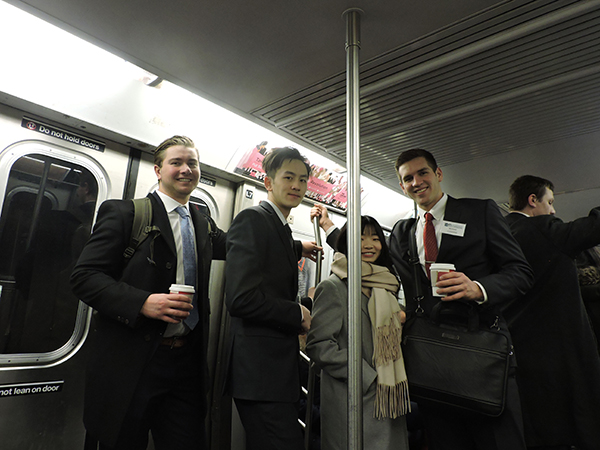 "The CIE provides the physical manifestations of the stages of our career goals, known or unknown, and replaces the anxiety rooted in every student's uncertainty with a driven passion to replicate and emulate the careers of alumni who have tread the exceedingly familiar waters of Illinois Wesleyan," Park said.
This "breakthrough event" is one that Kistner said students will remember and benefit from as they develop their future career paths. After all, as Lily Chang '18, an economics and international business double major said, "The more people you know, the closer you are to your dream job."
Emails will be sent out in the fall regarding the application process and deadlines for next year's CIE. To read a personal account of this year's trip to New York and gain further insight, see the first-person student blog.
By Vi Kakares '20