Students and Faculty Explore Japan at Technos International Week
July 30, 2018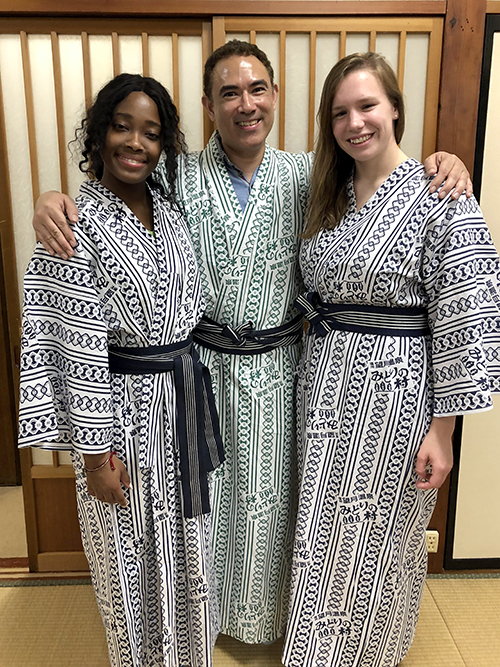 BLOOMINGTON, Ill. — Khayla Caruthers '20 (Rockford, Illinois), Macey Grant '20 (Onarga, Illinois) and Illinois Wesleyan University Associate Professor of Psychology Joe Williams spent two weeks during June immersing themselves in the richness of Japanese culture at Technos International Week, hosted at Technos International College in Tokyo.
Founded in 1992, Technos International Week is an opportunity for students and faculty supervisors from participating institutions across the globe to experience various aspects of living in Japan, from riding bullet trains across the country to relaxing at a traditional Japanese hot spring. For decades, Illinois Wesleyan has sent two first-year or sophomore students and a faculty member who have had no prior experience in Japan, who then return to the United States with a deeper understanding of foreign cultures.
"I met people from all over the world, not just Japan, and I learned so much about each of their countries that I never would have learned otherwise," said Grant. "I was so scared before I went, but now I would never trade my trip to Japan for anything."
The trip consisted of a fast-paced itinerary that hit many of Japan's cultural icons, such as the Great Buddha of Kamakura, the Hydrangea Gardens in Kamakura, and Matsumoto Castle. Participants experienced both the bustling energy of Tokyo as well as a serene mountain resort named Midori no Mura, where students from Technos College taught the group how to make a Japanese dessert called kakigōri, Japanese dancing, and other bonding activities.
"I loved being surrounded by nature up in the mountains," Caruthers said while reflecting upon her time at Midori no Mura. "It was really one of those irreplaceable experiences."
Throughout the trip, students from Technos College also led presentations on Japanese customs, ranging from basic etiquette to how to properly wear traditional Japanese clothing. But perhaps the most valuable lessons on Japan's society came from day-to-day interactions with the locals.
"When I ventured out on my own, any time I got lost or it was clear that I wasn't sure what train to catch, random strangers would stop – and despite the language barriers between us – would go out of their way to help me figure things out. Not just by pointing me in the right direction, but often by going out of their way to walk me to the correct destination," explained Williams, whose observations were echoed by Caruthers and Grant. "It really exemplified the goals of the Technos International Week to foster relations between people through cultural exchange."
Connecting people across cultures is the core philosophy behind Technos International Week, and more than memories of sightseeing and food tasting, participants came away with the valuable experience of bonding with completely new people in a completely new country.
"I would say that my heart is still in Japan," said Caruthers. "I gained lifetime friendships, and I know that I'll see everyone in that program again. Through this trip, I've come out a new person, with a wider worldview and, in the words of a professor I met from Purchase College, an 'open heart, open mind, and an open stomach.'"
By Rachel McCarthy '21