Student, Faculty and Alumni Bring Aid to Kenyan Health Clinic
August 16, 2018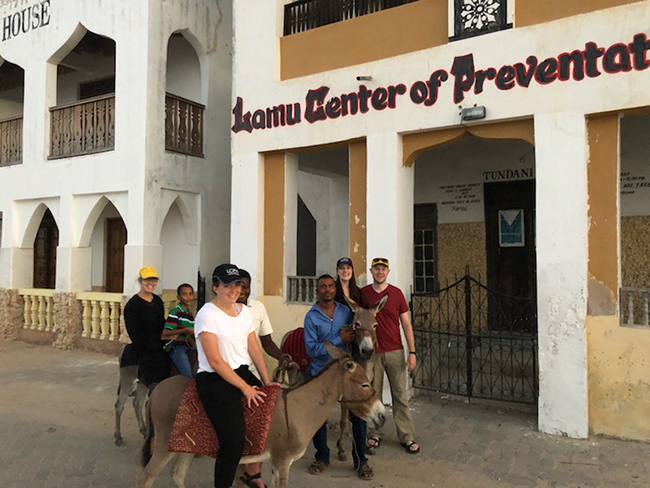 BLOOMINGTON, Ill. — An Illinois Wesleyan University student, faculty member and two alumni spent a week in July at the Lamu Center of Preventative Health (LCPH) in Kenya, where they provided free eye exams, screenings and glasses to over 300 patients in need.
The clinic was founded in 2007 by Professor of Anthropology Rebecca Gearhart Mafazy and her husband, Munib Said Mafazy '02, a native of Lamu who serves as executive director. The clinic provides free, high-quality healthcare six days a week to the impoverished community, and Illinois Wesleyan has a long history of aiding LCPH through fundraisers and service trips.
"IWU has been a great supporter of the work we are doing at LCPH since the beginning," said Gearhart Mafazy. "The people of Lamu have benefited tremendously from the free screening and counseling services the clinic provides."
This summer's service trip included Annie Crumbaugh '19 (LeRoy, Illinois), Erick Henderson '12 and his wife Erin, and Munib and Rebecca Mafazy.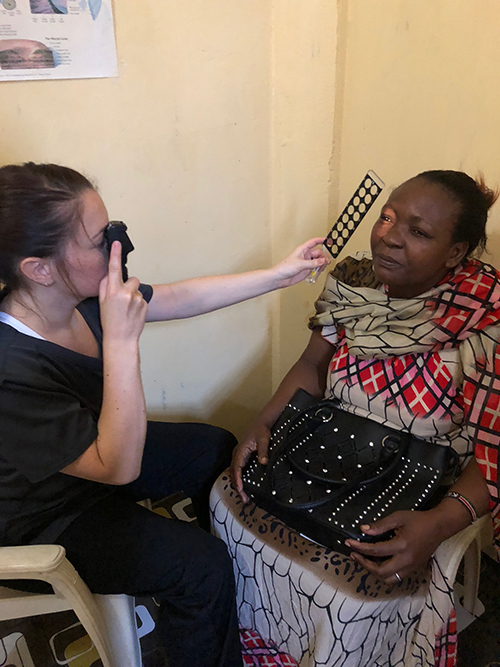 "Working with the Lamu Center of Preventative Health was an amazing opportunity, and I am so glad I was able to visit the clinic," said Crumbaugh, an international studies and political science double major with a minor in African studies. By delivering glasses to patients and working with the clinic's database, Crumbaugh said she gained firsthand knowledge about Swahili culture, the history of Lamu and non-profit management.
Crumbaugh is not the first IWU student intern to make an impact on this clinic. In 2011, Henderson traveled to the clinic with Gearhart Mafazy to provide basic but necessary services, such as reading glasses and glaucoma screenings. Seven years later, after completing optometry school, Henderson initiated the return trip to the clinic with his wife in order to administer more comprehensive eye care services and thereby bring critical services to patients who would otherwise find themselves unable to afford treatment.
"What we are doing with LCPH is making a paramount difference in many people's lives," said Munib Mafazy. "We are on the frontlines of fighting diseases like malaria, HIV/AIDS, diabetes, hypertension and other chronic illnesses. We are blessed to have many people in the Bloomington-Normal community who care about making a difference."
With or without glasses, the pressing need for medical services in Lamu is plainly visible.
However, journeying to Kenya is not the only way that supporters of LCPH can make a profound difference in the lives of Lamu residents in need of care. LCPH will host its annual HeART for Africa benefit concert Sunday, Aug. 19 at 4 p.m. at the Castle Theatre (209 E. Washington St., Bloomington).
By Rachel McCarthy '21