University, Students Celebrate State Farm Scholarship Support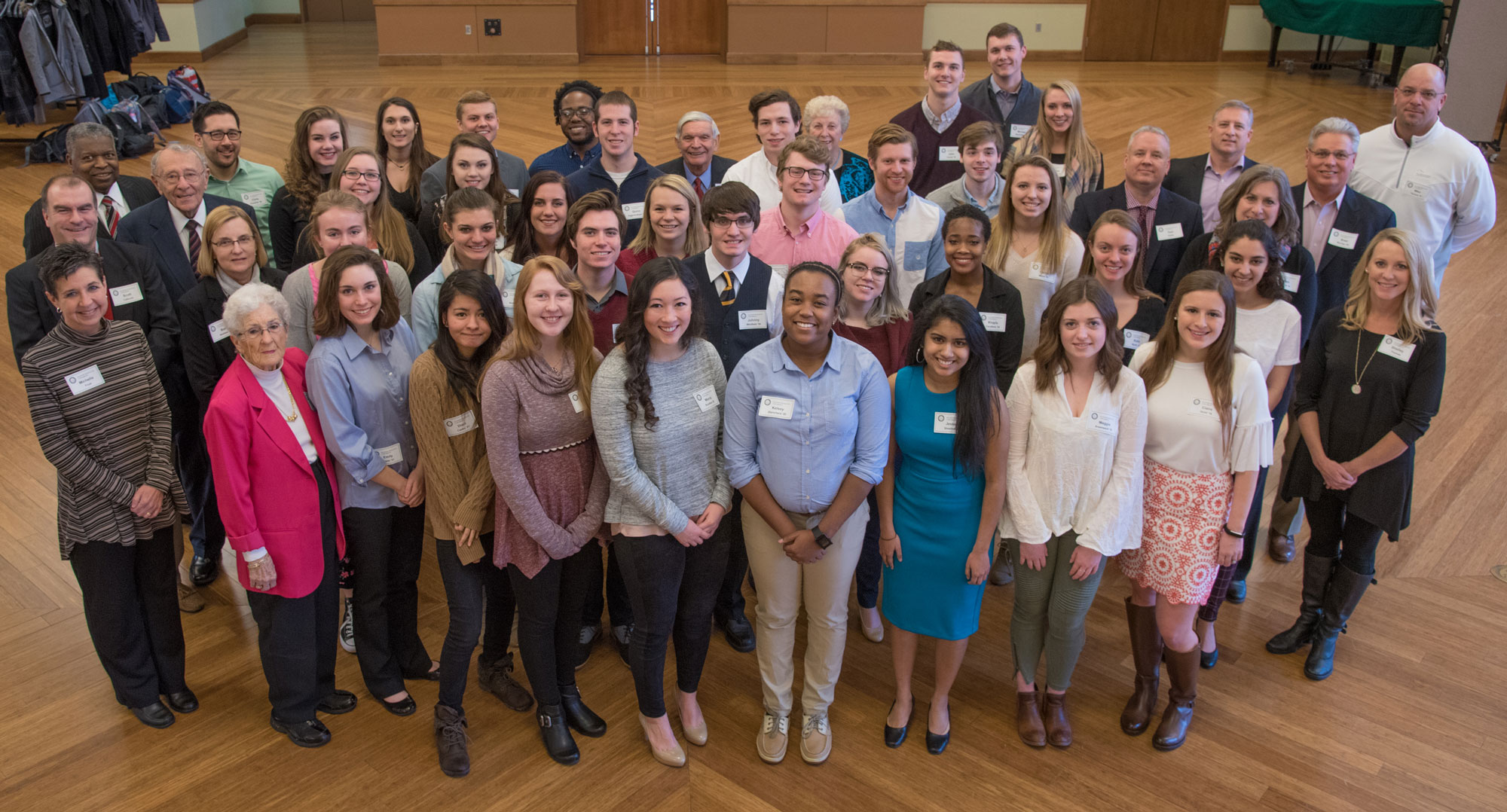 Feb. 15, 2018
BLOOMINGTON, Ill. — Many of the 100 students currently attending Illinois Wesleyan University with scholarship support from the State Farm Companies Foundation were able to meet and thank their benefactors on Feb. 14.
Representatives from State Farm joined student scholarship recipients at an annual luncheon celebrating the long-standing ties between State Farm and Illinois Wesleyan. IWU President Eric Jensen noted the appropriateness of celebrating the collaboration between two institutions that are integral to the tapestry of the local community.
"We are, like State Farm is, part of what makes Bloomington-Normal special," he said. "It's hard to overstate how hugely important to Illinois Wesleyan that State Farm has been over the years. Not just in terms of buildings like State Farm Hall, but in terms of the people with name tags around this room, with numbers on them that signify alumni status" – acknowledging the many IWU alumni employed at State Farm attending the event.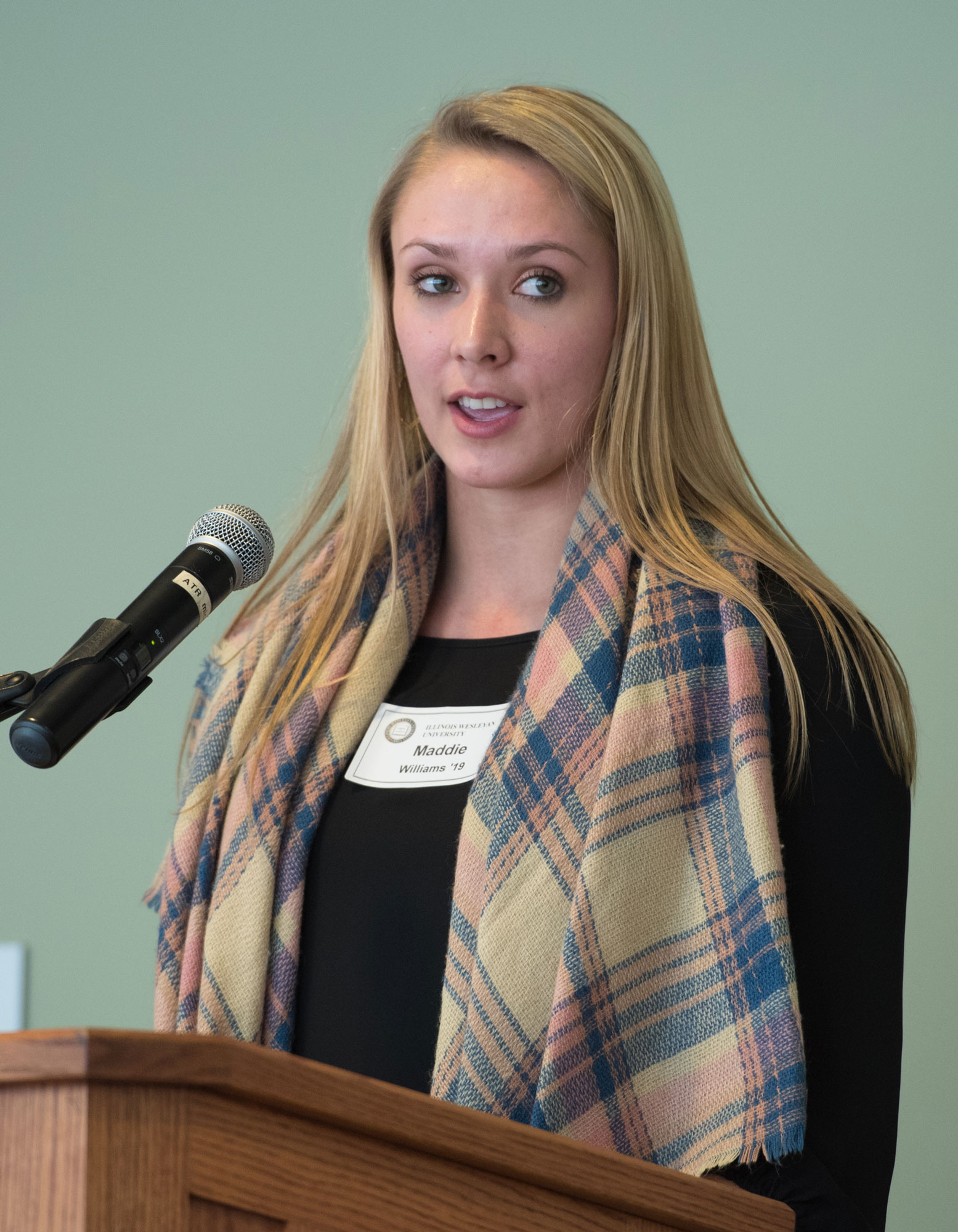 Maddie Williams, a junior majoring in business - marketing, spoke on behalf of the State Farm Scholars in expressing gratitude.
"I truly, from the bottom of my heart, believe that this University is the best place to be, and it absolutely would not be possible without our State Farm family," she said.
Williams relayed her personal story of transferring to Illinois Wesleyan University from a school where she was continually unhappy. She was able to forego an athletic scholarship and afford to come to IWU, thanks in part to the State Farm scholarship.
Delighted at her experience after coming to Illinois Wesleyan, "I expressed my feelings through social media, obviously, because that's what people my age do, and I tweeted 'Since coming to IWU, I have not had a single bad day,'" Williams said. "I had so many people from Illinois Wesleyan reach out to me, and the circulation of this tweet was so much bigger than I had imagined. A couple of months later, my tweet had resurfaced again, and I can tell you that, over one year later, this still rings true."
"Your financial encouragement is what allows us to have an exceptional education, an exceptional experience, and an exceptional journey with an incredible story to tell," Williams said. "With this support, we can now go into the world with open arms, ready to support others just as State Farm has supported all of us."
▷ Read Maddie Williams' full remarks
Scott Callicott, Manager of Enterprise Philanthropy at State Farm, quoted wisdom from Mark Twain: "The secret to getting ahead is getting started."
"You may not realize it, but you've already taken that first step," Callicott told the students. "The State Farm Companies Foundation is very pleased to have played a part in that step. You are preparing to become leaders in a world that has fully integrated change into its culture.
"We are proud to be able to provide support for the State Farm Scholars program, giving each one of you the chance to get ahead by getting started. Thank you to our friends at Illinois Wesleyan for the opportunity to partner with you on building this path for students today, in the past, and to come."
By Ann Aubry