Simmons '20 Honored with Community Leadership Award
Oct. 2, 2018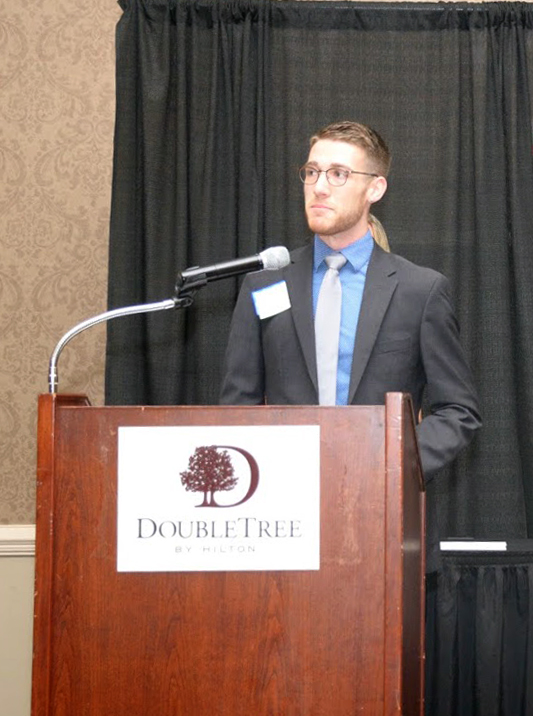 BLOOMINGTON, Ill. — Business administration and religion double major Isaac Simmons '20 was one of nine young adults honored with the 2018 Why I See You (YICU) Service Awards for their leadership skills and contributions to the broader community. Simmons' efforts were recognized at last month's YICU Service Award Celebration.
The celebration is a signature event of For a Better Tomorrow (FBT), a non-profit organization that focuses on local and international philanthropy. FBT also incorporates youth leadership programming into its fundraising efforts, which allows young participants to see the impact of their efforts.
"I cannot begin to say how grateful I am for the ways that FBT, its supporters, and benefactors have come together around the Bloomington-Normal community to push it to be the best that it can be," Simmons said. "If everyone picked one young mind and invested their time, talent or treasure, the so-called leaders of tomorrow would be leaders of today."
A leader himself, Simmons was nominated by Hannah Mesouani, Assistant Director of the Office of Diversity and Inclusion and Board Member of FBT, for "his humble yet unwavering dedication to bettering the lives of others and eliminating oppression."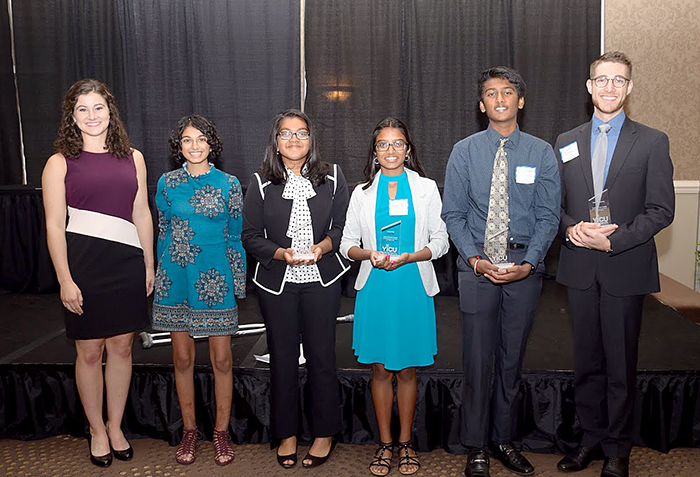 "The future is built right now, and with leaders the likes of Isaac and his fellow nominees and winners, that future is looking brighter every day," Mesouani said.
A Resident Community Advisor, Multifaith Ambassador, and member of the IWU Sexual Assault Taskforce and the Council on Religious Life on campus, Simmons is also heavily involved in the broader community with organizations including: The Advocate BroMenn D.C.A. Delegate Executive Committee, the W.B.R.P. Tool Library Taskforce, the West Bloomington Revitalization Project, and the Downtown Bloomington Farmers' Market.
Through his constant dedication to betterment of the campus and community, Simmons is, as Mesouani stated in her nomination, "a true servant leader and community-minded activist." Selected from 35 nominations, Simmons was one of three winners in his age group out of three total age groups.
"To know that someone in the community saw me, heard me, and thought so highly as to nominate me, put me at a loss for words. I was humbled, excited, amazed and energized by the nomination, and I was further filled with a sense of overwhelming joy for my community," Simmons said.
All recipients of the award were given $250 to donate to a non-profit organization of their choice. Simmons selected the West Bloomington Revitalization Project because of its approach to community engagement, "one that truly empowers the residents of the west side."
"I hope that my donation will add to their ability to supply resources to residents, add a bit of fuel to their innovation, and raise a little awareness of the wonderful work that comes out of 724 W. Washington St.," Simmons said.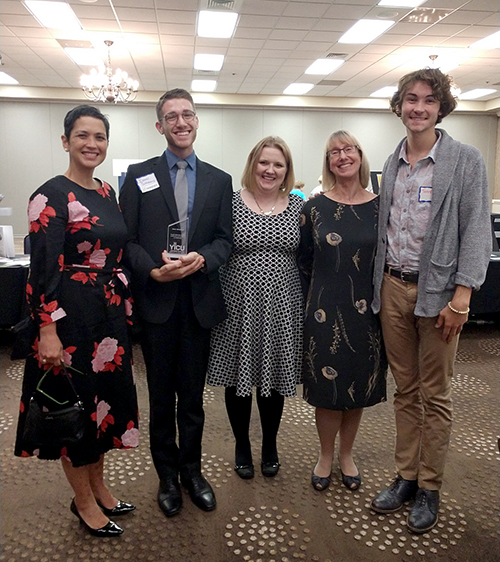 Simmons acknowledged that he would not have have found his "calling" in community engagement without the support of his mentors who helped shape him into the person he has become. These mentors, both on and off campus, have given him the confidence to discover and grow into the leader he is today.
"They have taught me what it means to invest in the communities that I am a part of. They have driven me to ask the difficult questions. They have inspired me to leap after my dreams and have shown me how to catch myself when I don't quite make it. But most importantly, they have shown me love and overwhelming support," Simmons said.
Such support was crucial to Simmons, who said it is easy to focus on the future as a college student. His mentors have, instead, encouraged him to focus on the present and have given him the "clarity" to find his passion in dedicating his life to one focused on community.
"To me this award means just that: community. It is because of community that I was nominated, it is with community that I received it, and it will be community that my award is given back to. I am so thankful for both my west-side community and my Wesleyan family. They have made me who I am today."
By Vi Kakares '20