School of Nursing Earns $100,000 Grant to Facilitate Hands-On Learning
March 2, 2018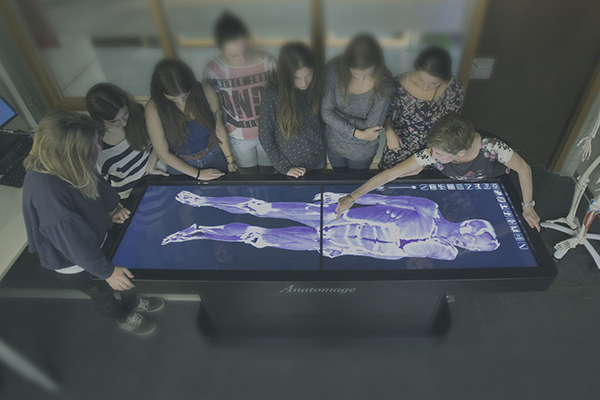 BLOOMINGTON, Ill.— Illinois Wesleyan University's School of Nursing is taking an innovative approach to anatomy education. Awarded a $100,000 expansion grant, the School of Nursing will purchase an Anatomage 3D Medical Imaging Table Convertible – a virtual dissection table with an Extended Digital Library – which will be utilized primarily by first-year nursing students.
The $100,000 grant, funded by the Illinois Board of Higher Education Nursing School Grant Program, is awarded to high-performing nursing schools who agree to expand their capacity to increase the number of students preparing for careers as registered nurses. The grant supports the School of Nursing's efforts to recruit and retain first-year nursing students in an effort to expand the number of qualified nurses.
"The School of Nursing and the Biology Department are excited to strengthen our partnership to meet the learning needs of first-year students," said Victoria Folse '86, the Caroline F. Rupert Chair of Nursing and Director of the IWU School of Nursing. "It's exciting to bring this innovative pedagogy to Illinois Wesleyan."
Because the School of Nursing uniquely accepts first-year students directly into the nursing program, freshmen are challenged with anatomy and physiology prerequisite courses during their first two semesters. As the most technologically-advanced anatomy visualization system for anatomy education, the Anatomage table will facilitate a hands-on learning approach to anatomy.
Nursing students will begin using the Anatomage table during their first year, and they will benefit from engaging lectures and marked improvement in laboratory exercises which incorporate the virtual dissection table. The device will continue to be integrated into first-year nursing curriculum beyond the prerequisite science courses. In addition, the University will continue to provide student tutors and laboratory assistants to support students enrolled in anatomy and physiology.
The $100,000 grant supports the School of Nursing's expansion efforts to modernize the learning environment, create opportunities for high fidelity simulated learning, and incorporate best practices into health assessment.
By Vi Kakares '20