Ames Library Additions Highlight Social Justice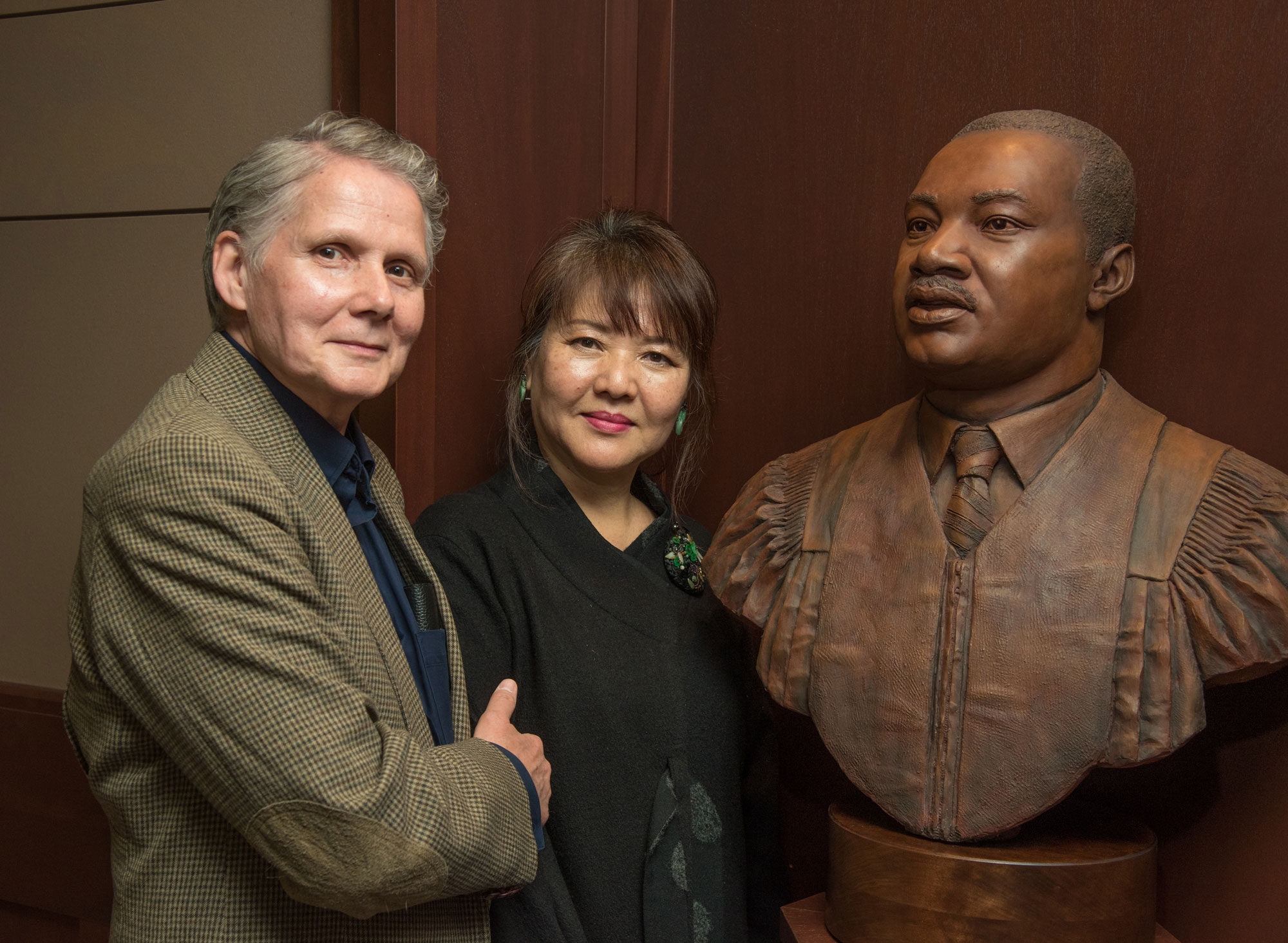 Feb. 15, 2018
BLOOMINGTON, Ill. — Two new additions to The Ames Library collection were unveiled in a dedication Wednesday in conjunction with Black History Month.
Illinois Wesleyan University officials unveiled a bust of Martin Luther King, Jr., donated by renowned sculptors Jeffrey and Anna Koh Varilla, and a first edition of A Letter on the Abolition of the Slave Trade , written in 1807 by British politician and abolitionist William Wilberforce, purchased at a generous discount from local non-for-profit organization Books to Benefit.
University Librarian Karen Schmidt expressed gratitude for both additions to The Ames Library. "The Martin Luther King, Jr. bust is an exceptional rendering of Dr. King. We are very honored to share this with the IWU community, as it reflects Dr. King's connection to IWU and celebrates his vision," she said. "The Wilberforce first edition is a significant contribution to the library's Tate Archives and Special Collections. It connects directly with our University's long-standing commitment to social justice, and will be an important centerpiece in our students' research on historical struggles with slavery."
The Martin Luther King, Jr., bust will be permanently displayed in The Ames Library First Floor Rotunda. The sculptors, Jeffrey and Anna Koh Varilla, are a husband-and-wife team that has worked on public monuments for nearly 30 years. They are the parents of a current IWU student Adam Varilla '18.
Wednesday's dedication coincides with the anniversary of King's first of two speeches on Illinois Wesleyan's campus. King's first speech, to 500 attendees of the Religious Emphasis Banquet, took place Feb. 14, 1961.
"Our son will be graduating from Illinois Wesleyan this spring and we've been very grateful for the support and academic scholarships the University has provided him. We have been impressed with the progressive direction Illinois Wesleyan has displayed for many years, especially given the fact it welcomed Dr. Martin Luther King twice during the 1960s," Jeffrey Varilla said. "As sculptors, we want to express our appreciation to Illinois Wesleyan in the best way we know how by donating a life-size portrait bust of Dr. King we created based on our over-life-size full figure Dr. King monument on the University of Texas campus in Austin. Thank you, Illinois Wesleyan, for accepting our gesture of appreciation."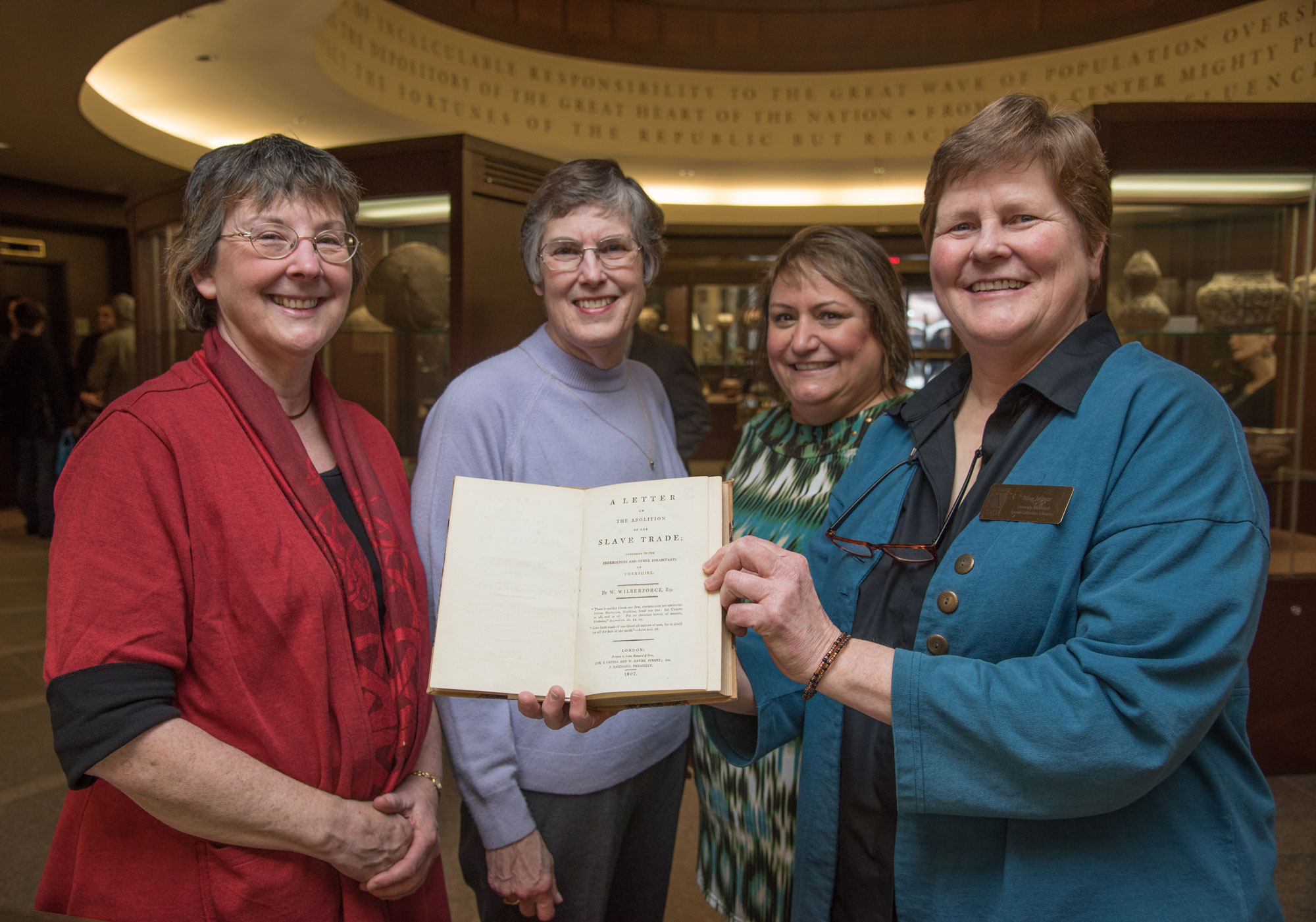 A Letter on the Abolition of the Slave Trade will be kept in Ames' Tate Archives and Special Collections along with other prominent abolitionist texts, including a first-edition copy of Harriet Beecher Stowe's Key to Uncle Tom's Cabin .
The book was acquired from Books to Benefit, a Normal, Illinois-based non-for-profit that collects and resells books to support local literacy programs. Representing the organization Wednesday were Jackie Langhoff, Ginny Schmult and Dr. Mary Ryder.
"Wilberforce's book played an important part in influencing American history. Finding a local home at Ames Library ensures its preservation for future generations," said Langhoff, president of Books to Benefit. "We are passionate about literacy and preserving scholarly works like this one that have such significant historical content."
Opened in 2002, The Ames Library features five levels and 103,000 square feet of space. The library is named in honor of B. Charles Ames '50 and Joyce Eichhorn Ames '49. Special spaces within the building include the Bates & Merwin Reading Room, Beckman Auditorium, John Wesley Powell Rotunda, Thorpe Center, Tate Archives and Special Collections, along with stained glass windows from Pembroke College, Oxford.
The Ames Library is open to all students, alumni, faculty, staff, visiting scholars and retirees. For more information, visit The Ames Library online.
By Matt Wing