Mishra '15 Creates Viral Music Mashup
June 5, 2018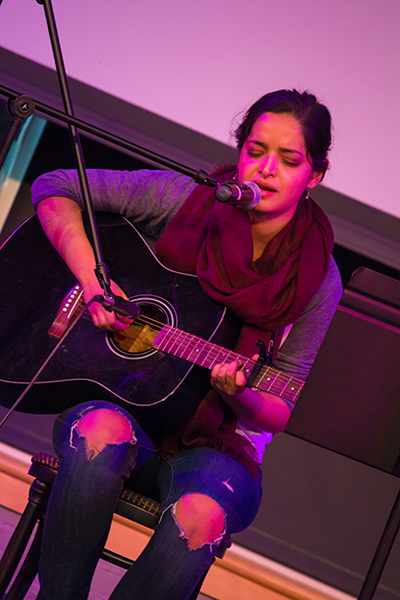 BLOOMINGTON, Ill. — Fans of Bollywood and beyond are falling in love with the voice of Illinois Wesleyan University alum Lisa Mishra '15, whose recent viral music mashup has earned international acclaim.
"It all still feels like a dream," said Mishra while reflecting on a whirlwind of a week which included an impromptu trip to India and the creation of a music video that reached 2 million views in seven days on YouTube. "I can't believe I got this incredible opportunity and am grateful for everything that aligned to make it happen."
After listening to the soundtrack for Bollywood film Veere Di Wedding a week before its June 1 theatrical release, Mishra felt inspired to create and share her own acoustic rendition of the movie's featured song "Tareefan," which she blended with "Let Me Love You" by DJ Snake featuring Justin Bieber. The mashup "Tareefan Reprise," posted by Mishra to her Instagram account, went viral. It even reached the ears of Veere Di Wedding star and Bollywood powerhouse Sonam Kapoor.
Amazed by the rendition, Kapoor invited Mishra to fly from Chicago to Mumbai to record the song in a professional studio and produce a music video featuring Mishra with stars from the movie's cast.
"The best way I can describe it is that these are sort of the first families of film in India," Mishra explained. "They're people I've grown up admiring. Their films are ones that everyone can call favorites. The experience of working with them was surreal, and Rhea Kapoor (Sonam Kapoor's sister, and co-producer of Veere Di Wedding) is a total visionary for wanting to position me as an artist by keeping me in the video with the other girls."
The YouTube music video reached 2 million views in one week, and the song debuted at number six on iTunes India. Mishra's social media accounts have also boomed in popularity, with over 120,000 subscribers to her YouTube channel and more than 110,000 Instagram followers. Her original acoustic mashup of "Tareefan Reprise" has more than 430,000 views on Instagram, and the story of Mishra's overnight Bollywood stardom was featured in Elle India.
"It's been amazing. Doing mashups is a great way to connect with both sets of audiences," said Mishra while considering her diverse fanbases in India and the United States. "My Indian audience is especially receptive to this and encourages me to keep integrating American and Hindi songs."
As an Illinois Wesleyan student, Mishra frequently performed on campus – from the Hansen Student Center to the Eckley Quad – and was a winner of IWU's biannual Undercover music competition. The recipient of an Andrew W. Mellon Foundation grant and a Multifaith Ambassador, Mishra's IWU legacy includes the creation of an interfaith prayer space on campus.
"Our university's clear commitment to civic engagement was appealing to me as an activist," Mishra said. "I'd say IWU instilled in me a confidence to go out into the world and be a changemaker. Things like performing at Undercover or integrating music to social justice work at Evelyn Chapel helped me develop a faith in my abilities that I otherwise wouldn't have had."
After graduating in 2015 as a double major in economics and religion, Mishra returned to her hometown of Chicago to pursue a career in data analytics while maintaining her YouTube music channel on the side.
In the midst of her "Tareefan Reprise" breakthrough, Mishra is now living the dream she developed as a 13-year-old who began producing and uploading her own music covers to YouTube. Mishra is a self-taught singer who learned from constant practice and 11 years of regularly releasing cover songs in both Hindi and English.
"I think on paper my journey can appear fragmented, because I have so many unrelated interested," Mishra said. "My parents have always raised us to be practical in the pursuit of our dreams, while fully supporting our endeavors. So, I always had a backup plan – be it work, school, researching or internships. I've always maintained my passion for music alongside my professional endeavors."
Mishra's music is part of how she celebrates her Indian roots after moving from India to the United States in 2000, according to an interview with Brown Girl Magazine, which highlighted Mishra's collaboration with Chicago-based soul singer and songwriter Jamila Woods on the theme song for the Emmy-nominated web series "Brown Girls."
"I've been singing as long as I can remember for the sheer love of it," Mishra said. "The motivation to continue singing was a belief in self and ability, that if I kept working at this I would only get better and better."
Mishra hopes her burgeoning success as a recording artist will allow for the exploration of new opportunities within the music industry, including a long-time goal of writing her own songs.
"I hope I continue working within Bollywood," Mishra said. "For now I'm keeping my day job, but the plan is to make some more original work this year and hope for the best."
Regardless of where Mishra's music takes her next, she has won over the hearts of a growing following, while the eyes of Bollywood turn their attention toward the industry's newest rising star, who just three years ago could be found singing and playing her acoustic guitar on the Illinois Wesleyan campus.
By Rachel McCarthy '21