May Term Courses Immerse Students in Unique Topics
June 26, 2018
BLOOMINGTON, Ill. — Whether delving into the minds of primates in Gibraltar or gladiator fighters from the Roman Empire, students enrolled in Illinois Wesleyan University's May Term broadened their own perspectives by participating in one of more than 70 intensive, month-long courses that each provided unique learning opportunities.
Below is a sampling from the May Term courses offered this spring:
Travel: Primates in Our Midst; Assistant Professor of Psychology Ellen Furlong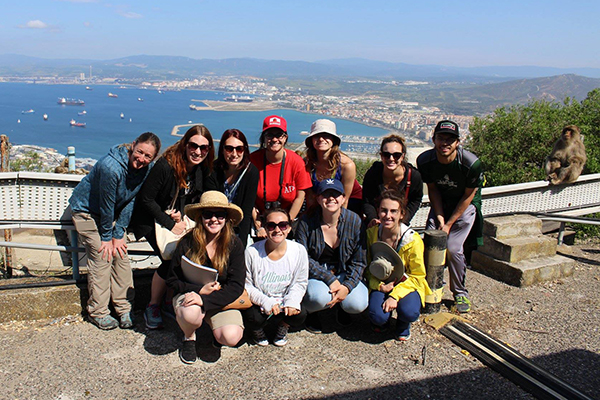 Traveling throughout London and Gibraltar in the span of three short weeks left little time for monkeying around. Students conducted observational research on more than 200 monkeys that overrun the streets of Gibraltar in an effort to craft cognitive enrichment items for the primates at the Louisville Zoo. Along the way, students came to better understand how seemingly benign human activity impacts the lives of animals, which fostered a deep respect for the animals they studied.
"My entire trip as a whole was an incredible journey," said psychology major Sydney Rowley '20 in one of several student blogs about the course. "I learned a lot about animal cognition, but I also had the most amazing experience that I could not have experienced with any other university."
The introduction to understanding humans' closest evolutionary relatives began in London where students explored how cognition is shaped by evolution. In addition to hitting many of the city's iconic landmarks, including the Globe Theater and Buckingham Palace, the class also visited the home of Charles Darwin, the Natural History Museum in London, the London Zoo and Howlett's Wild Animal Park.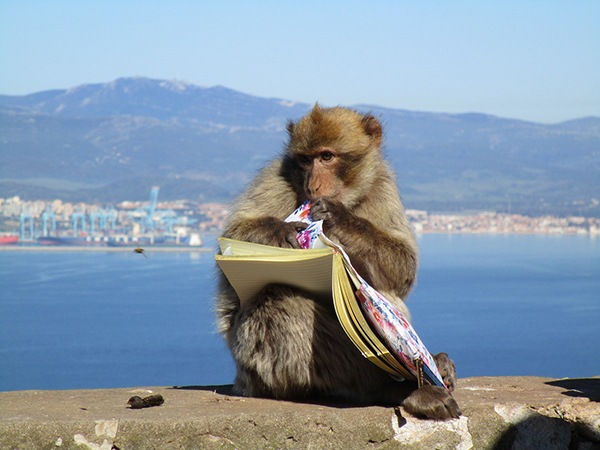 Next, the class travelled to Gibraltar, a British territory on the coast of Spain that serves as a popular tourist destination largely because of the Barbary macaques. These semi-wild monkeys are known to approach and even climb onto curious tourists, although they have also bitten people when agitated, damaged property and learned how to unzip bags to steal tourists' food. The students' field research topics examined the behavioral patterns of the macaques, as well as the role of tourists in macaque life.
"By conducting our study, we measured the real implications of the humans on the monkeys based on their cognition adaptations to the environment," explained business administration major Allison Bond '18, who observed the various types of interactions between macaques and tourists. "We found that the great majority of tourists do not know how to act around the monkeys safely and respectfully. Luckily, we noticed that the macaques living on the tourist sites have become desensitized to invasive humans as they mature."
Upon returning to the United States, the group built a series of species-specific cognitive enrichment items for the primates at the Louisville Zoo, based on their knowledge of the animals' needs and behavioral patterns. Students also had the opportunity to explain the purpose of their items to crowds of visitors.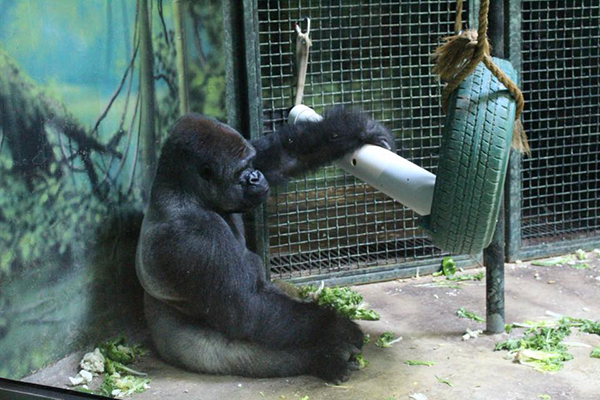 "While this enrichment may look somewhat like a show for the people on the other side of the glass, the primates are actually gaining more realistic experiences with mental challenges through the enrichment," said psychology major Jessica Hill '19. "Continuing to find better, more effectively difficult cognitive enrichment for captive primates may enhance their chances of survival in the wild."
Throughout the course, students developed a unique perspective on these animals which the general public typically understands only within the context of a zoo exhibit.
"The whole experience was absolutely incredible," said biology major Violet Pavlik '19. "My main takeaway is that for human and animal coexistence to occur, we need to do our part in conserving animals' environments and respecting the animals' specific needs, and strive to understand these wonderful animals without imposing our own perspectives and desires onto them."
Blood Rites and Mystery Cults; Associate Professor of History Amy Coles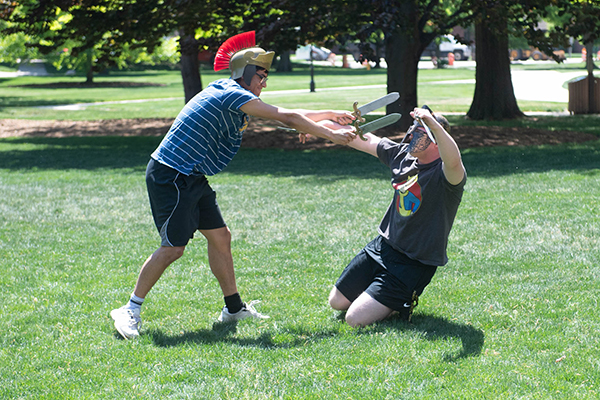 In a course that spanned in time and topic from the Trojan War to the height of the Roman Empire, Coles challenged her students to analyze gladiatorial games, human sacrifice and other squeamish topics from a variety of academic viewpoints, in order to gain a better understanding of the societies that influence our own, even to this day.
"It was one of the best classes I took this year at IWU," shared philosophy and political science double major Gus Castro '19. "Each topic was very interesting and captivating to learn about. We engaged in some outdoor activities that related to the topics, such as some (demonstrated) hardcore gladiatorial battles, marching together in celebration, and sacrificing a dead fish in order to silence the so-called 'haters.' Not only that, but we also investigated and evaluated ancient primary texts and materials to gain a better understanding that I normally wouldn't have ever been able to see within my major."
The class was largely driven by the interests of students who became experts on a particular ritual or type of polytheistic worship, and then presented their topic to the class. Students also applied theories from the fields of history, psychology, sociology, anthropology and linguistics, culminating in a final paper which analyzed their topic through a particular theoretical lens.
"Cultists worshiped numbers, were afraid of beans, and had to take a five-year vow of silence in order to be a full-fledged member," Castro said. "This strange topic is just one example of what we got to learn in Professor Coles' class."
As a philosophy major, Castro chose to specifically dive into the Pythagoreans cult, centered around the ancient Greek philosopher Pythagoras.
"I consider the most valuable experience the students get in this class is the opportunity to study 20-plus theoretical approaches and apply them to 20-plus of the bloodiest, most baffling (from a modern perspective) rituals in history," said Coles. "The course has always prompted lively and interesting discussions, but this year was a particularly smart, fun, and engaged group."
Travel: Vietnam Today: Addressing the Challenges to Sustainable Development; Professor of Environmental & International Studies and Co-Director of Environmental Studies Abigail Jahiel and Assistant Professor of Environmental Studies Aaron Wilson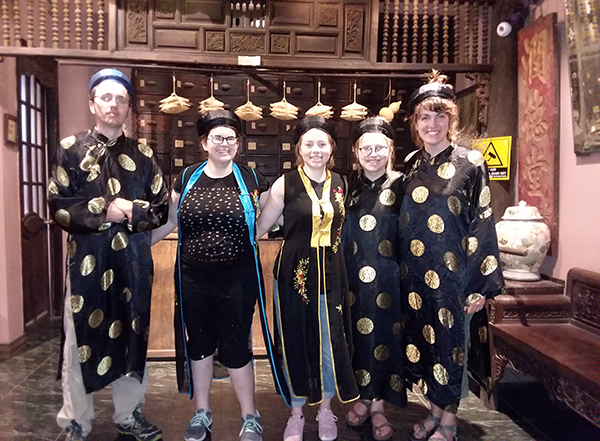 Although the immediate dangers of climate change can feel distant to those living in the American Midwest, exploring the environmental challenges posed to the densely populated and rapidly developing country of Vietnam offered new perspective for eight IWU environmental studies students. Students witnessed first-hand the effects not only of severe air pollution and poor municipal wastewater treatment but of increased flooding and soil salinity due to climate change and sea level rise in Ho Chi Minh City and surrounding regions, as well as various organizations' attempts to mitigate those effects.
In addition, students began research in collaboration with eight students from Ho Chi Minh City University of Natural Resources and Environment (HCMUNRE), a collaboration that will continue through the fall semester.
"This May Term course was launched as part of our new Signature Experience program in environmental studies, designed to bring an international research component to our senior seminar signature experience," explained Jahiel. "In the past, many environmental studies students have addressed an important sustainability issue on a local level as a capstone project. Now, thanks to a recently signed Memorandum of Understanding between IWU and HCMUNRE, students who took part in this May Term will have the opportunity to conduct a group research project on current environmental challenges in Vietnam and present their findings to the public in December."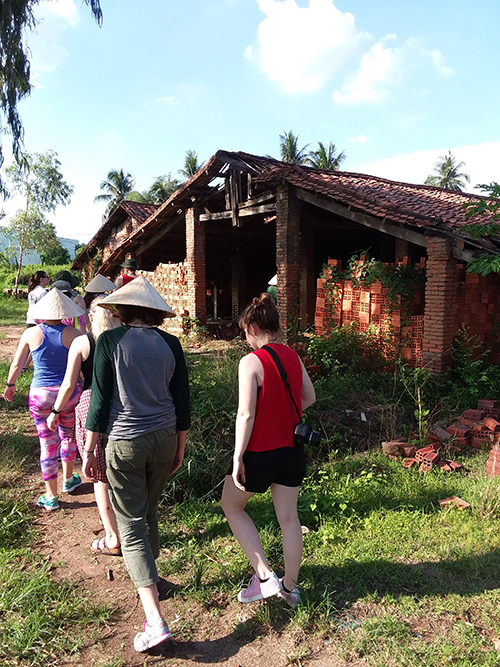 Their journey through Vietnam began by visiting the Can Gio Mangrove Forest, designated as a United Nations biosphere reserve after 40 years of restoration efforts following its destruction during the Vietnam War. Students participated by planting mangrove trees and talking with local stewards about the reconstructed wetland, which acts as a buffer for Ho Chi Minh City against tropical storms exacerbated by climate change.
The group also spent time in the Mekong Delta, the source of over 50 percent of Vietnam's rice production, now suffering as a result of severe saline intrusion from rising sea levels that have drastically reduced crop production. Similar threats face Vung Tao Province, which is working to innovate new wastewater treatment systems, including those students saw at a large-scale pig farm and a seafood processing plant, to keep pace with fast-developing industries lacking the finances to reduce their negative environmental impacts.
In Ho Chi Minh City, students met with officials at the HCM City government's Department of Planning and Architecture and the Environmental Protection Agency to explore the city's unique challenges in sustaining a rapidly growing economy with a booming population. Their tour of the city included visiting a municipal water pumping station, the only water treatment facility for over 10 million inhabitants.
Based on discussions with experts and their own first-hand experiences, IWU students met with their HCMUNRE student partners to develop joint research proposals for their work in the fall back home at Illinois Wesleyan.
"It was such a unique opportunity to see and hear about some of the effects of climate change and other environmental issues from local people first hand," said Samantha Yoest '19. "I also loved getting to share cultures with all the great people we met through delicious food, music, and conversation. I am excited to continue working with our professors and my new Vietnamese and IWU friends this year."
The Gourmet Listener; Associate Professors of Music Adriana Ponce and Stephen Yaness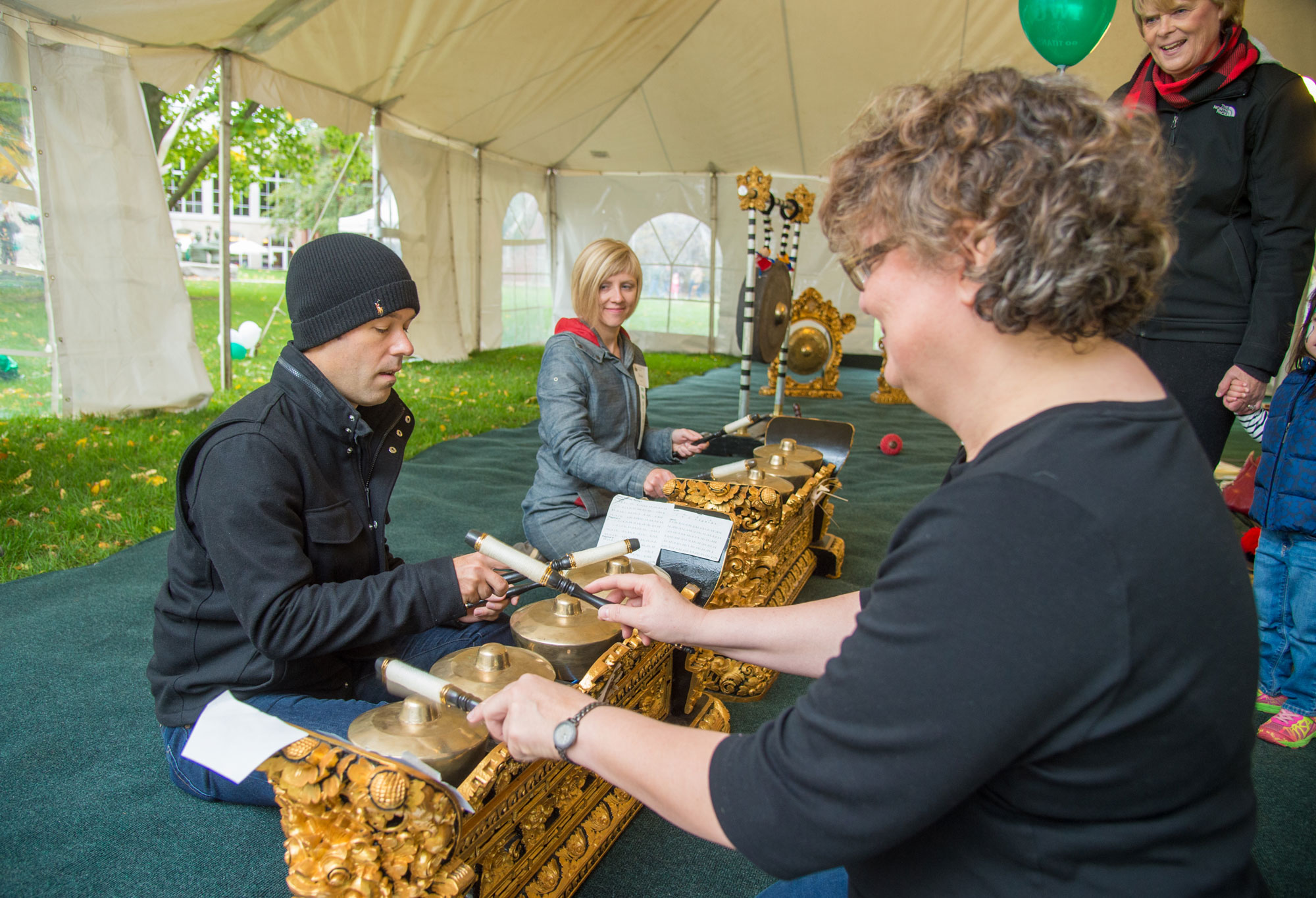 Though music constantly surrounds us, students enrolled in this course developed a more discerning ear for the wide range of music that stems from the classical European tradition.
Students gained an appreciation for music on a holistic level, by studying and discussing as a class the social, political, and cultural ideas that shaped the art of different composers, genres and periods. They were introduced to the fundamental concepts of music, then creatively applied those concepts by composing and performing their own music using self-designed musical instruments.
"Although music appreciation courses for non-majors are offered in most universities across the country, our course looks forward to what we hope will be a new category of 'hybrid' courses in our general education program, which allows students to learn about arts in connection with intellectual traditions while also engaging in the creation and performance of the art form in question," explained Ponce.
This class uniquely challenged students with no past experience with music to explore their interests by exposing them to a variety of genres from around the world.
"We had the chance to explore gamelan music, a type of traditional ensemble music from Indonesia, and have a faculty member who has a classically trained voice come perform in our class and teach us a couple of techniques," said biology major Nitsueh Kebere '19. "Overall, this class has given me an important knowledge about the whole aspect of music as art, has pushed me to explore my creative capabilities, and was entertaining."
This emphasis on fostering students' curiosity and creativity, even in a challenging artistic medium like musical performance, was one of the core goals of the class.
Ponce explained, "The 'applied' component of the course, in addition to being a lot of fun, allowed students with absolutely no musical background to channel their creative and affective impulses and understand the kind of strength, discipline, and vulnerability that artistic creation and performance entails."
By Rachel McCarthy '21