Kauerauf '19 Honored as 2018 Student Laureate
Nov. 19, 2018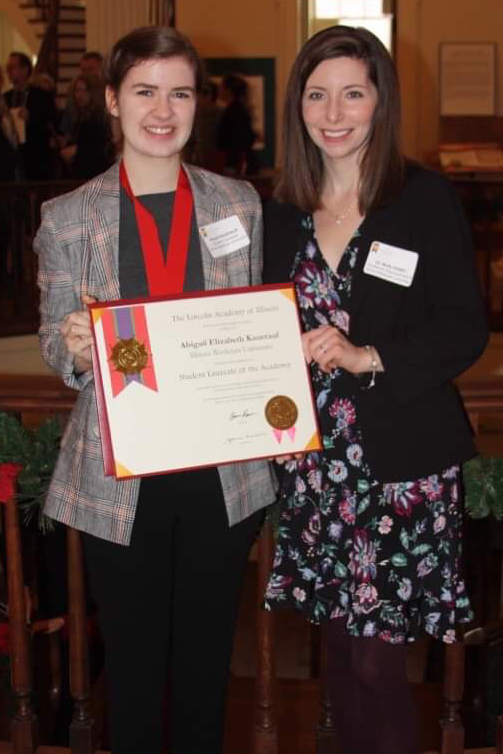 BLOOMINGTON, Ill. — Illinois Wesleyan University English-literature and German double major Abigail Kauerauf '19 of Springfield, Illinois, has been named a 2018 Student Laureate by The Lincoln Academy of Illinois.
The Lincoln Academy's Student Laureate Awards are presented for excellence in curricular and extracurricular activities to seniors from each of the state's four-year, degree-granting colleges and universities, and one student from the community colleges in Illinois.
Each student recipient received a Student Laureate medallion and a $1,000 check from The Lincoln Academy presented during the Nov. 17 Student Laureate Convocation held at the Old State Capitol State Historic Site in Springfield, Illinois. Illinois Wesleyan Assistant Professor of English Molly Robey accompanied Kauerauf to the convocation.
"I am honored to represent IWU at the Student Laureate ceremony and to have been chosen as IWU's Student Laureate," Kauerauf said. "I am especially pleased that I was able to go home to Springfield to accept the award."
A leader both on and off campus with plans to attend law school following graduation, Kauerauf said she often reflects on Abraham Lincoln's leadership qualities in order to strengthen her own leadership skills. These qualities include Lincoln's ability to make rational decisions, his ability to identify and improve his weaknesses, and his "transparent style," which allowed him to become one with the people and never above the people.
"I know, too, that although I am a leader, I am still a person, like everyone else. Without going to the community, whether on campus or off, and asking what is needed, what I can provide, what I can do, then I remain in my own echo chamber," Kauerauf said. "Like Lincoln, I know that without listening to one another, change, for the better, cannot be achieved."
Kauerauf said IWU has allowed her to explore many academic, extracurricular, and community leadership opportunities.
"I believe the ability to explore these opportunities simultaneously is unique to our campus," she said. "The faculty, students and staff here have always made me feel valued, and I am appreciative of their encouragement and timely advice."
Kauerauf currently serves as the president of the IWU Feminist Club and the lead editor of Tributaries, IWU's creative arts journal. She is actively involved in volunteer and service opportunities, both on campus and in the local community, including the West Bloomington Revitalization Project.
Kauerauf is also the recipient of a scholarship from the IWU Council for Women, and a member of multiple honor societies, including Phi Kappa Phi, Sigma Tau Delta, Phi Beta Delta, and Alpha Lambda Delta.
By Vi Kakares '20