Isani '11 Authors Book on Muslims and International Government
Sept. 17, 2018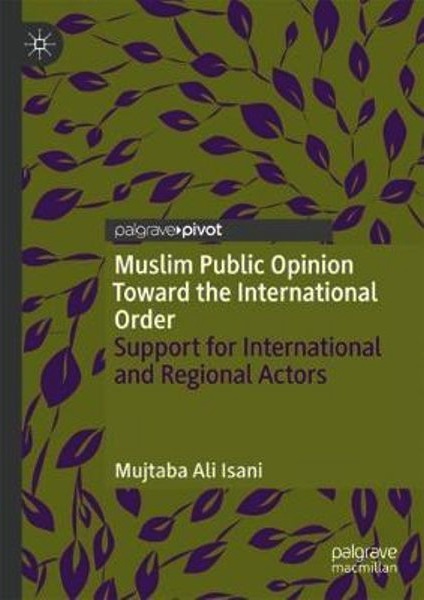 BLOOMINGTON, Ill. — Illinois Wesleyan University alum Mujtaba Ali Isani '11 (Karachi, Pakistan) delves into Muslim attitudes toward the legitimacy of global government in his book Muslim Public Opinion Toward the International Order: Support for International and Regional Actors. The e-book version can be downloaded now, and the printed version will be available for purchase beginning Sept. 22.
Muslim Public Opinion Toward the International Order expands upon Isani's dissertation at the University of Muenster, Germany, where Isani is a post-doctoral fellow in the political science department. According to his research, despite attempts for international accord in recent decades, both the political right and left in Muslim-majority countries tend to perceive international government as hostile toward their people.
"This finding aligned with my experience growing up as a Muslim in Pakistan, where I recalled that longings of lost Muslim glory were common," Isani explained, though his data analysis showed that this sentiment was not limited to Pakistan.
"I wanted to explore and pinpoint why populations in Muslim-majority countries hold particularly negative views of international organizations. Hence, I decided to embark upon answering what seemed an extremely pertinent question to me."
To do so, Isani travelled to Jordan, Egypt, Lebanon, Saudi Arabia, Pakistan and other Muslim-majority countries to conduct surveys and observe the local culture. In addition, his book draws upon previous studies from his colleagues. By gathering a large subset of quantitative data from primary and secondary sources, Isani believes that his book provides a number of well-founded insights into the factors that affect the attitudes that Muslims carry.
The book ultimately proposes that because current international organizations are built with Western mindsets about cross-cultural unity, they unintentionally alienate Muslims whose views of a just international order are informed by the significance of the caliphate in Islamic society.
Isani hopes that any reader with an interest in Muslims as a distinct culture will come away with a deeper understanding of the underlying reasons for Muslim resistance toward global government. By doing so, scholars and policy practitioners in the field might work toward solutions that address this hostility, thereby reaching an accord between the Western and Muslim worlds.
By Rachel McCarthy '21