Homefield Energy Helps Replace Campus Trees Lost to Emerald Ash Borer
Nov. 27, 2018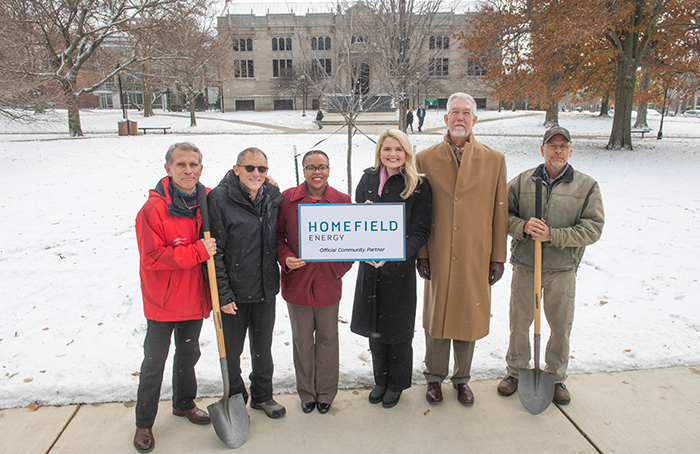 BLOOMINGTON, Ill. — Furthering Illinois Wesleyan University's sustainability goals and tree diversification efforts, Homefield Energy is donating 12 trees to assist with replacing campus trees lost due to the spread of the emerald ash borer.
Illinois Wesleyan President Eric Jensen, along with University officials and representatives from Homefield Energy, commemorated the donation during a ceremony held Tuesday, Nov. 27.
"We are thankful to receive these trees donated by Homefield Energy, especially now, as we've experienced extreme ash tree loss across campus from the emerald ash borer," Jensen said. "The new trees will offer beauty and shade for thousands of future Titans who will, without a doubt, spend countless hours studying and socializing under their canopies."
The donated trees – including cobblestone bur oak, hackberry, Japanese lilac, Norway spruce, Princeton elm, and quaking aspen, among other species – were selected by assistant manager of grounds services and University arborist Ken Detloff, and will further diversify the school's tree population. Ten of the trees have been planted this fall, and two more will be planted in the spring.
"As a company, one of the numerous ways we focus on sustainability excellence is through our signature tree donation program," said Caroline Atkins, Homefield Energy community affairs manager. "In addition to their numerous ecological benefits, trees bring people together, and we hope these trees will be a part of students' college experience for years to come."
Since 2002, Homefield Energy, and its sister companies, have provided more than 285,000 trees to various partner communities. The donated trees have helped generate environmental savings and health benefits for municipalities and residents valued at approximately $37 million annually during the life of these trees. Homefield Energy is a retail electricity provider that powers thousands of Illinois homes and businesses, including the Illinois Wesleyan campus.
Approximately 30 ash trees have been removed from the Illinois Wesleyan campus to help stop the spread of the emerald ash borer.
Trees can be donated to Illinois Wesleyan by contacting the University Advancement Office at advancement@iwu.edu or (309) 556-3091.
By John Twork