Halperin Recognized for Community Leadership
Oct. 11, 2018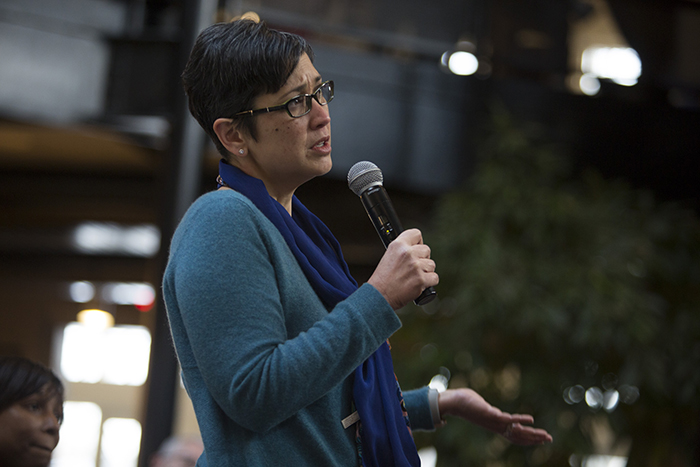 BLOOMINGTON, Ill. — Deborah Halperin, director of Illinois Wesleyan University's Action Research Center, has been awarded the 2018 ATHENA Leadership Award for her work in the Bloomington-Normal community. Halperin was honored during the annual Leaders of Distinction Awards ceremony on Oct. 10.
"This award has my name on it, but it is an honor to be shared with the students, faculty and staff, and our community partners," Halperin said. "None of the work that got me to that stage was done by me alone. It is always a collaborative effort. We can accomplish great things when we lead with our strengths, when we are open to new ideas, and when we commit to action."
Awarded by the McLean County Chamber of Commerce, the ATHENA Leadership Award honors exceptional local leaders who foster female empowerment, whether through their professional careers or through community service initiatives.
Since establishing the IWU Action Research Center in 2006, Halperin has made Illinois Wesleyan a hub for positive community change by enabling students to pursue custom designed projects that address specific needs in Bloomington-Normal. Through collaboration with partner organizations, students across all years and majors gain valuable leadership experience while engaging in their passions for economic development, human rights, sustainability and social justice.
Halperin has also spoken at local and national conferences on community engagement and development, neighborhood revitalization and youth empowerment. Her involvement with local nonprofits includes the West Bloomington Revitalization Project, Milestones Early Learning Center, the Founders' Grove Neighborhood Association and the YWCA.
Focusing on her work ahead, Halperin said she looks forward to incorporating First-Year Experiences and senior Signature Experiences into the ARC's mission.
"This award is especially meaningful right now because I feel we are positioned for great things at the IWU Action Research Center," Halperin explained. "It is a nice reminder that we are doing important work that our campus and community need right now. There is a lot of talent at IWU, and I am proud to represent our University."
By Rachel McCarthy '21