Graduates Employed at High Rate
Illinois Wesleyan has been recognized as the #1 undergraduate institution in Illinois in job placement of our graduates, according to the National Center for Education Statistics and the career advice website, Zippia.
In a 5-year average reported to the National Association of Colleges and Employers,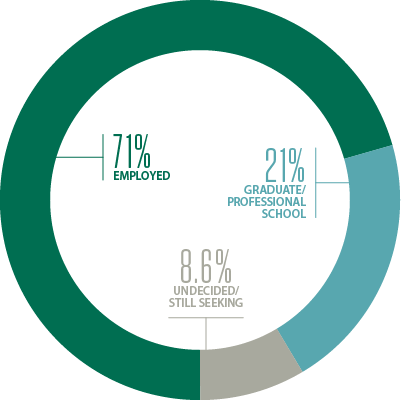 95%
of Illinois Wesleyan graduates are employed or in graduate school within six months of graduation.
From the most recent First Destination Survey conducted by the Hart Career Center among the Class of 2017, illustrated at right:
92% of recent grads were employed or in graduate school within six months
Average full-time starting salaries: $46,299.
This survey is based on an 87.2% response rate and additional self-reported data.
For graduates 10 years into their careers, data from the U.S. Dept. Of Education's College Scorecard, analyzed by Zippia, placed Illinois Wesleyan as the #1 small school in Illinois for Highest Earning Graduates.
Graduates Succeed in Many Employment Sectors

Healthcare
20%

Education
10%

Insurance, Banking
& Financial Services
12%

Accounting
11%
Titans Hired by the World's Employers
Accenture
Advocate Health Care
Allstate
A.T. Kearney
Archer Daniels Midland
Baltimore Shakespeare Factory
Bank of America
Chicago Bulls
Chicago Symphony Orchestra
COUNTRY Financial
Deloitte
Epic Systems
Groupon
KPMG
Mayo Clinic
MB Financial Bank
Medline Industries
Nielsen Holdings
Nike
Northern Trust
Northwestern Memorial Hospital
OSF Healthcare
PricewaterhouseCoopers
Rocky Mountain Repertory Theatre
RSM US LLP
State Farm
Underwriters Laboratories
United Airlines
Titans Can Be Found Across the Country
... and Around the World
Testimonials
"The close relationships with professors at a small liberal arts school and the emphasis on communication skills and critical thinking prepared me for medical school. A liberal arts education made me a more interesting candidate in medical school interviews."

Tina Fleres '16
University of Texas Health Science Center School of Medicine
"If you are willing to put in the work, there's nothing you can't do here at Illinois Wesleyan."

Mike Hennel '16
Investment Management Analyst, Goldman Sachs
Goldman Sachs intern, summer 2015
"I worked with art, biology, history and environmental studies professors on non-class related projects, all of whom were willing to take time with me to develop a cross-disciplinary idea. IWU is a wonderfully collaborative place."

Julia Savich '16
IWU physics major, graduate student in engineering design innovation, Northwestern University
"Illinois Wesleyan taught me to be open minded. You never know what you'll gain from trying or learning something new. I never expected to grow this much as a person during my time at IWU."

Satin Young '16
PrepNext Public Ally, Americorps DC Prep
"What's most inspiring about Illinois Wesleyan is the ability to carve your own path and create your own education. I chose Illinois Wesleyan because of the flexibility to double major (theatre arts and economics)."

Tyler Stacey '16
Production Management Intern, McCarter Theatre Center