Global Medical Brigades Bring Aid to Honduran Communities
July 31, 2018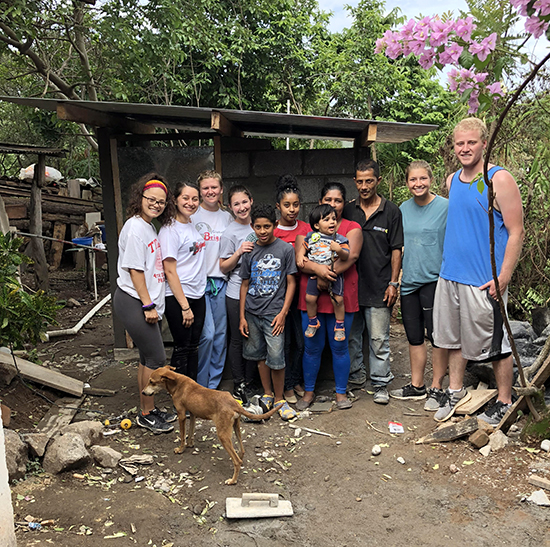 BLOOMINGTON, Ill. — The Illinois Wesleyan University Global Medical Brigades team provided health care to more than 700 people in need and made long-lasting sanitation improvements in several communities during a recent trip to Honduras.
"The mutual compassion and care for people we had never met before was sublime, and it was humbling to be welcomed into a different culture and assist in the betterment of hundreds of people for things that are typically taken for granted in our country," said accounting major John Carroll '18. "So many smiles and so much positivity were exchanged, and I'm lucky to have had the opportunity to help create a tiny amount of change and share love with so many amazing people."
Twenty-four Illinois Wesleyan students traveled with three nurses and three other volunteers to La Chichigua, Guanacaste, Los Terrones and Chandala, with projects there ranging from organizing a mobile medical clinic to digging trenches for a water system in a community without running water in over 30 years.
One of the most important aspects of participating in the Global Medical Brigades, according to chapter president Keila Magafas '18, is how their week of hard work in early June will continue to make an impact for years to come.
"I love Global Brigades because they are dedicated to empowering communities through their holistic model," Magafas explained. "A medical brigade is simply one step in that model."
A series of five Global Brigades, with more than 500 chapters worldwide, work to meet the needs of developing communities on every level, by establishing health care and sanitation as well as community-owned banking and economic development. Locals are trained to build upon the brigaders' work, leading to a self-sustaining and empowered community.
Throughout their work, the students made personal connections with the locals, even staying in some families' homes while building latrines.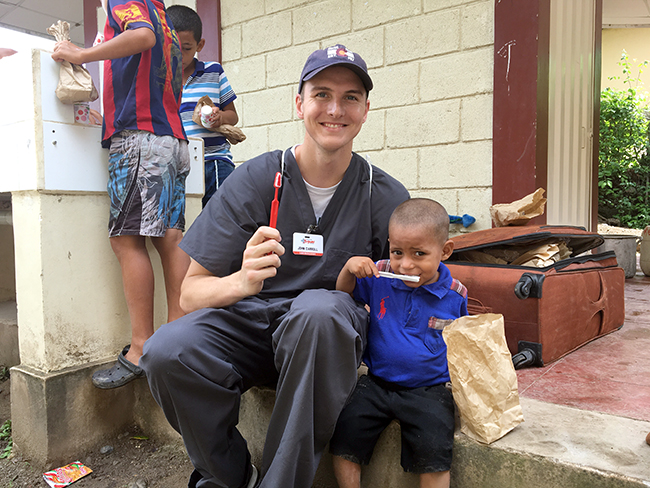 "My heart is with this family, and this is a reminder that we have family in other parts of the world that need a hand, yet have so much love to give," said Mafagas. This sentiment was shared by several other students who felt an outpouring of kindness and gratitude during their stay.
The students also formed lasting bonds with each other as a result of their shared commitment to improving people's lives.
"Even though many students did not know each other prior to the trip, everyone worked so well together," said Magafas, who has been to Honduras with the Global Medical Brigades three times as education chair, campus chairperson, and president. "During our last day, we spent some time reflecting and saying goodbye to the staff members of Global Brigades. Everyone shared their stories, and tears were shed that night. I couldn't be any prouder of our group."
Members of the group left Honduras just as profoundly impacted by the experience as the people in the communities they had served.
"Although I went into the trip thinking of ways I would be able to contribute to a developing country, I was more than surprised to find how much the people in the communities have taught and given back to me in the simplest of ways," shared business administration major Sylvia Ho '18.
"It was such a humbling experience that taught me empathy and to never take what you have for granted. Once I am a licensed pharmacist, you can 100-percent count on me to go back and give my time and efforts in helping communities that truly need my help."
By Rachel McCarthy '21