Fuist Explores Progressive Religious Activism in Book
July 9, 2018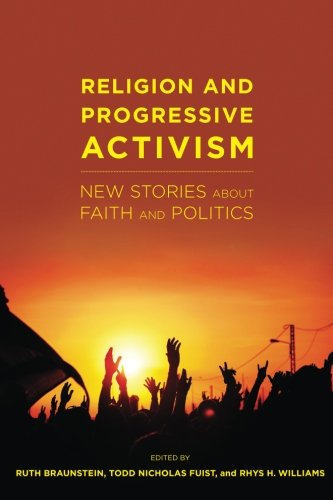 BLOOMINGTON, Ill. — In the midst of a polarized political environment, Assistant Professor of Sociology Todd Nicholas Fuist offers perspective on the perceived divide between religious conservatives and secular liberals in his co-edited book Religion and Progressive Activism: New Stories about Faith and Politics .
The book compiles a series of 15 chapters following the work of liberal religious groups and movements, and the unique challenges they face in spreading messages that straddle the preconceived gap between the right and left when it comes to religion.
"Academics can learn a lot by studying groups that exist outside of the main boxes we have for understanding people, and we think that progressive religious activism complicates many of the taken for granted notions people have about politics and religion," Fuist said.
In the book, the authors tout Martin Luther King Jr., and President Barack Obama as political figures who effectively used religious rhetoric on freedom and equality to advocate for progressive goals. And yet, to take a liberal stand on heated topics in many mainstream religions – such as LGBTQ+ rights – while defending those same religions may sound like a contradiction to many Americans. This book, however, challenges readers to understand the nuances of how social issues and theological doctrines intersect.
The book emerged from a shared research interest between Fuist and co-editor Ruth Braunstein, assistant professor of sociology at the University of Connecticut. While examining the topic of progressive religion for their graduate dissertations, they discovered a glaring lack in scholarly sources that could provide an overview of this rapidly growing voice in American activism.
"We felt that there was a lot going on in society at the time that needed to be commented on," Fuist said. "The Nuns on the Bus tour was happening, the Moral Monday protests were going on, and it seemed like there was an upswing of progressive religious activism in our society that demanded a closer sociological look."
Fuist, in particular, examines how religious groups talk about modern social issues in ways that can be broken down into three models – the Teacher Model, the Community Model and the Theological Model – in order to express contemporary applications of beliefs that opponents may view as archaic.
In the end, Religion and Progressive Activism endeavors to outline for readers the ways in which people from a diverse array of social and political backgrounds have unified to live their faith in the 21st century, according to Fuist.
"For lay readers, we hope they come away with some inspiring stories about people who have been motivated by their faith to try to make the world a more just place."
By Rachel McCarthy '21