First-Year Humanities Fellows Explore Chicago
April 23, 2018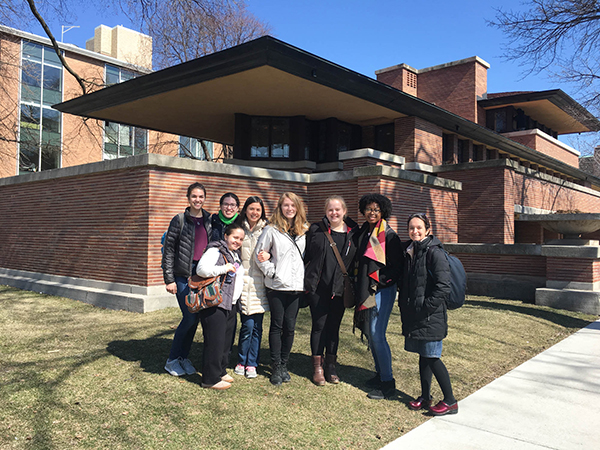 BLOOMINGTON, Ill. — Illinois Wesleyan University's inaugural group of First-Year Humanities Fellows (FYHF) explored the real-world interdisciplinary connections among fields in the humanities during a five-day cultural immersion experience in Chicago over Spring Break.
The Fellows travelled to cultural icons such as the Harold Washington Library and the Chicago Symphony Orchestra, met with successful IWU alumni with careers in the liberal arts, and engaged as a class in challenging questions about art, history, the social sciences and other relevant issues in the humanities. By experiencing a wide range of fields through memorable, hands-on learning moments, the Fellows gained a richer understanding of the city of Chicago and the cultural identity that surrounds it.
"As First-Year Humanities Fellows, students enjoyed the wonderful cultural opportunities that the City of Chicago has to offer, but they were not passive observers," said Associate Professor and Chair of English Joanne Diaz, who developed the FYHF program. "They prepared for these events by reading about them beforehand; they approached each excursion with a series of critical questions; and they reflected upon their experiences by writing in their journals and conversing during meals. This engagement is crucial to a complete education."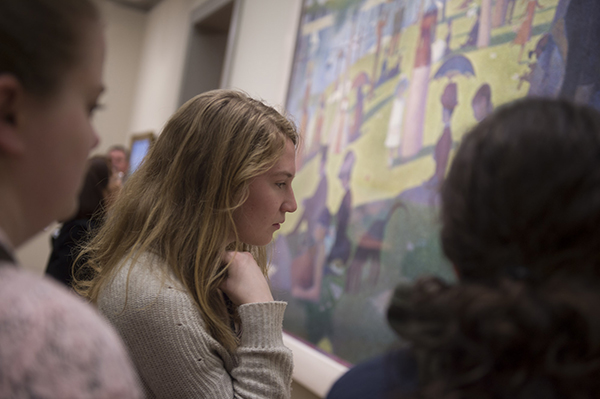 Developing this level of engagement with the humanities across disciplines and beyond the classroom encompasses the overall mission of the First-Year Humanities Fellows, to allow students to explore their interests in literature, philosophy, art and language through an immersive learning experience. The program challenges students to examine the purpose of attending a liberal arts institution like IWU, and to appreciate the value of a liberal arts education in professional and personal spheres.
Throughout their first year, students engage with these topics in the classroom during a unique Gateway course, through interdisciplinary events on campus and at off-campus events such as the Chicago Humanities Festival and the FYHF Spring Break Immersion Trip.
In reflecting on the trip, FYHF Taylor Plantan '21 looked forward to how future Humanities Fellows will develop intellectually from these experiences.
"I think that students will notice a significant growth and change as they progress throughout this program, and I think that this immersive opportunity not only strengthens this transformation in a student on a personal level, but it also transforms how they view and interpret the world around them."
For further insight and details on this year's Spring Break Immersion Trip, see the first-person student blog.
By Rachel McCarthy '21