Works by Linksvayer and the Blackstock Press Exhibited
May 4, 2018
BLOOMINGTON, Ill. — Illinois Wesleyan University's Merwin and Wakely Galleries will feature the works of artist Stephen Linksvayer along with books from the IWU archives created by the Blackstock Press from Wednesday, May 9 through Thursday, May 31.
An opening reception for both galleries will take place Thursday, May 10 at 4 p.m. The reception will include an artist talk by Linksvayer at 4:15 p.m. The galleries, reception and talk are all free and open to the public.
Stephen Linksvayer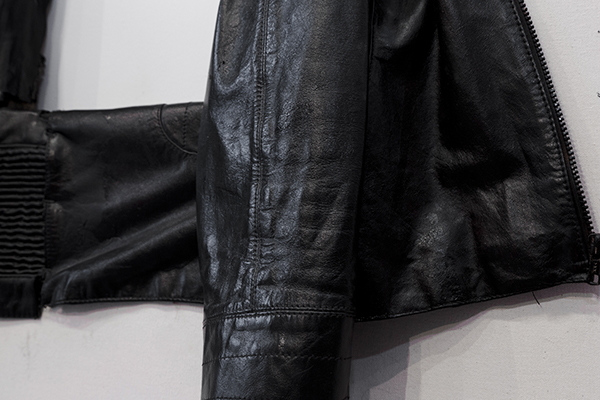 Born in Springfield, Illinois, in 1973, Linksvayer currently lives in Shanghai, China. He is the former co-owner of Heavy Brow Gallery in Downtown Bloomington, Illinois, which showcased a variety of local and national artists. Linksvayer currently splits his time and artistic practice between the United States and China.
Linksvayer's exhibit "I gather the limbs of Osiris" is featured in the Merwin Gallery. Although created on the canvas and hung on the wall, Linksvayer's work exists in a sculptural realm. Dissected and reassembled leather motorcycle jackets are sewn to unpainted cloth canvas.
The dimensionality of the jackets is furthered by the removal of the canvas' center, leaving the viewer to stare through the work of art at the wall. These pieces imply formality as the viewer shifts between the black textured jackets and the stark canvas base. Linksvayer's wall pieces are open ended and hard to define, as he wants his viewer to question his or her own definitions of sculpture and painting, and even, art.
Blackstock Press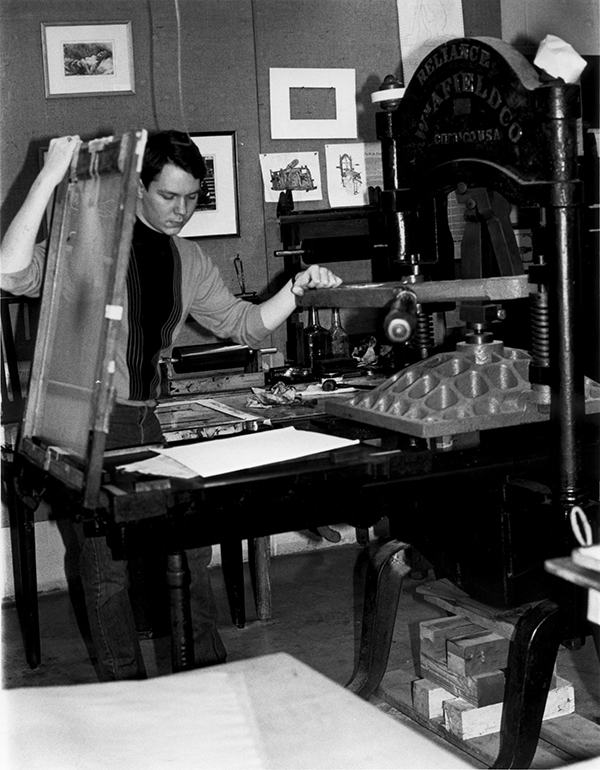 In a recent relocation of the Illinois Wesleyan art collection, a number of handmade books by IWU students were rediscovered. The Wakeley Gallery is hosting an exhibit of the books which were created by the Blackstock Press beginning in 1969 under the guidance of printmaking faculty Fred Brian. Each book was crafted in the tradition of fine printing using a century old Washington hand press. Blackstock Press was first located in the basement of Blackstock Hall and then moved to the current school of art.
The books are filled with illustrations and poetry in type that was hand set. Each letter was placed individually before printing. Some of the books are original and humorous, while others draw on classic literature.
Both exhibits will be on display from May 9 through May 31 in the Joyce G. Eichhorn Ames School of Art Building (6 Ames Plaza West, Bloomington). Gallery hours are Monday through Friday, 12 p.m. - 4 p.m., Tuesday evening 7 p.m. - 9 p.m., and Saturday and Sunday 1 p.m. - 4 p.m.
By John Twork