School of Theatre Arts Presents Rhinoceros
Feb. 23, 2018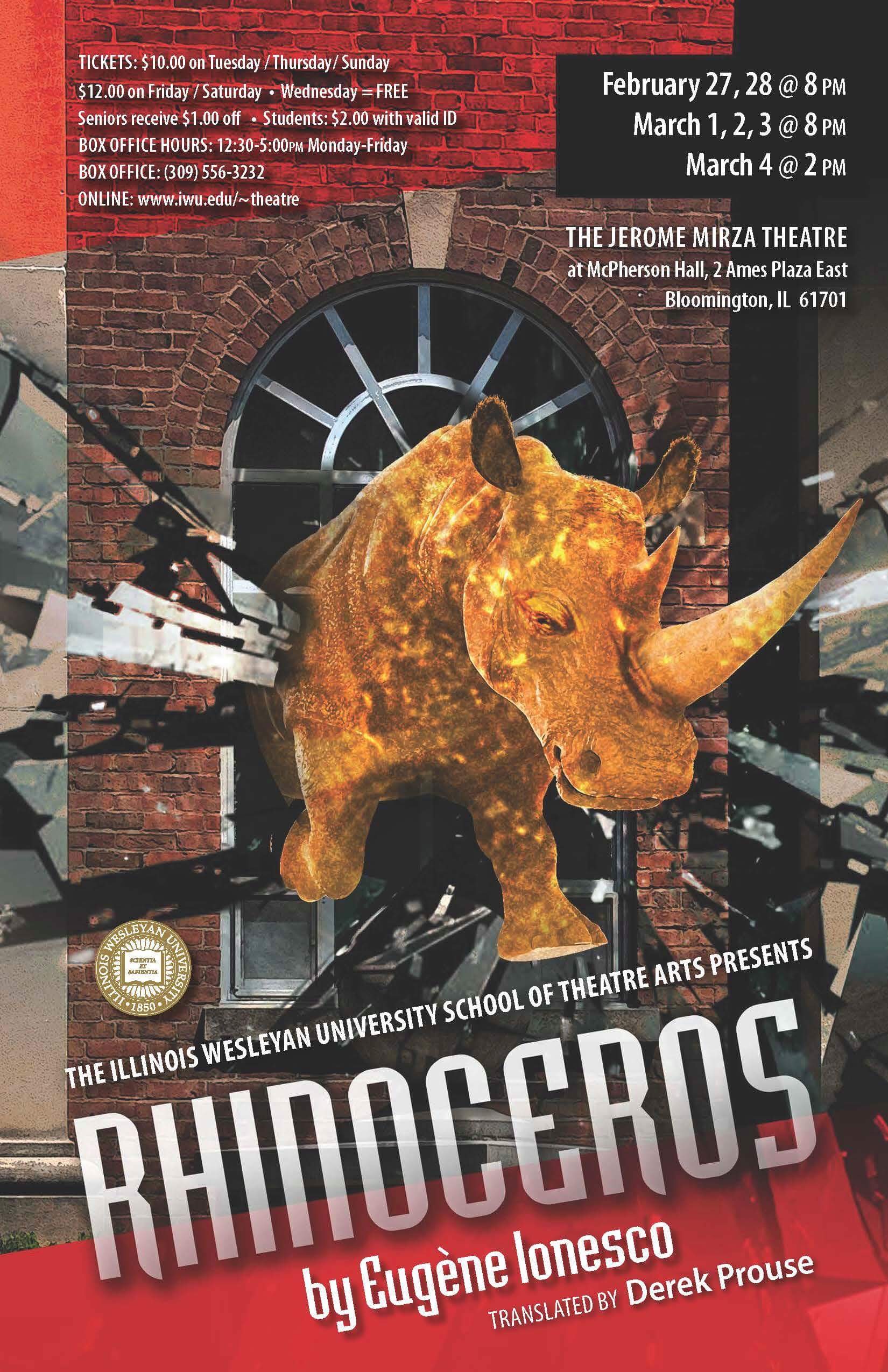 BLOOMINGTON, Ill.— Illinois Wesleyan University's School of Theatre Arts will present Eugène Ionesco's savage satire Rhinoceros Feb. 27 through March 4 at the Jerome Mirza Theatre at McPherson Hall (2 Ames Plaza East, Bloomington).
Originally set in a small French town, the play was adapted to take place on the Illinois Wesleyan campus and local community. Rhinoceros is a commentary on the human condition, as the community is suddenly besieged by one roaring citizen who finds himself turning into a rhinoceros and proceeds to trample on the social order. As with any "disease," more citizens become infected. Written in 1959 in response to the resurfacing of fascism in parts of Europe, the play explores the theme of social conformity as average citizens turn into mindless savages.
Visiting Assistant Professor of Theatre Arts Christopher Connelly will direct the production. Cast members include: Brooke Emmerich '18 (The Grocer's Wife), Holden Ginn '18 (Dudard), Melissa Iheakam '18 (The Housewife), Paola Lehman '19 (Mrs. Boeuf), Maya McGowan '20 (Daisy), Will Mueller '19 (Jean), Jaclyn Salgado '18 (Botard), Juna Shai '18 (The Waitress), Megan Sperger '18 (The Grocer), Cami Tokowitz '19 (The Café Proprietor), Travis Ulrich '20 (The Fireman), Tuxford Turner '19 (Papillon), Robert Wilson '19 (The Old Gentleman), Chris Woodley '20 (Berenger) and Libby Zabit '18 (The Logician).
Curtain is at 8 p.m. each evening except for the matinee performance at 2 p.m. on Sunday, March 4. Tickets are $12 for Friday and Saturday, and $10 for Tuesday, Thursday and Sunday. Wednesday's performance is free. All other performances are $2 for students with an ID. Tickets can be purchased at the Jerome Mirza Theatre Box Office. For additional information, please contact the box office at (309) 556-3232 or visit www.iwu.edu/theatre.
By Vi Kakares '20