Lab Theatre Presents "The Girl Who Fell Through a Hole in Her Sweater"
Feb. 5, 2018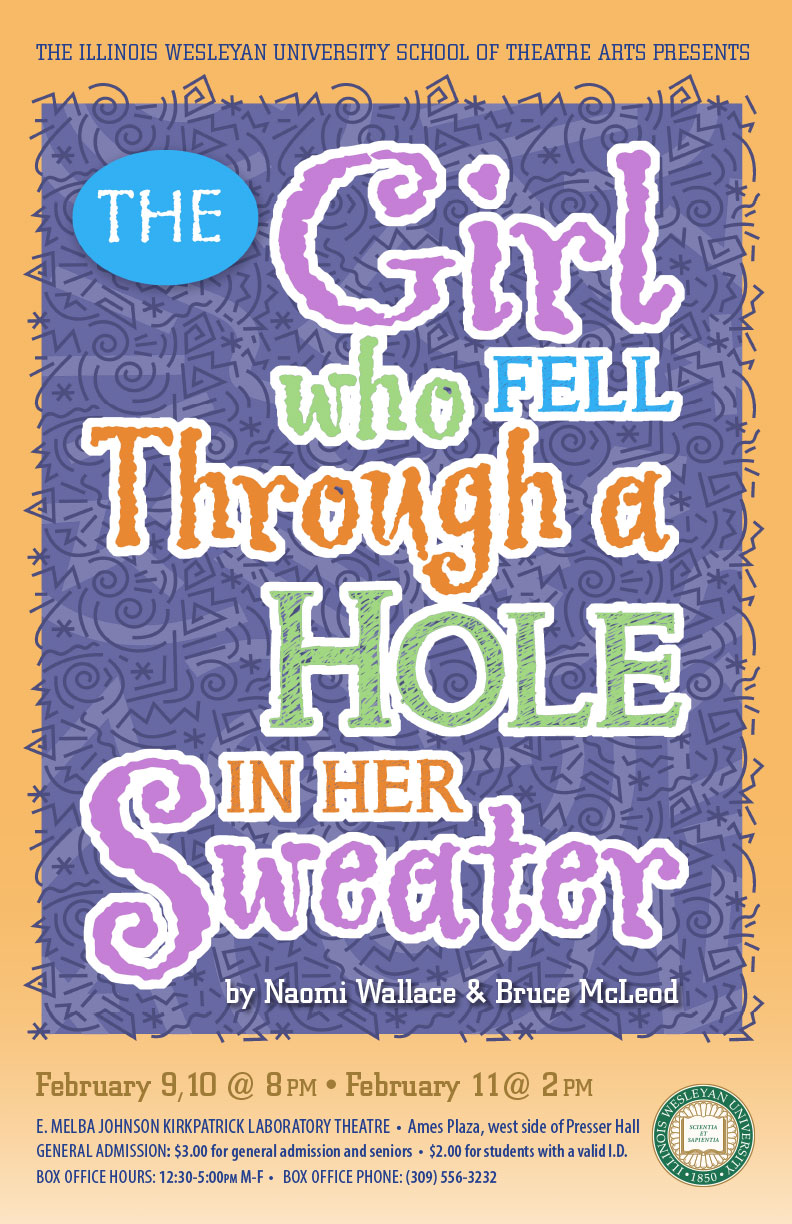 BLOOMINGTON, Ill.— The Illinois Wesleyan University Lab Theatre invites audiences to follow alongside the whimsical adventures of Noil, a young girl who finds herself lost in a strange new setting with only her ingenuity and resourcefulness to rely on, in "The Girl Who Fell Through a Hole in Her Sweater."
Performances will take place Friday, Feb. 9 and Saturday, Feb. 10 at 8 p.m., and Sunday, Feb. 11 at 2 p.m. at the E. Melba Johnson Kirkpatrick Laboratory Theatre.
With help from a singing narrator and a talking roach, Noil must complete three-and-a-half magical quests in order to emerge from the hole in her sweater just in time for breakfast. Written by MacArthur "genius" award winner Naomi Wallace, this play, aimed at younger audiences, retains all the wit of Wallace's writing and promises to be an entertaining experience for all ages.
The cast includes: Catherine Groth '20 (Noil); Brigid Broderick '19 (Roach); Sam Hulsizer '20 (Lord PP); Cadence Lamb '18 (Crumbs-in-Pockets); Genevieve Kleve '20 (Mirror); Isaiah Rosales '18 (Itnose); and Josiah Tennent '20, Brynn Beveridge '20 and Rebecca Cauthorn '20 (Doors and Windows). The stage manager is Maren Flessen '20, and the director is Jamie Kreppein '18.
Kreppein describes their production as perfect for kids along with any adult who wants to feel like a kid, even for an hour or so. This family-oriented event includes activities in the lobby where children can decorate coloring pages or write down their hopes and dreams to add to a display.
All performances will be held at the E. Melba Johnson Kirkpatrick Laboratory Theatre (1312 Park St., Bloomington) which can be accessed from Ames Plaza on the west side of Presser Hall.
Tickets, which are on sale at the McPherson Hall box office (open 12:30 p.m. - 5 p.m. Monday through Friday), are $3 each for general admission and $2 with a valid student ID. For more information, please contact the box office at (309) 556-3232.
By Rachel McCarthy '21