Council for IWU Women Hosts Summit to Inspire Female Leaders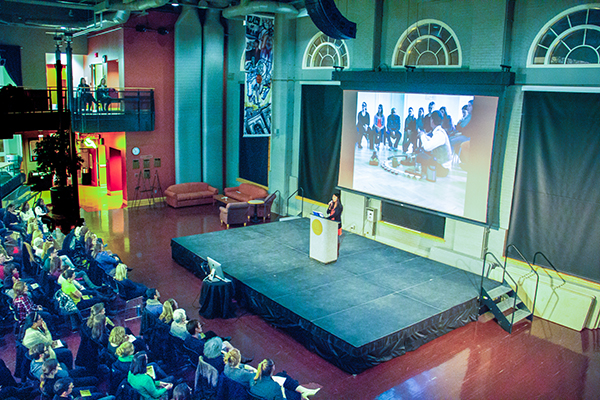 Feb. 23, 2018
BLOOMINGTON, Ill. — The Council for IWU Women will host its three-day summit, March 1 through March 3, with the theme: "Change, Choice and Community."
The Council for IWU Women Summit combines a series of events that provide women within the Illinois Wesleyan community opportunities to discuss social topics concerning women, network with successful alumnae, and find the inspiration to take on leadership roles in today's world.
All events are free and open to Illinois Wesleyan alumnae, faculty, staff and students. Students are welcome to drop in as their schedules allow, and other attendees can RSVP by clicking here. Please consult the Summit's full schedule for the time, location and description of each event.
The Summit formally begins with a luncheon on March 2 at 11:45 a.m. at the Young Main Lounge in the Memorial Center. The luncheon will feature keynote speaker Cheryl Reinking '87, Chief Nursing Officer (CNO) at El Camino Hospital in Mountain View, California, who will give a talk titled, "Leaning-In More: Women pushing against the status quo of traditional leadership roles." In her 30-year career in nursing, Reinking has received several awards in recognition of her leadership capabilities, including the El Camino Hospital Leadership in Action Award in 2005, a Silicon Valley Woman of Influence Award in 2013 and the Distinguished Alumna Award from the IWU School of Nursing in 2017.
The Summit offers students the chance to build connections with IWU alumnae, not just through panels, but also through practice interviews, during which students interact one-on-one with a Council alumna. Interview slots are from 1:30 p.m. until 3:30 p.m. on March 2, and students must pre-register on Titan CareerLink.
As part of its emphasis on female empowerment, the Summit has invited IWU women to share their words of inspiration at several panels, such as the third annual "She Speaks" presentation on March 2 at 6 p.m. at the Hansen Student Center, in which students, faculty, staff and alumnae will share their stories in a series of fast-paced talks. "Being Resilient and Brave … But, Not Perfect," presented by Marsha Guenzler-Stevens '78 on March 3 at 10:45 a.m. at the Davidson Room in the Memorial Center, will examine stories of IWU women who overcame adversity at several stages throughout their lives. These stories will guide a discussion on how to develop compassion for others and find strength in oneself.
The Summit will address the Bloomington-Normal community in a panel on "Connecting to Your Community," in which Council women will present ways to get involved locally. Attendees will also participate in a community service project to benefit local children through Project Linus.
The Summit will conclude with the Scholarship Award Luncheon on Saturday at 12:15 p.m. at Young Main Lounge in the Memorial Center. Four $750 scholarships will be awarded in recognition of one female student from each class for her contributions to the campus and community through civic activities, volunteer services and leadership positions.
Founded in 2006, the Council of IWU Women supports the personal and professional development of female members of the IWU community, through scholarships as well as through the time, talent and resources of the Council women. The Council's president is Jennifer Jones '94.
By Rachel McCarthy '21