Cartoonist and Activist Speaks on Race in America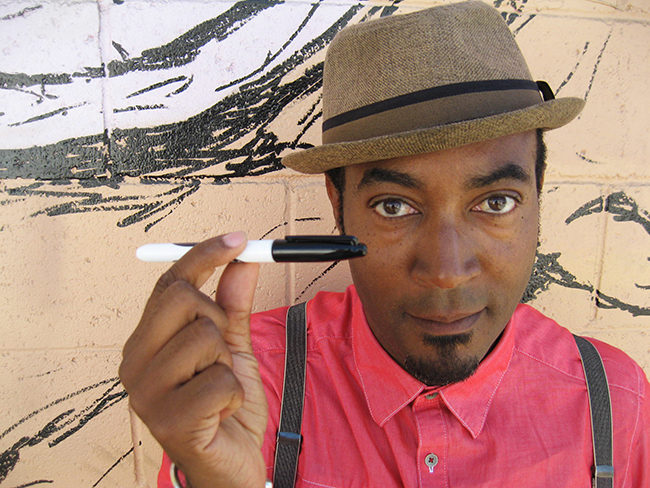 BLOOMINGTON, Ill. — Award-winning cartoonist Keith Knight, who has turned the funny pages into a serious look at race and American politics, will hold a community event at Illinois Wesleyan University on Oct. 8 at 7 p.m. in the Hansen Student Center (300 E Beecher St, Bloomington). This event is free and open to the public.
Knight's use of satire to raise questions about police brutality, racial profiling and other current controversies has marked him as a social activist, with the NAACP recognizing him as a 2015 History Maker. Other accolades for his work include a Comic Con Inkpot Award for Career Achievement in Comics, a Harvey Award for Best Comic Strip and a feature in L.A. Weekly's 2015 People Issue. His art has been featured in the Washington Post, ESPN the Magazine, L.A. Weekly and other international publications.
Knight has toured internationally at colleges, comedy clubs and community spaces to perform his comic strip slideshow "They Shoot Black People, Don't They?" which explores his take on twenty years of police brutality. The slideshow has also been published as a book in 2016, joining previous publications such as "Knight Takes Queen" (2015), "Too Small to Fail" (2011) and "Are We Feeling Safer Yet?" (2007).
During his travels, Knight has also led workshops and panel discussions concerning race, health and media literacy. Prior to his performance at IWU, he will have lunch with students and visit selected classes to discuss his work.
"It's weird to see things that I've drawn as comics years before come true," Knight told the Washington Post in a 2015 article. "All these incidents of police brutality can no longer be hidden or swept under the rug. At this point, one has to truly double-down on their complete denial of how huge this problem is, or they have to acknowledge it, and work towards change."
Knight's presentation complements the University's annual intellectual theme, Changing Climates and is sponsored by The Men of Color of IWU, a registered student organization.
By Rachel McCarthy '21